Robert Williams Is a Rare Bright Spot in an Utterly Dreary Celtics Season
The Boston Celtics entered a Jan. 2 matchup with the Orlando Magic below the .500 mark and looking for answers. Not much has gone right for Boston, a team likely to make some moves before the February trade deadline. But while the C's grapple with the futures of Jaylen Brown, Marcus Smart, and others, one player rapidly becoming a franchise cornerstone is Robert Williams III. The 24-year-old continues to look like one of the most promising centers in the NBA.
The Celtics signed Robert Williams III to a four-year, $54 million extension this past offseason
The Boston Celtics rewarded two of their own this offseason, but locking up Robert Williams proved especially aggressive.
Marcus Smart's extension made perfect sense on its face. Over the course of seven seasons, Smart established himself as one of the best defenders in basketball and the true lifeblood of the Celtics organization. Williams' deal made sense, too, but it still looked like a sizable investment.
The former Texas A&M standout struggled with injuries early in his NBA career, playing a combined 62 games in his first two seasons. However, Williams remained mostly healthy for the 2020-21 season. He showed his quality accordingly.
In just 18.9 minutes per game, Williams averaged 8.0 points, 6.9 rebounds, and 1.8 blocks. He gave Boston life off the bench as a rim-roller capable of explosive finishes around the basket and highlight-reel swats on the other end.
Williams did enough to earn a four-year, $54 million extension from the Celtics this past summer. Judging by his performance thus far, he figures to earn every penny and then some.
Williams is among the best players on the Celtics this season
It's not a stretch to say Robert Williams has been one of the most valuable players on the Celtics this season. That's impressive, considering he's on the same roster as Smart, Brown, and Jayson Tatum.
Williams ranks third on the C's in value over replacement player (VORP), just behind Tatum and Al Horford. He trails only Horford in box plus-minus.
The numbers aren't exactly eye-popping. Before Sunday's game, Williams was averaging 10.0 points, 8.9 rebounds, and 1.9 blocks. But the baseline stats hardly tell the entire story. Williams' athleticism allows him to wreak havoc on the offensive glass. He's averaging 3.9 offensive boards. Additionally, the 24-year-old is a terrific passer for being such a young center.
The Louisiana native recorded the first triple-double of his career in a New Year's Eve victory over the Phoenix Suns. They weren't of the ho-hum variety, either. Williams' first assist came when he spotted Smart cutting through the middle of the lane. He did the same later in the game, keeping his eyes on a back-cutting Josh Richardson and executing a terrific bounce pass for an easy deuce.
Performances like his showing against the Suns remind Celtics fans of his immense upside.
How high can he fly?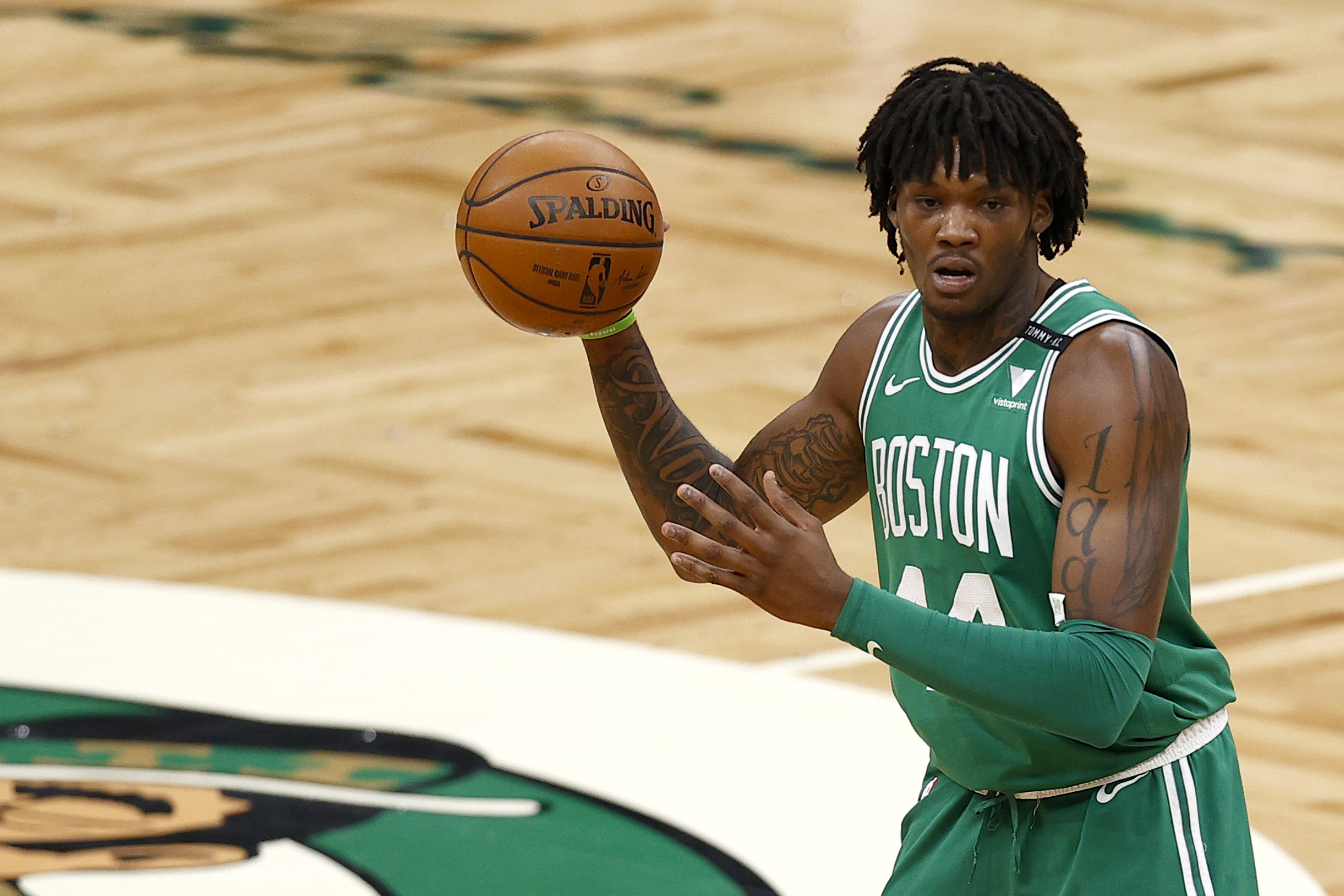 Just how high is Robert Williams' ceiling? It sure looks lofty.
Here's something for Celtics fans and others to consider: Williams is still posting terrific numbers despite his usage rate confusingly being down 3%. Boston figures to get him more touches going forward, particularly after he showed such exceptional vision on New Year's Eve.
What's more is that Williams, while seeing more action, still plays fewer than 30 minutes a night. He stands to receive more minutes soon, especially if the Celtics trade Horford. Timelord is also willing to learn. He embraced a challenge from head coach Ime Udoka earlier in the season and responded with a big game.
Williams has to develop a stronger low-post game and could stand to make gains as a midrange scorer. But the raw athleticism and talent have been on full display this season, and his year-over-year progression is something Celtics fans can take solace in amid such a frustrating season.
Stats courtesy of Basketball Reference.