ROC Racers Jimmie Johnson, Colton Herta, 2 Cali Bombs, Heat Up Arctic Circle
The two Californians didn't hit the surf. Instead, NASCAR icon Jimmie Johnson and IndyCar driver Colton Herta headed for the Arctic Circle. 
Forming Team USA at the Race of Champions (ROC) Nations Cup, Johnson and Herta traded an offseason trip to the beach for the snow and ice.
In a "major upset," they shoveled a trail into the finals.
Jimmie Johnson on Colton Herta's ROC performance: 'Awesome day for us both'
The two IndyCar pilots navigated the challenging course and sub-zero weather conditions but were frozen out of first place by Team Norway's father-and-son unit of Petter and Oliver Solberg. The competition was staged in Pite Havsbad, Sweden, located about 60 miles from the Arctic Circle. 
The dudes from Cali were dank. Johnson, a native of El Cajon, California, raved about the experience in a video posted on social media. It certainly wasn't the 405, but it was a hella good time in California slang. 
"Awesome day for us both," said Johnson, a seven-time Cup champion who will race on the IndyCar circuit this season. "Who would have thought two California guys would be here on snow and ice and finish second in the Race of Champions Nations Cup. 
"Just a super fun day."
Or, it was the bomb.
Johnson: 'I think we kind of surprised ourselves'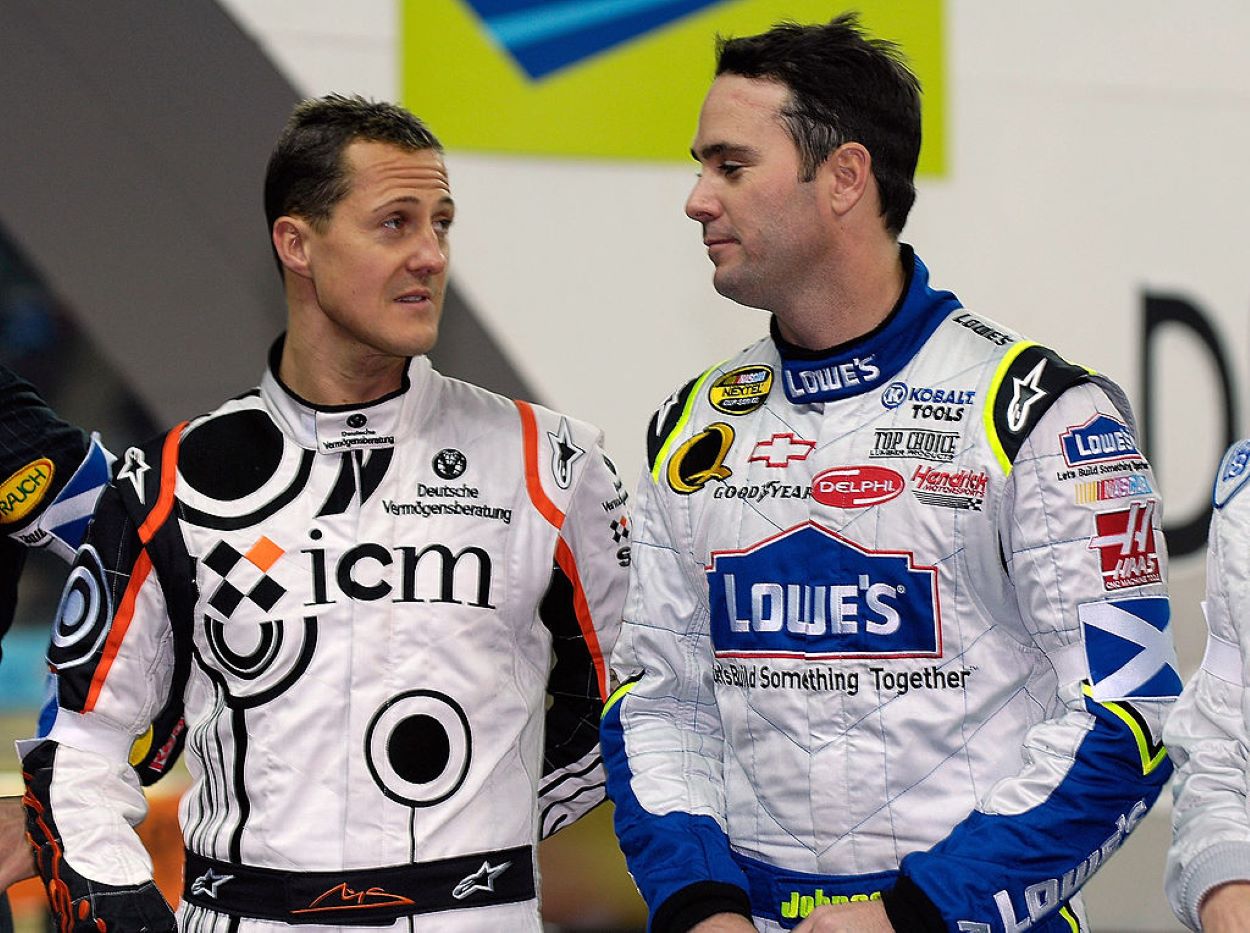 As those from the Golden State say, "Woah man, come up!" That, of course, means Johnson and Herta, who hails from Santa Clarita, California, upgraded Team USA. En route to the finals, they beat drivers with a combined six Formula 1 drivers' titles and four Indianapolis 500 checkered flags. 
Johnson and Herta, driving for injured Travis Pastrana, topped Team Finland with the late replacement upending Mika Hakkinen, a two-time Formula 1 champion.
The Californians also blazed past a formidable combination of Sebastian Vettel, a four-time F1 titleholder, and Mick Schumacher, a second-year F1 pilot still searching for his first point. Herta also beat four-time Indy 500 winner Helio Castroneves.
For the favorites, it was heavy.
"Colton was right there on pace," Johnson said. "I think we kind of surprised ourselves."
And many motorsports fans South of the Arctic Circle.
Two boys from Cali competing in the "Champion of Champions" race at the ROC?
Cool.
Johnson's machine suffers engine trouble in the finals
The ROC appearance was Johnson's first in 15 years. He still seeks his second team title. Johnson, NASCAR legend Jeff Gordon, and MotoGP rider Colin Edwards claimed the 2002 championship on a dirt track in Gran Canaria, Spain. 
Things fell apart for Team USA in the finals. Johnson experienced engine trouble and was forced to withdraw after his first run. 
"… But we'll take 2nd place for a couple of Cali kids," Johnson wrote in a Tweet. 
The Solbergs clinched the first ROC title won by a team of family members. The elder Solberg is a three-time World Rally champion. It was his second Nations Cup trophy. 
Johnson said his and Herta's efforts "just came up a little short to the Solberg family. We exceeded expectations and looking forward to having some fun tonight." 
Yadadamean.
Like Sportscasting on Facebook. Follow us on Twitter @sportscasting19.
RELATED: Kyle Larson, Chase Elliott Pace 3 Top Drivers Under 30 Possessing NASCAR Hall of Fame Aspirations