NBA
Of Course, the Rockets' Mike D'Antoni Was the First Coach to Test an NBA Rule Change
As the 2019-2020 NBA season approaches, the league will see several new changes. Russell Westbrook is in Houston, Kevin Durant is in Brooklyn, and Anthony Davis is in Los Angeles. There's also one major change when it comes to the rulebook. What is the new rule, how did Houston Rockets coach Mike D'Antoni become the first one to test it, and why should that not surprise anyone?

The new rule in the NBA this season
Like all professional sports leagues, the NBA adopts rule changes from time to time in order to evolve as a sport. This year, they'll implement another change, though it might be temporary depending on how well it works out. According to Slate, during the 2019-2020 season the NBA will go the way of MLB and NFL and allow for replay reviews initiated by coaches:

"The league approved a new challenge rule that allows coaches to trigger video reviews of contentious calls. They will get one challenge per game, and it can only be used to dispute personal fouls, out-of-bounds calls, and goaltending violations. Unlike the NFL, there will be no flags involved; a coach will initiate a challenge by calling a timeout and 'twirling his/her finger toward the referees.'"

The G-League, the NBA's developmental league, has experimented with this for two years. It will be a one-year experiment for the NBA as well, after which they'll re-assess the rule's effectiveness. The benefit of replay? Officials will (presumably) get more calls right. The downside is that it can often lead to game delays.

Teams will each receive one challenge per game. It will be interesting if teams wait for the fourth quarter to deploy their challenge or if it comes out earlier at a critical point in one of the first three quarters.

Mike D'Antoni was the first coach to test the rule change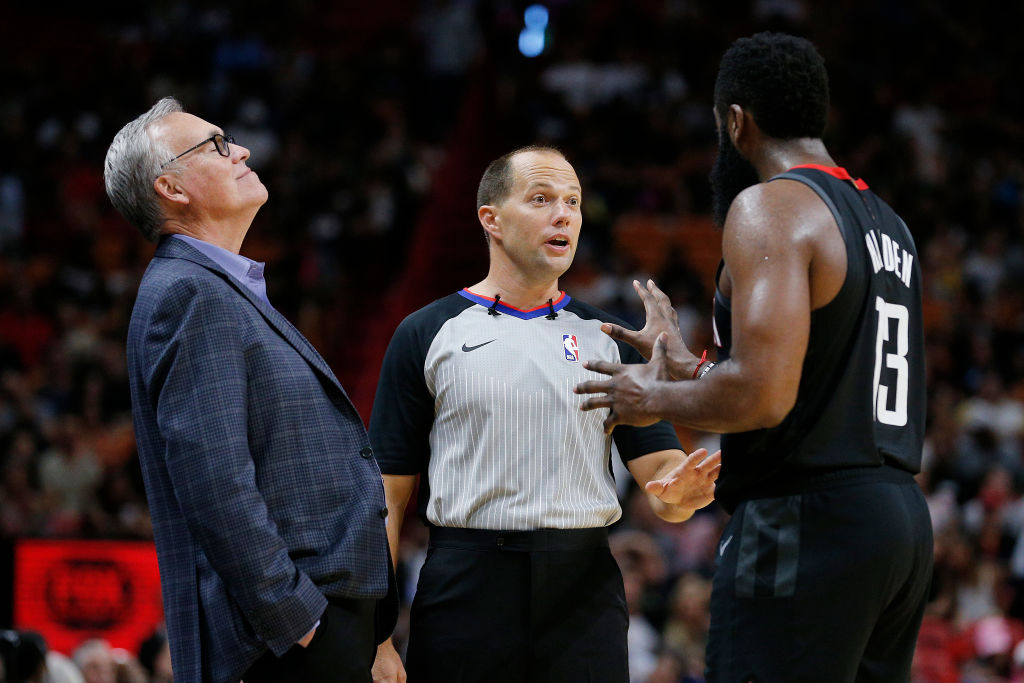 It didn't take long for replay to come into use.

The Houston Rockets played the Los Angeles Clippers in a preseason game in Honolulu, Hawaii. With 2:02 left before halftime, the refs whistled Rockets' star guard James Harden for an offensive foul. Before the Clippers could inbound the ball and play could resume, Rockets coach Mike D'Antoni signaled that he wanted the play reviewed.

The challenge, which D'Antoni admitted later he was unsure was the right call, was unsuccessful. Afterward, D'Antoni reflected on how it will be an adjustment for coaches getting used to the rule:

"It's easy to screw up," D'Antoni said. "It's going to be a little adjusting. It takes a while to get used to. We don't have the regular flow of information that we'll have in a regular game. They'll tell me before that I should go out there and challenge."

Clippers head coach Doc Rivers laughed when D'Antoni challenged the call. He was later reminded that he and D'Antoni had made a bet on which one of them would be the first to make use of the new rule.
Why it's not surprising D'Antoni was the first coach to use replay review
The Rockets as a team never hesitate to react to perceived slights. James Harden believed voters rigged the MVP results in 2019, and the franchise kept track of and pointed out missed calls by the refs.

While Mike D'Antoni's challenge was somewhat lighthearted, it's not the first time he's challenged the refs. Last summer, during the 2019 Western Conference semifinals, D'Antoni was upset with some calls he thought should have been made. After the game, he was apoplectic:

"'They just came at halftime and said they missed them. They missed four of them. That's 12 foul shots," D'Antoni said after the game the Rockets lost to the Golden State Warriors, 104-100."

D'Antoni is no stranger to requesting the officials to get it right. While the new rule only allows him one challenge per game, his past comments indicate he may be using them on a few James Harden non-calls in the near future.