Rodrigo Blankenship Credits His Unusually Calm Demeanor to His Faith: 'You Can't Get Too High or Too Low'
Being an NFL kicker is a nerve-wracking profession. You're often asked to enter a game, having stood on the sidelines for the majority of it, to perform at a high-level in pressure-packed situations. After the other players do battle for most of the game, it's often the kicker who's asked to come in and win it with a clutch kick. Sometimes, they deliver. Other times, they fail. Whether they perform or not, it has to be a tense spot they're in. 
Rodrigo Blankenship of the Indianapolis Colts doesn't suffer from the same apprehension that many kickers might. He's able to approach the game with an even-keel, calm demeanor. So how exactly does he do this? 
The rise of Rodrigo Blankenship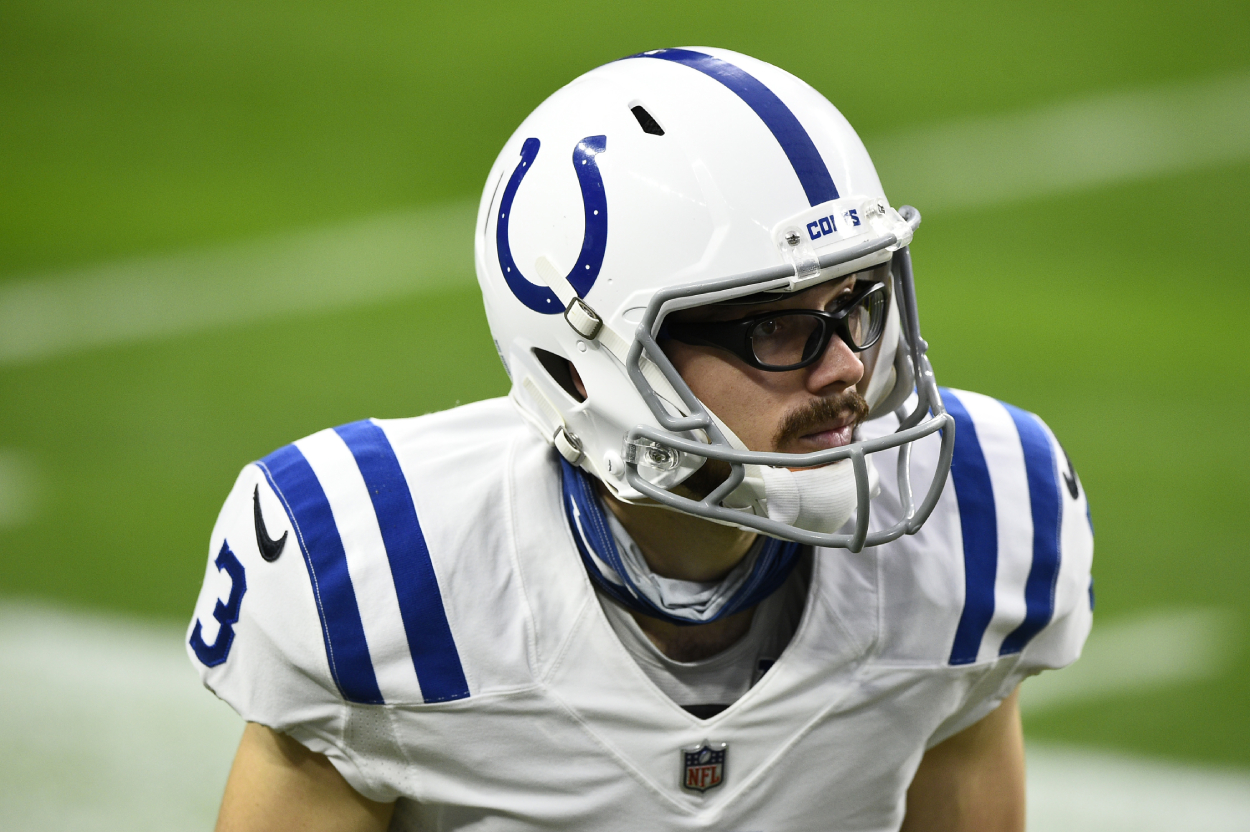 Blankenship's interest in football began with the other kind of football — soccer. Blankenship began playing that as a young man, according to an interview with GQ.
Blankenship showed a decent amount of proficiency kicking the soccer ball, so much so that his Dad recommended he attempt to do the same but with an American football. Here's how Blankenship described it: 
"We got a tee from the head coach at Sprayberry high school. I went out onto their practice field one day when no one else was there. My dad just set up a ball on the sticks and said, "Here, kick this like you kick a soccer ball and we'll see what happens." So I kicked it and it went over the post, and we just kind of never looked back."
From there, the kicker's future was set. He'd kick for the University of Georgia Bulldogs, a high-profile SEC program. He excelled there, gaining national attention after hitting a game-winning field goal and doing the postgame interview with his helmet still on.
The Indianapolis Colts then drafted Blankenship and he became a fan-favorite. Whereas many football players embrace a tough guy persona, Blankenship became known for liking LEGOs and Marvel Comics.
With interests like these and a pair of glasses he wears during games, Blankenship can lay claim to the title of "nerdiest player in the league." Colts' fans likely wouldn't want him any other way. 
How did Rodrigo Blankenship perform for the Indianapolis Colts during the 2020 NFL season? 
Blankenship had a great year for a playoff-bound Colts team in 2020. According to Pro Football Reference, he made 86.5% of his field goals and 95.6% of his extra points. He earned the AFC Special Teams Player of the Week honors in week 11.
He was also fifth overall in both points scored and field goals made. Blankenship's steady leg helped the Colts make the playoffs, but his appeal goes beyond that.
There's something about Blankenship's unique attitude and look that resonates with Colts fans. The real question is, how does Blankenship consistently perform at such a high level? 
How to maintain such a calm demeanor
When it comes to maintaining his composure as an NFL rookie, Blankenship told GQ that he could credit his faith: 
"I've tried to make a very serious effort to grow my relationship with God this season. I had a Christian upbringing but had just been kind of distant for most of my time in college, so I just wanted to kind of recommit. There's a passage in scripture that talks about how God can provide a peace that only he can give, that the world can't offer to you." 
Aside from embracing his spiritual side, Blankenship also got some seemingly great advice from a colleague of his: 
"A piece of advice I got from a veteran kicker that we had played against earlier in the year was, "You can't get too high or too low."
With a belief system and attitude like these in place, it seems like Blankenship may be set up for long-term NFL success at a super-demanding position.