Roger Goodell Explains the Differences Between Commissioners Pete Rozelle and Paul Tagliabue
The position of NFL commissioner can often be a thankless one, with the person in charge receiving criticism regardless of what position they take on various issues. The current NFL commissioner, Roger Goodell, has served in his position for many years, and although he won the role in a very close vote, he has since become one of the most powerful people in the sports world. Recently, Roger Goodell opened up on the Great Dane Nation podcast about how he tackles his role as NFL commissioner — along with how he feels about how his predecessors, Pete Rozelle and Paul Tagliabue, were able to handle the lofty position.
Roger Goodell opened up about the differences between Pete Rozelle and Paul Tagliabue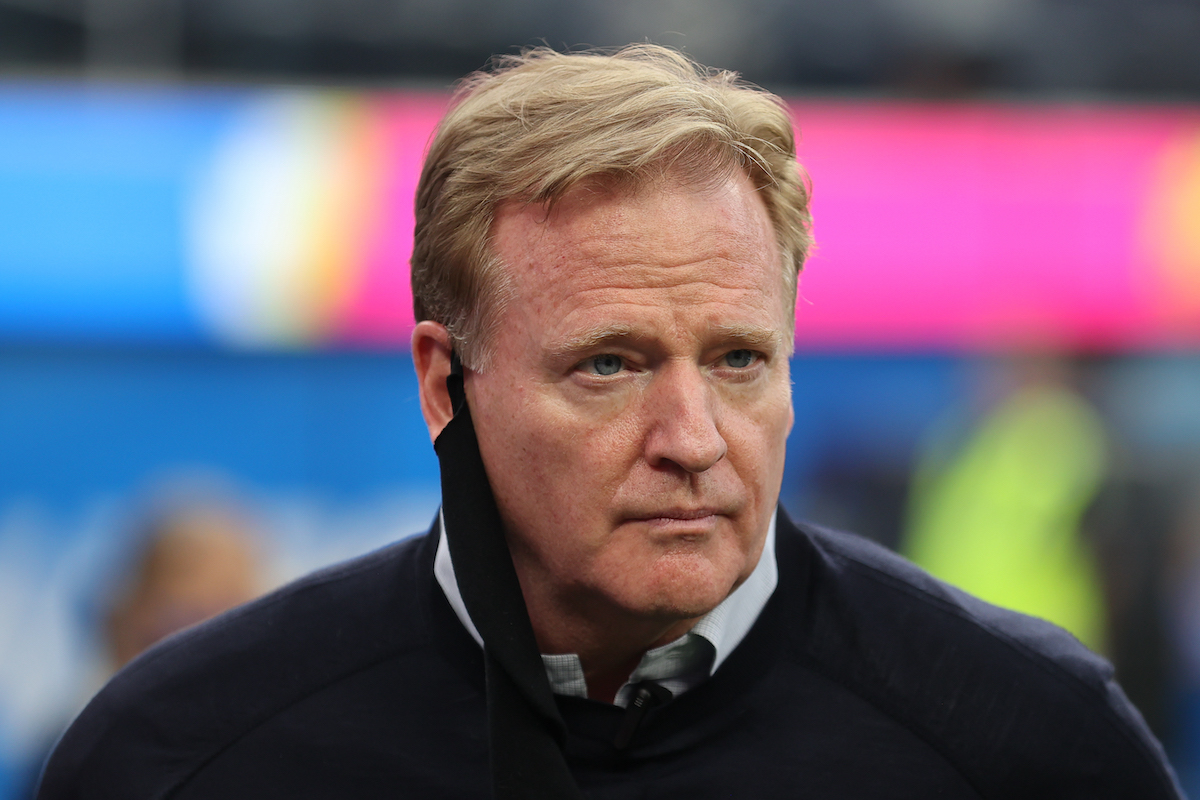 In a recent interview on the Great Dane Nation podcast, Roger Goodell opened up about his experience taking over as NFL commissioner — as well as the differences between Pete Rozelle and Paul Tagliabue.
"The league was in two different positions when each of those gentlemen took over. I often say I'm really fortunate by the people who came before me. I think this league is. They were two extraordinary commissioners who had two different challenges," Goodell said, revealing his appreciation for both Rozelle and Tagliabue.
Goodell went on to share that Rozelle established a foundation of "how to make the NFL more attractive as a league and engage more fans." He explained, "He was a genius at marketing and communications and really understanding that we needed to really ride the wave of broadcast television, which he really aligned those interests. He obviously oversaw the merger of the NFL and the AFL."
Goodell added: "And then Paul came in and, I think, really helped it through many legal challenges that were going on at that point in time, including with the players, and working through — and really we operated for several years as Paul came in without a collective bargaining agreement."
Ultimately, Goodell revealed that he was able to look to the examples set by both men to help dictate his own approach to issues as NFL commissioner, stating that "having the opportunity to work for them and benefit from that; they had different styles, different approaches, and you each have to have your own approach. So I think mine is probably influenced by them but I think we all have our different approaches."
When did Pete Rozelle serve as NFL commissioner?
Alvin Ray "Pete" Rozelle was born in 1926, and from a very early age, he was involved in athletics. After several years in student athletics working as a news director and public relations assistant, the 33-year-old was named NFL commissioner in 1960. Rozelle's tenure as NFL commissioner was remarkably successful by any standard, and under his guidance, the NFL grew from 12 teams to 28.
Additionally, Rozelle oversaw the creation of Monday Night Football in 1970 and helped the NFL move from a 12-game schedule to a sixteen-game schedule, according to IMDb. By the time Rozelle retired in 1989, he had received acclaim as possibly the most powerful commissioner in sports.
Paul Tagliabue was the NFL commissioner for nearly 20 years
When Rozelle retired, Paul Tagliabue took over the position of NFL commissioner. Having previously served as a lawyer for the NFL, Tagliabue had years of experience in the athletic world. During his tenure as commissioner, Tagliabue helped usher in several major changes for the NFL, including expanding from 28 teams to 32. He also helped to launch new franchises and expansions, increasing the NFL's presence as a whole.
Tagliabue served until 2006, at which point he relinquished his position to Roger Goodell, the current NFL commissioner. He was chosen for the position over four finalists in a tight vote. During the early years of his time as commissioner, Goodell looked to the example of Rozelle and Tagliabue, the predecessors who had established such an incredible legacy.
RELATED: Roger Goodell Takes Not-So-Subtle Shot at Jerry Jones and His Mouth