Roger Staubach Led a Far More Important Unit Before He Became the Dallas Cowboys' Starting Quarterback
For nearly a decade, Dallas Cowboys quarterback Roger Staubach commanded his offense with precision and leadership en route to winning two Super Bowl rings.
However, long before he took over the Cowboys, Staubach needed to fulfill his obligations with the U.S. Naval Academy. In the Heisman Trophy winner's case, that included time spent overseas during the Vietnam War.
Roger Staubach worked as a supply officer during the Vietnam War
Officially, the Dallas Cowboys selected Staubach using a "futures pick" in the 1964 NFL Draft — which, it's worth noting, occurred in December 1963. In theory, he would have been eligible to play for the team in 1965.
Instead of throwing touchdowns against the New York Giants or Green Bay Packers during that time, Staubach instead traveled to Vietnam. During a 2016 appearance on American Warrior Radio, the Pro Football Hall of Fame quarterback recalled spending a year overseas as a Supply Corps officer.
Staubach estimated he worked with roughly 60 military members and 60 Vietnamese volunteers at the Chu Lai Base Area in Central Vietnam.
"These LSDs [Landing Ship Docks] would come into July, and we'd offload all the LCs [Landing Crafts]. … I had a lot of responsibility. And what we did was offload all the LSDs and then ship [them] out. They [would] load them up with that, load the pallets onto the trucks, and then the trucks would go out to the various Marine bases."

Roger Staubach
Staubach returned to the United States in 1967 and joined the Cowboys two years later.
Staubach brought his leadership skills to the Dallas Cowboys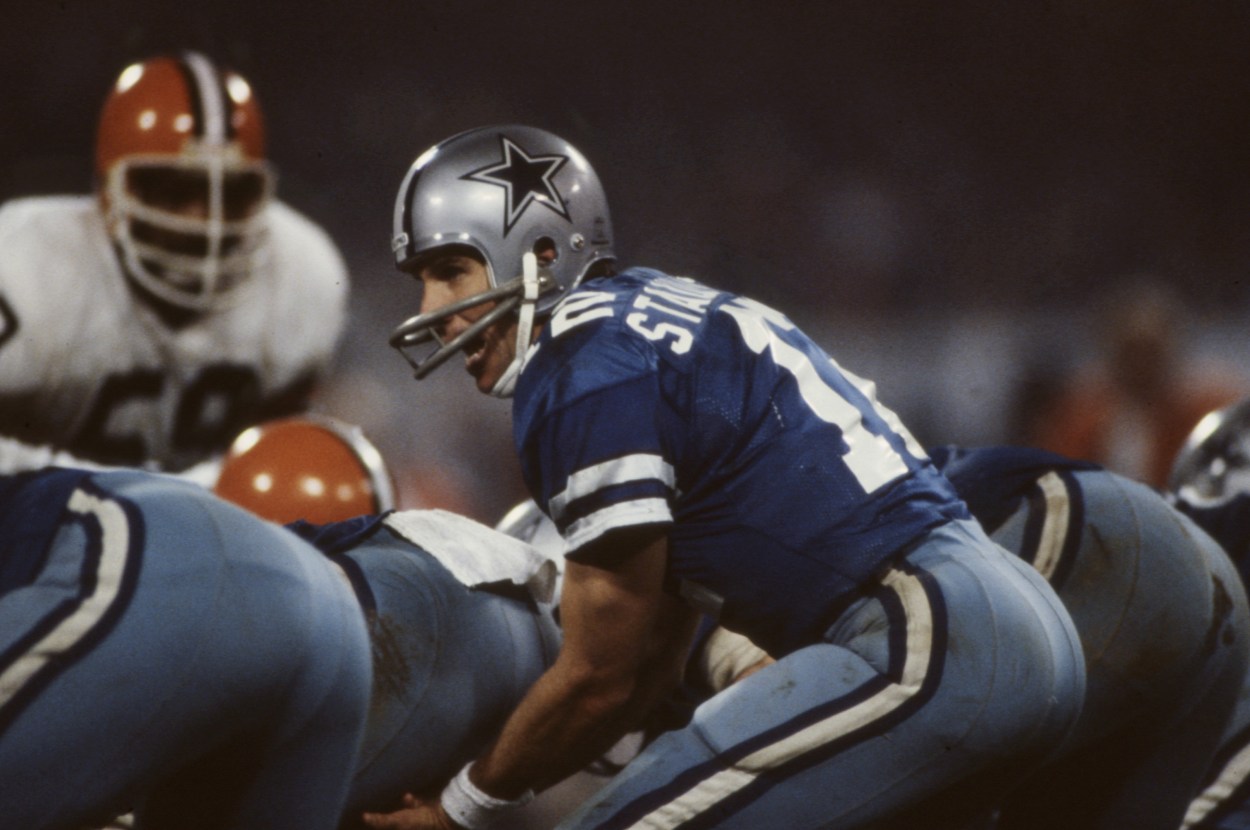 There's a reason why quarterbacks are cited as leaders, both of the offense and the entire team. Coaches at all levels turn to them as the voices in the huddle and someone who can rally a diverse room of players and coaches to the same cause.
Staubach pulled that off with aplomb in his 11 NFL seasons. He took over the Cowboys' starting quarterback job midway through the fall of 1971 and didn't relinquish it until injuries forced his retirement after the 1979 season.
Staubach lasted as long as he did and won two Super Bowls because he expertly commanded the Cowboys roster. He kept spirits high and brought out the best in his teammates to close games or pull off an improbable comeback.
If Staubach could supervise a group of enlisted officers in a war, he certainly had what it took to lead a group of professional football players.
Staubach wasn't the only NFL player who served in Vietnam
Staubach is among the most famous professional athletes who served during the Vietnam War. He was far from the only one, especially in the NFL.
Pittsburgh Steelers fullback Rocky Bleier was drafted into the Army in 1969, months after finishing his first NFL season. Despite leaving Southeast Asia with a load of shrapnel in his right leg, Bleier returned to the league in 1961 and played for another 10 seasons, winning four Super Bowl rings in the process.
Houston Oilers running back Woody Campbell, an AFL All-Star in 1967, served as a military policeman in Vietnam. Buffalo Bills offensive lineman Bob Kalsu served as a second lieutenant as part of the 101st Airborne Division. He was killed in action in July 1970 at the Battle of Fire Support Base Ripcord. Don Steinbrunner, a former Cleveland Browns offensive lineman, attained the rank of major in the U.S. Air Force. His plane was shot down on July 20, 1967, killing all five crewmen aboard.
Baseball-Reference lists over 120 figures affiliated with the sport, ranging from then-active players to Bill James, the noted author and future Boston Red Sox front office member. New York Yankees catcher Thurman Munson and Baltimore Orioles legend Rick Dempsey are among the Vietnam War veterans.
Like Sportscasting on Facebook. Follow us on Twitter @sportscasting19.