Ron Rivera Has 2 Words of Caution About QB Cam Newton
The Carolina Panthers recently fired longtime head coach Ron Rivera. The team underperformed this year, in no small part thanks to a season-ending injury to Hall of Fame-worthy quarterback Cam Newton. Newton is the face of the franchise, and the offense essentially lives and dies with him. Once he went down and the team was unable to remain competitive, the writing was on the wall for Rivera.

Questions remain for all three parties involved: Rivera, the Panthers, and Newton. Rivera was asked about what Newton can do going forward, potentially for another team. He had two specific words of caution about Newton's future franchise.
Ron Rivera's coaching career is impressive
Rivera played nine seasons at linebacker for the Chicago Bears. Following his playing career, he joined the Bears as a defensive assistant. Eventually, Rivera was the defensive coordinator in Chicago from 2004-2006. In 2008, he became the defensive coordinator in San Diego, where he served until getting the Panthers head coaching gig in 2011.

In 140 games as Carolina's head coach, Rivera's win-loss record was 76-63-1. In seven playoff games, his record was 3-4. The highlight of Rivera's coaching career was leading the Panthers to a 15-1 record and a Super Bowl berth in the 2015 season. Unfortunately for the Carolina faithful, they fell short in their quest, losing to Peyton Manning's Denver Broncos.

Newton has been Rivera's quarterback for the coach's entire tenure in Carolina. It's fair to say their fates were intertwined. Now, as Rivera moves on and the Panthers assess whether or not they move forward with Newton, he shared his thoughts on the quarterback.

Cam Newton's impact on the Panthers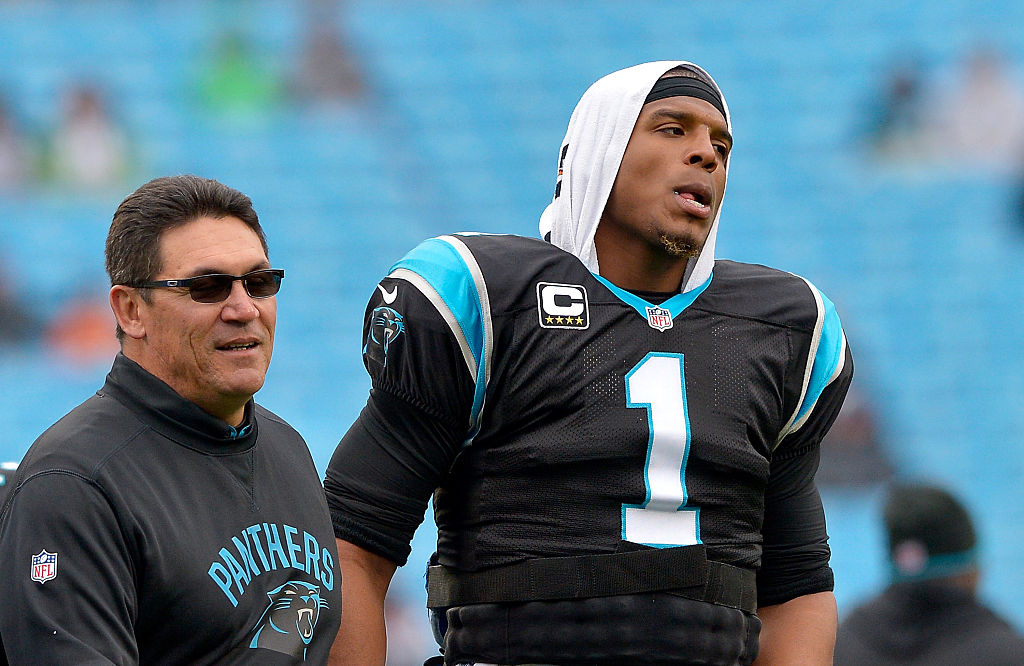 As someone with valuable insight into Newton's playing style, Rivera's opinion on the QB carries a lot of weight. Here's what Rivera said about Newton's impact on the Panthers and his potential impact on a new team:

"When you look at our team analytically, when Cam was Cam, for seven years, we were the number one goal-line offense. We were the number one fourth-and-1 team. Because we had this guy who had this specific skill set. I just believe that if he gets healthy with some of the things that he's done, he can be pretty impactful. But as you said, he's property of the Panthers, and he's got a big number."

It's that last part that may have the Panthers seeking to cut Cam Newton loose sooner rather than later. Ron Rivera said two words that might scare off potential suitors for Newton's services.

Ron Rivera's two words of caution regarding Cam Newton
Rivera's two words for anyone who thinks they may know how healthy Newton will be next season? "Nobody does."
The issue with Newton is that he's a great player when he's on the field. The problem is that until he's cleared to play medically after foot surgery, it's a guessing game. No one can know A) how healthy he'll be at the start of next season and B) how effective he'll be once he does play. Newton may not return as the same player he was before the injury.

Unfortunately for Rivera, Newton's inability to stay on the field helped speed up the coach's downfall. But it probably works out better for all parties: the Panthers can get a fresh start (possibly at both QB and head coach), and Rivera can interview with other teams before Black Monday arrives. He also won't have to answer questions about being on the hot seat in Carolina. After leading the Panthers to a Super Bowl appearance, he'll have no shortage of suitors.

As to what will happen to Newton? Well, as Rivera said, right now nobody really knows. He's had an amazing career and likely has more fuel left in the tank. If he can come back with a clean bill of health, expect him to return to form.