Ron Rivera Is Excited About a Player That the Washington Redskins Will Play Less Than $700,000 in 2020
The Washington Redskins were not good in 2019. The team ultimately went 3-13, missing the playoffs for the fourth consecutive season and the 10th time in the last 12 seasons. However, with a new head coach in Ron Rivera, a young quarterback in Dwayne Haskins, and a really talented pass rusher in Chase Young, the Redskins have a lot of promise for the future. However, Rivera is excited about someone that the Washington Redskins will play under $1 million this upcoming season. That player is Terry McLaurin.
Terry McLaurin had a great rookie season for the Washington Redskins
RELATED: A Washington Redskins Lawsuit Almost Forced the NFL Draft to End
After he had a successful career for the Ohio State Buckeyes in college, the Washington Redskins selected McLaurin in the third round of the 2019 NFL draft. McLaurin ended up being a really nice addition to the team last year, even with their struggles.
McLaurin led the team in receptions as a rookie in 2019 with 58 catches. He also led the team in receiving yards with 919. McLaurin additionally hauled in seven receiving touchdowns on the season. He only played in 14 games too. If he had played in all 16, it is almost certain that McLaurin would have gained over 1,000 receiving yards on the season. 
Throughout the year, McLaurin had some massive games for the Redskins too. This was even with the team starting three different quarterbacks over the duration of the season. In McLaurin's first game in Week 1 alone, he caught five passes for 125 yards and a touchdown. He also had a big game in Week 15 when he caught five passes for 130 yards and a touchdown.
McLaurin can be an excellent weapon for the young QB Dwayne Haskins over the next few years. Plus, it also helps that they two played together in college at Ohio State. 
Ron Rivera is excited about his young receiver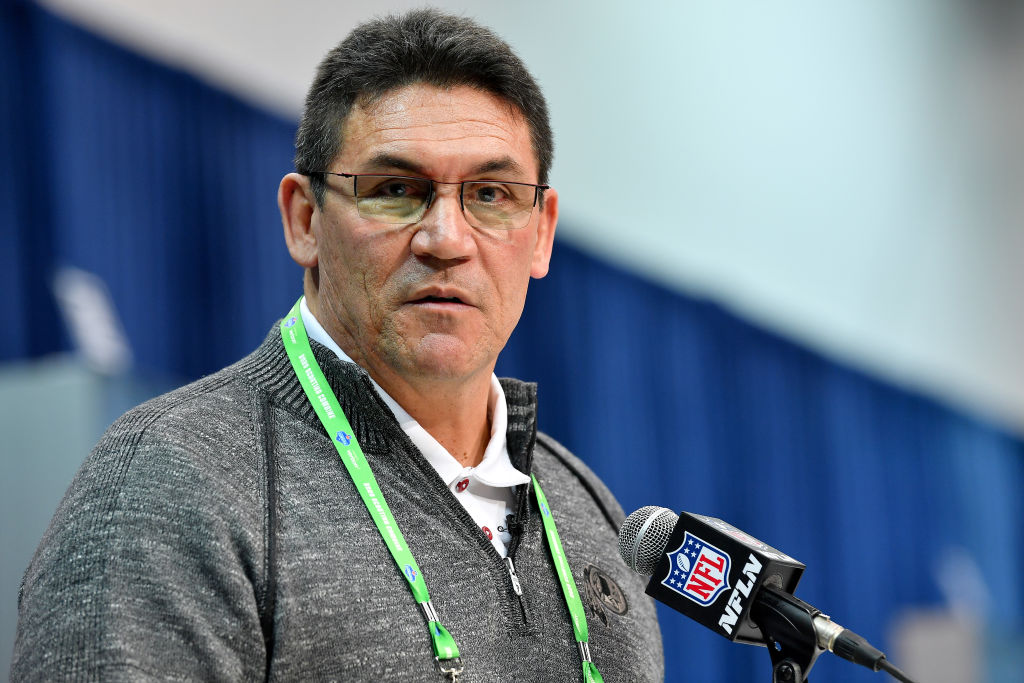 RELATED: Adrian Peterson Just Hinted That the Redskins' $14 Million Man Could Be a Star in 2020
After coaching the Carolina Panthers for eight seasons, and part of a ninth season, Ron Rivera is in his first season as head coach of the Washington Redskins. 
Rivera seems to be really excited about Terry McLaurin.
"I've got to say, I like the wide receivers," Rivera recently said on FS1's FOX Football Now with Jay Glazer, according to 247Sports. "Terry McLaurin's been a treat. He's been a treat to get to know. I ran into him several times before the lockdown when he would come around and I'd have a conversation with him. And then listening in on his conversations with (wide receivers) coach (Jim) Hostler has been really, really good. I mean, he's a young man I think that had a solid year last year as a rookie, a third-round pick — he's a guy that could be on the verge (of stardom), he really is."

Ron Rivera
So, if McLaurin ends up being a star in 2020, he will be an absolute bargain.
The Redskins will pay McLaurin less than $700,000 in 2020
RELATED: Dwayne Haskins Went All out When Spending His First $1 Million From the Redskins
Being a third-round draft pick, McLaurin does not have a massive contract as he has one that is worth only $3.84 million over four years, according to Spotrac. In fact, after receiving an estimated $1.49 million in 2019, McLaurin is not expected to get paid $1 million or more over the next three seasons.
In 2020, Spotrac estimates that McLaurin will make $681,451. That ranks No. 171 in the NFL among wide receivers in 2020. Additionally, his cap hit in 2020 will be just $932,256, which ranks No. 996 among wide receivers in this next season, according to Spotrac. This guy will most likely be an absolute bargain for the Redskins in 2020.
The Washington Redskins cannot do much worse than they did last season. However, with some really talented players like McLaurin, Haskins, and Chase Young all being on their rookie deals, they have a chance to maybe make some noise over the next few seasons.
Stats courtesy of Pro Football Reference