Ron Rivera Issues Stern Warning to Mike McCarthy Before Crucial Clash Against the Cowboys: 'It's a Big Mistake'
The Week 14 matchup against the Washington Football Team probably means more than the Dallas Cowboys hoped. Washington has given Dallas some unwelcome company in the race to win the NFC East.
Mike McCarthy made headlines, guaranteeing a Cowboys victory. WFT head coach Ron Rivera didn't take too kindly to those remarks.
Ron Rivera ripped Mike McCarthy's bold declaration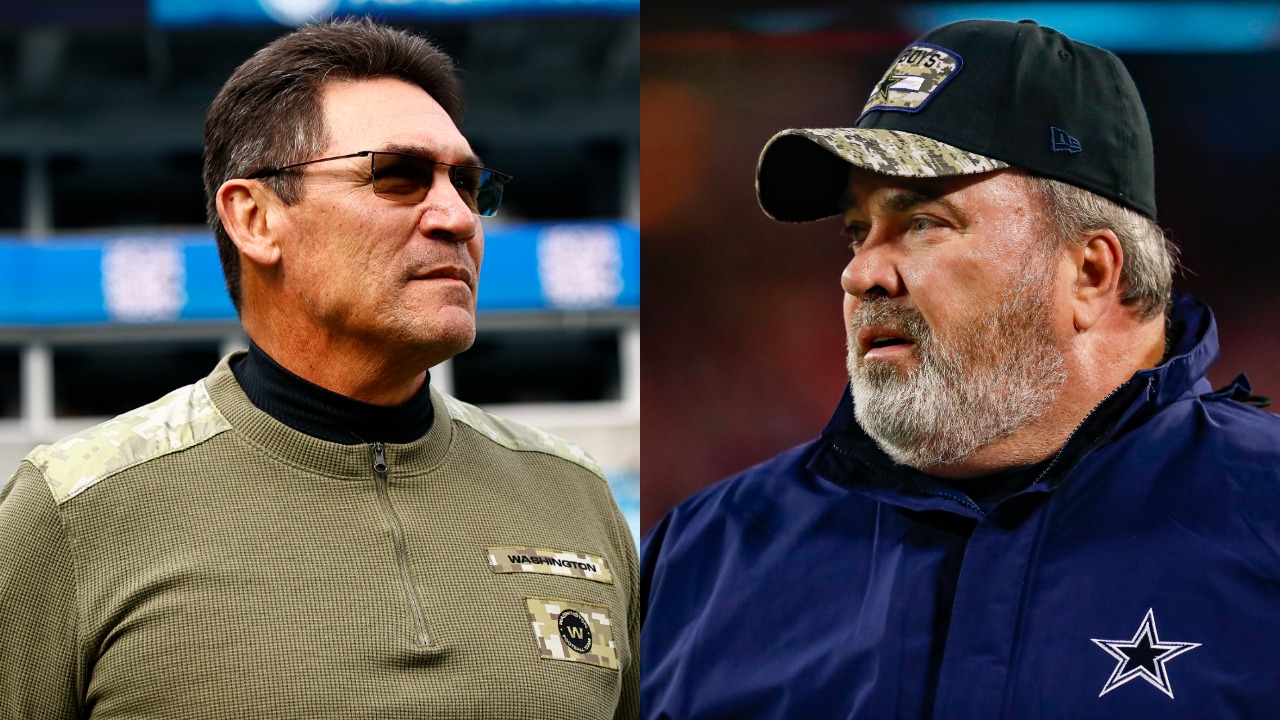 Mike McCarthy just returned from coronavirus (COVID-19) protocols, and he's already putting more pressure on his team. The Dallas Cowboys head coach declared victory over the Washington Football Team in a recent press conference.
"We're going to win this game," said McCarthy. "I'm confident in that and the prep that's going into it."
Ron Rivera wasn't a fan of the Cowboys' head man writing the check with his mouth that he can't physically cash himself.
"You do that for a couple of reasons," Rivera said per, The Athletic. "1. You want to get in our head. Secondly, he's trying to convince his team. He's now made it about him. I think it's a big mistake."
If the Cowboys are as good as some believe they are, bold declarations should be unnecessary. McCarthy also isn't suiting up when the two teams meet. Even if the players won't admit it, they're likely already feeling the pressure of their head coach's comments.
Rivera is one of the NFL's most well-respected coaches, so when he speaks, people listen. Best believe Washington is itching for a chance to knock off Dallas in Week 14.
The Washington Football Team doesn't need bulletin board material
Mike McCarthy may not believe in bulletin board material, but that's exactly what he just gave to the Washington Football Team. The problem is that Ron Rivera's squad doesn't need it.
The Football Team enters this crucial matchup with a 6-6 record. The team is two games behind the Cowboys in the NFC East with five games left to play.
Washington is one of the hottest teams in the NFL right now, reeling off four consecutive victories. An upset over Brady and the Tampa Bay Buccaneers propelled this team to go on its winning streak. The players also know how imperative it is that they keep winning.
Defensive tackle Jonathan Allen heard McCarthy's comments and had a clever response himself. "The only thing guaranteed is death and taxes," said Allen.
If the season ended today, Washington would be the No. 6 seed in the NFC, and Dallas the No. 4 seed. However, the Football Team has all the momentum right now. This squad doesn't need extra motivation to fight for a division title and playoff spot.
The Cowboys are in the driver's seat but must be careful
The Dallas Cowboys head into the Week 14 matchup sitting at 8-4 on the season. They're coming off a win over the New Orleans Saints on Thursday Night Football.
Even though Dallas took down New Orleans, it was just a decent performance. Still, the team figured out a way to get the job done without Mike McCarthy on the sideline.
As the Cowboys travel to FedEx Field to take on Washington, they must realize it will take more than decent to beat their opponents. Sure, the Football Team is only .500, but it features a host of hungry players.
Dallas doesn't have the NFC East wrapped up yet. A win over Washington could go a long way to sealing the deal, but there's more work to do.
Washington is playing good football right now, led by its resurgent defense. Jonathan Allen, Daron Payne, and company have played lights out recently. Most impressively, defensive coordinator Jack Del Rio's unit has done so without Chase Young and Montez Sweat on the field.
On the offensive side of the ball, quarterback Taylor Heinicke has exceeded expectations since taking over for the injured Ryan Fitzpatrick.
If nothing else is certain about a Ron Rivera-coached football team, it will fight. The Cowboys better prepare to do just that, or Mike McCarthy will look like a fool.
All stats courtesy of Pro Football Reference.