Ron Rivera Shares a Michael Jordan Lesson He's Taking Into the Washington Football Team Preseason Opener
When the Washington Football Team visits the New England Patriots on Aug. 12 to open their preseason schedule, coach Ron Rivera will have something other than football on his mind. Specifically, he'll be evaluating his team while remembering something basketball superstar Michael Jordan told him decades ago.
Rivera is entering his second season in Washington after leading the club to an unlikely division title in 2020. WFT became the third team to win a division with a 7–9 record. Washington gave the eventual Super Bowl champion Tampa Bay Buccaneers all they wanted in the NFC Wild-Card Game, losing 31–23.
Rivera built a career on his unconventional tendencies during his eight-plus seasons with the Carolina Panthers. Washington will need that creativity to stay ahead of the NFC East pack over the new 17-game season.
Ron Rivera was going nowhere until he asked for some help
Early in his tenure with the Panthers, Ron Rivera's team was walking the mediocrity treadmill. Carolina when 6–10 during Rivera's first year and improved, but only to 7–9, the following season. Worse still, the Panthers were losing the close games. Thirteen of the 19 losses over Rivera's first two years were by six points or less.
A conversation with Hall of Fame coach John Madden changed Rivera's perspective. Well, Madden's advice and a car accident. Thus, "Riverboat Ron" was born, and Carolina ran off three straight NFC South titles and a Super Bowl appearance after the 2015 season. The Panthers were a franchise-record 15–1 that season.
Rivera was an NFL assistant coach for 14 years before breaking through as a head coach with the Panthers in 2011. He even brings a bit of that riverboat swagger to coaching challenges. Rivera had the best winning percentage in the NFL when throwing the red flag in 2020. Four of Rivera's seven challenges resulted in overturned calls.
It makes sense then that Rivera might seek counsel outside his sport, such as a conversation with basketball legend Michael Jordan.
Rivera's career overlapped with Michael Jordan in Chicago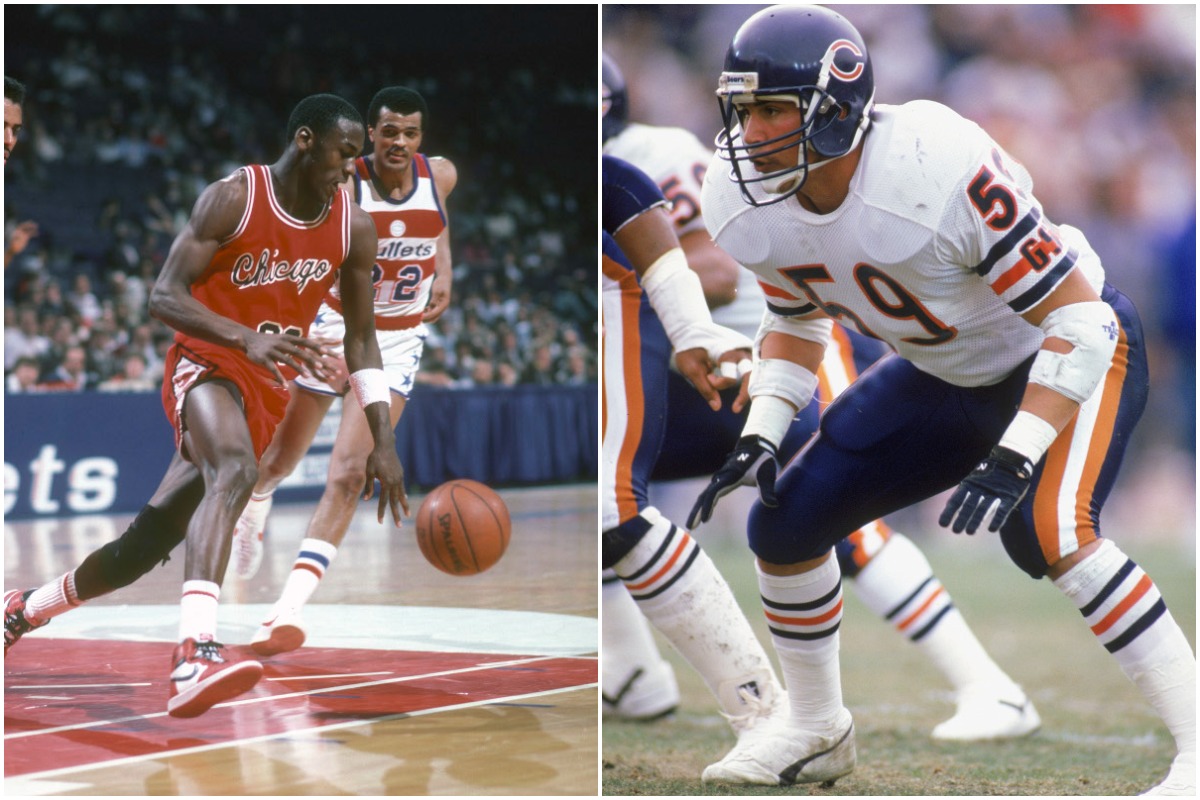 Ron Rivera was a second-round pick by the Chicago Bears in 1984 and played his entire nine-year career with the Bears. He was a rotational linebacker and special-teams performer when Chicago won the Super Bowl after the 1985 season. That made Rivera the first player of Puerto Rican descent to win a Super Bowl ring.
The same year Rivera arrived in Chicago, a more famous rookie made his way to the lakefront. Michael Jordan debuted with the Chicago Bulls. Rivera's entire playing career was concurrent with Jordan's tenure in Chicago. When Rivera rejoined the Bears as an assistant coach in 1997, Jordan was still with the Bulls.
While speaking to reporters in advance of Washington's preseason opener, Rivera dropped an unexpected name in football circles, per NBC Sports Washington. Rivera said he was looking for a consistent effort with attention to doing things correctly. Then he dropped this.
"What'll happen is when it becomes game speed, that kind of pace, that's when you really begin to notice some guys do some things. It's interesting because Michael Jordan told me this one time, a long time ago, when we were back in Chicago. He used to say, 'You watch when it comes down to clutch time, who comes to the ball hard, who doesn't seem to come off that pick as hard as they should.'

"It's just interesting. So, when we get into games like this, you really watch for those things, and it tells you."

Ron Rivera
The shared history of Rivera and Jordan marked a fun time to be a Chicago sports fan.
Michael Jordan's 6 titles top Ron Rivera's 1, but they were part of a special time in Chicago
After the Chicago Bears won the 1963 NFL Championship, the Windy City experienced a lengthy dry spell. Before the Bears' Super Bowl win in January 1986, Cubs and White Sox combined for two playoff appearances in that span. The Bulls reached two conference finals and got no further. The Blackhawks missed the playoffs just once in those 23 seasons but only had three losses in the Stanley Cup Final to show for it.
Michael Jordan's arrival with the Bulls eventually spawned a dynasty. The Bears had one of the greatest seasons of all time. They blasted through opponents in 1985 by more than 16 points per game and got more robust in the playoffs. Over three games, Chicago outscored the New York Giants, LA Rams, and Patriots by a combined 91–10.
Ron Rivera played a role on that championship team, one of seven for Chicago's sports franchises from 1985–98. That makes it one of the most decorated eras in the city's history.
Statistics courtesy of Pro Football Reference.