Ron Rivera Reveals His Plan for Dwayne Haskins Following Kyle Allen's Brutal Injury
Ron Rivera and his Washington Football Team appear to have a quarterback controversy yet again. This comes after Washington's starter, Kyle Allen, went down with an injury during the team's Week 9 loss to the New York Giants and will now probably miss the rest of the season. So, will Washington turn back to Dwayne Haskins, the young second-year QB that began the year as the starter? Rivera just recently revealed what he plans to do with Haskins now that Allen is injured.
Dwayne Haskins began the year as the Washington Football Team's starting QB
Dwayne Haskins entered the NFL after having one stellar season at Ohio State. During the 2018 season, Haskins threw for 4,831 yards, 50 touchdowns, and eight interceptions for the Buckeyes. He ultimately finished third in the Heisman Trophy voting for his play that year, too.
After that incredible season, Washington ended up selecting Haskins with the No. 15 overall pick in the 2019 NFL draft. He has since had a slow start to his NFL career, though.
He ultimately appeared in nine games in 2019, starting in seven of them, and he threw for 1,365 yards, seven touchdowns, and seven interceptions. In his final four starts, though, he played much better. Haskins ultimately threw for 711 yards, five touchdowns, and only one interception in those games. Washington, as a team, was also competitive in those matchups. They went 1-3 but only lost by one possession in two of those three losses, and by just 10 points in the other.
Haskins was then the starter at the beginning of this season, even with Washington having a new coach in Ron Rivera. He ultimately started in four games and threw for 939 yards, four touchdowns, and three interceptions. His three interceptions, however, all came in one game. So, not including that game, Haskins threw for 715 yards, two touchdowns, and no interceptions.
After Week 4, though, Rivera and Washington ultimately benched Haskins for Kyle Allen.
Kyle Allen has played OK for the Washington Football Team
Since benching Haskins, Kyle Allen has been Washington's starting QB. In his four starts, two of which he had to leave early due to injury, he threw for 610 yards, four touchdowns, and one interception.
During Washington's Week 9 loss to the New York Giants, though, Allen left the game with an injury. Alex Smith — not Haskins– ended up coming in, and he threw for 325 yards, one touchdown, and three interceptions. Washington ultimately lost 23-20.
Ian Rapoport then reported on Monday that Allen will reportedly have surgery on his dislocated ankle and is out for the season. Rapoport also reported that a source said Allen is looking at a likely four-month recovery.
Rivera, however, said that saying Allen is out for the year is "premature," according to ESPN's John Keim.
Whether Allen is out for the year or not, though, it is safe to say that he will miss a significant amount of time. So, will Washington go with Smith or Haskins as its starting quarterback?
Ron Rivera revealed his plan for Dwayne Haskins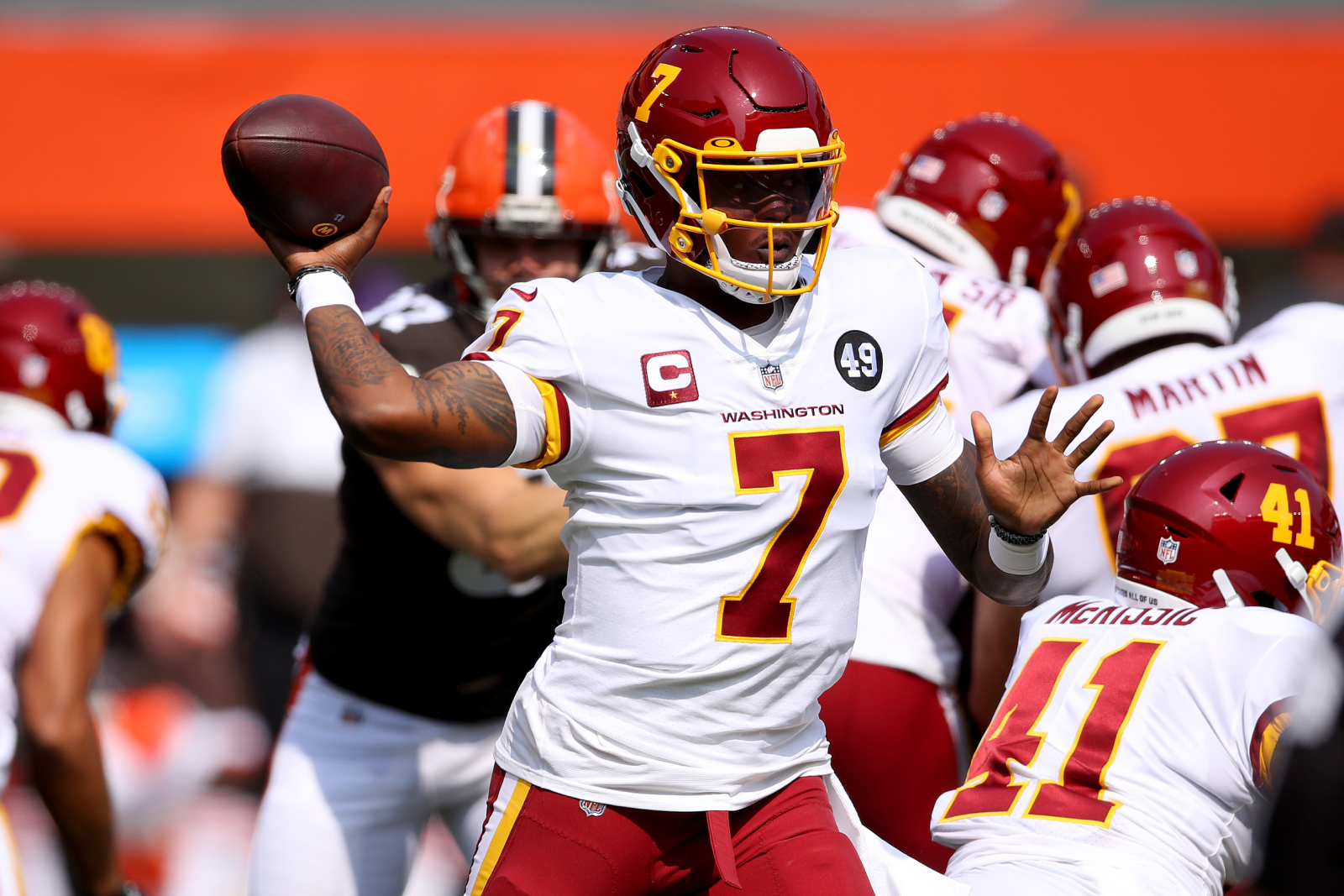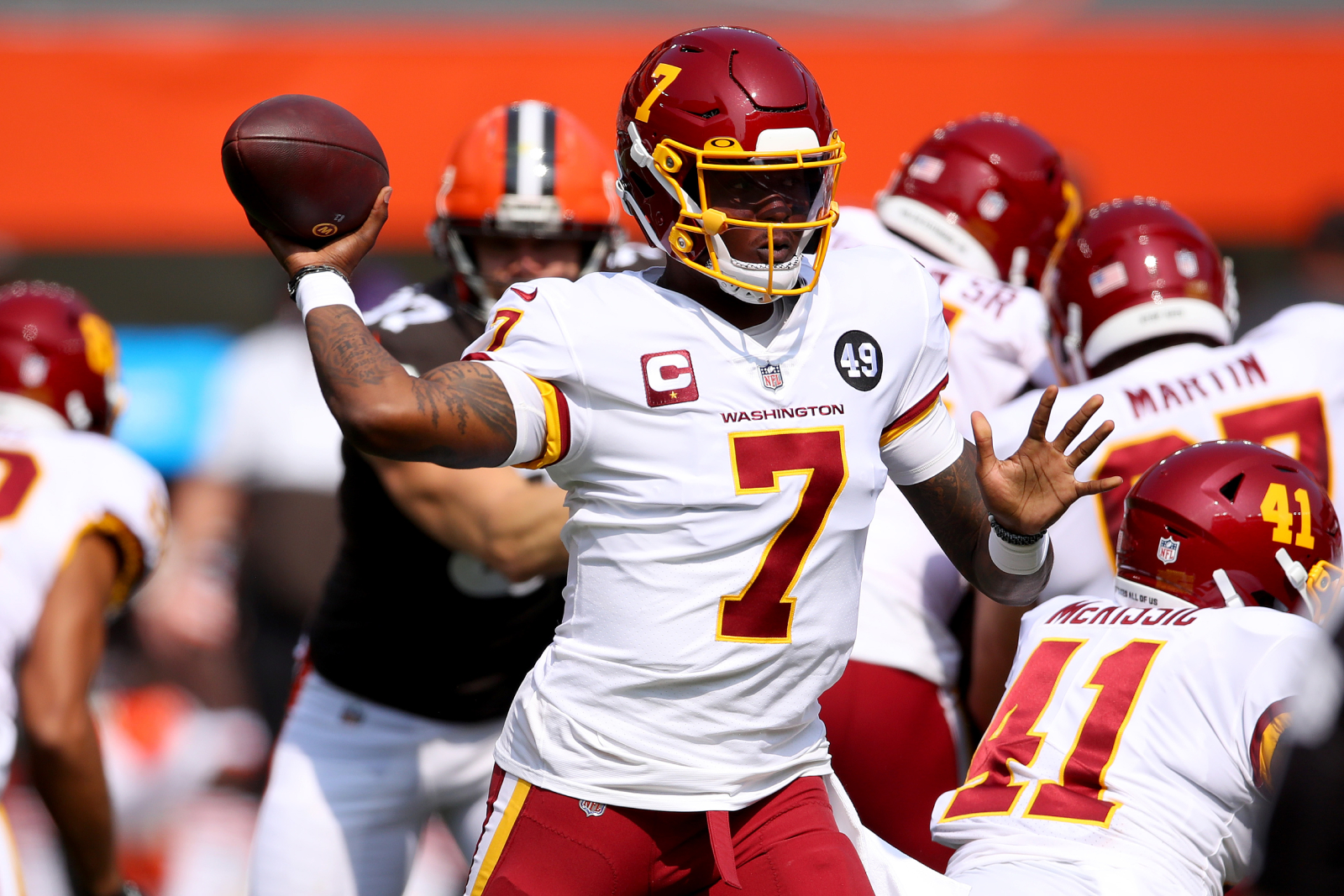 According to Sports Illustrated, Rivera has made it clear that Smith will be Washington's starting quarterback for their Week 10 game against the Detroit Lions. The team is not going back to Haskins, for now, but Haskins will be the No. 2 quarterback.
This is what Rivera had to say about Haskins' role.
"This is going to be very good for Dwayne," Rivera said, according to WUSA9's Darren Haynes. "Dwayne's going to get an opportunity to truly see how to prepare for a game as a starter. Hopefully, Dwayne will take it that way, that this is an opportunity to learn and grow."
Well, that is an interesting statement. Is Rivera hinting that Haskins doesn't know how to prepare as a starter? It sure seems that way.
For now, it appears that Alex Smith is Washington's leader on offense. Maybe, Haskins will get another chance soon enough, though.
Stats courtesy of Sports Reference and Pro Football Reference