Ron Rivera Has Taken a Surprising Stance in the Eli Manning-Hall of Fame Debate
Longtime New York Giants quarterback Eli Manning has one of the most fascinating Pro Football Hall of Fame arguments in recent years, and he won't even hit the ballot until 2025.
Current Washington Football Team head coach Ron Rivera played with several Hall of Famers during his own career, including Mike Singletary and Walter Payton. Although he doesn't have an actual vote, it's worth hearing his thoughts regarding the two-time Super Bowl champion's candidacy.
Ron Rivera believes Eli Manning should be in the Hall of Fame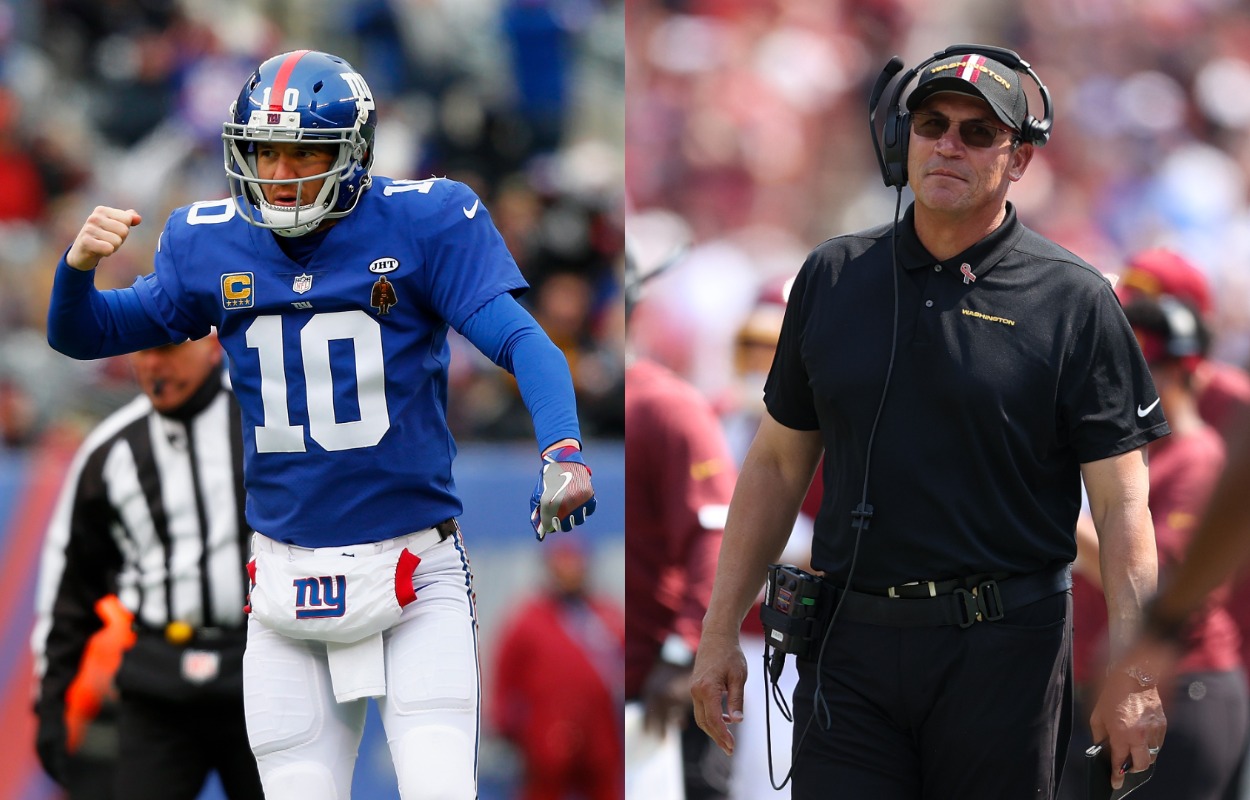 The one thing working in Eli Manning's favor, other than him being a member of one of football's famous families, is his two Super Bowl rings.
In a recent interview with the New York Post, Rivera even said as much. When asked if he believed Manning was a Hall of Famer, the veteran head coach replied affirmatively.
When Post columnist Steve Serby asked Rivera to elaborate, the former Bears linebacker cited rings and playoff success.
"Because when it came clutch time, big time, he showed up. When it really counted, when it had to be done, he showed up."

Eli Manning
It's unsurprising that a notable NFL figure would reference Super Bowl rings when discussing Manning's chances at the Hall of Fame. However, it is interesting to hear Rivera, a brilliant football mind and ex-player, make that argument.
The clutch argument only applies so far when discussing Manning's career
You can make all of the jokes you want about Manning's tendency for turnovers and meme-worthy faces. All of it is true, and he'd be the first to admit it.
At the same time, we also can't take away Manning's two Super Bowl rings. He played admirably in both victories against Tom Brady and the New England Patriots, even if his defense and receivers bailed him out both times. Again, all of that is true.
In the same ways that clothes don't make the man, rings shouldn't make the player. Even if Green Bay Packers legend Aaron Rodgers only retires with a single Super Bowl ring, fans will still remember him among the greatest quarterbacks in league history.
Football fans and Manning defenders will always point to the two Super Bowl victories as a reminder of his clutch factor. However, he certainly didn't step up when he went 15-of-19 and threw two interceptions in a home loss to the Philadelphia Eagles during the 2008 NFC Divisional Round. The argument that the Giants didn't have Plaxico Burress that afternoon only goes so far when discussing a quarterback's ability in meaningful games.
Those are the games that some voters and fans might remember more than two Super Bowl upsets. Yes, Manning deserves credit for the game-winning drive in Super Bowl 46, but the lack of playoff success in other seasons also falls upon a quarterback who retired with a 117-117 record.
Don't forget that all eight of Manning's playoff victories came during the two Super Bowl runs. The Giants lost the other four playoff starts he made during that time and missed the playoffs outright every season but one from 2012-19.
There's no shortage of knocks against Manning, from the high interceptions totals to the lack of playoff success outside the two Super Bowl seasons. Then again, most teams would gladly take two championships, so that point might be moot.
Don't be surprised to see Manning get in the Hall of Fame relatively easily
In the end, Manning won two titles and defeated the mighty Patriots both times. That alone will likely be enough for most voters to induct him when he's first eligible in 2025. If he doesn't get in that first year, he'll have his bronze bust before the end of the decade.
Every other eligible quarterback with two Super Bowl MVP Awards (a flawed accomplishment, but worth noting in this debate) is in the Hall of Fame. Voters are unlikely to create any narratives regarding his character the way they did with Terrell Owens, who eventually earned induction.
Rivera believes Manning was clutch enough at his best to enter the Hall of Fame, and a considerable amount of voters will likely agree. If the man who played alongside five Hall of Famers on the 1985 Bears feels that way, maybe we should warm up to the idea of seeing the two-time champion in a gold jacket.
Like Sportscasting on Facebook. Follow us on Twitter @sportscasting19.
RELATED: He Beat Tom Brady Again, but Super Bowl 46 MVP Eli Manning Wanted No Part of the Corvette