Ron Rivera's Mysterious Update on the Washington Football Team's QB Situation Is Bad News for Fan-Favorite Taylor Heinicke
The Washington Football Team are coming off a disappointing season. After nearly knocking off the eventual Super Bowl champions (Tampa Bay Buccaneers) in last year's Wild Card Round, they stumbled to a 7-10 finish in 2021. Despite the presence of fan-favorite quarterback Taylor Heinicke, the Football Team took a significant step backward in their development as a legitimate threat in the NFC East.
Change needs to occur moving into the offseason, which is terrible news for the before-mentioned Heinicke.
Taking a look at Taylor Heinicke's 2021 campaign
Heinicke led the Football Team to several impressive wins this season. There's no denying that. The guy seemingly has a knack for rising in big moments when people aren't expecting much.
This past season, Heinicke beat the Buccaneers, Las Vegas Raiders, Atlanta Falcons, and the Seattle Seahawks. He also led Washington on a four-game winning streak between Weeks 10 and 13.
However, the occasional act of heroism isn't enough to label Heinicke's first full season starting as a successful one. He finished 25th in passer rating and 23rd in quarterback rating. By the end of the year, analysts and fans alike were beginning to point the finger at Heinicke for being a reason Washington missed out on the postseason.
Ron Rivera is already alluding to a change at the QB position
Head coach Ron Rivera is the main guy calling the shots in Washington, and he's more than accustomed to the caliber of QB play required to win football games in the NFL. He was Cam Newton's HC when he won league MVP and took the Carolina Panthers to the Super Bowl.
When asked about the future of the QB position in Washington, Rivera offered a rather ominous response that doesn't bode particularly well for Heinicke.
"As we go through the process, if we believe that's the best option, absolutely," Rivera said when asked about drafting a rookie QB with the intention for them to start immediately. "But, again, we're going to do what we believe is best for the football team going forward. And whether it is a rookie quarterback, or a free agent quarterback, or a quarterback on the roster, or trade, we're going to look at everything and then make the decision."
Washington general manager Martin Mayhew also said "nothing is out of the question" when speaking during the team's end-of-year press conference.
Washington should replace Taylor Heinicke with a rookie QB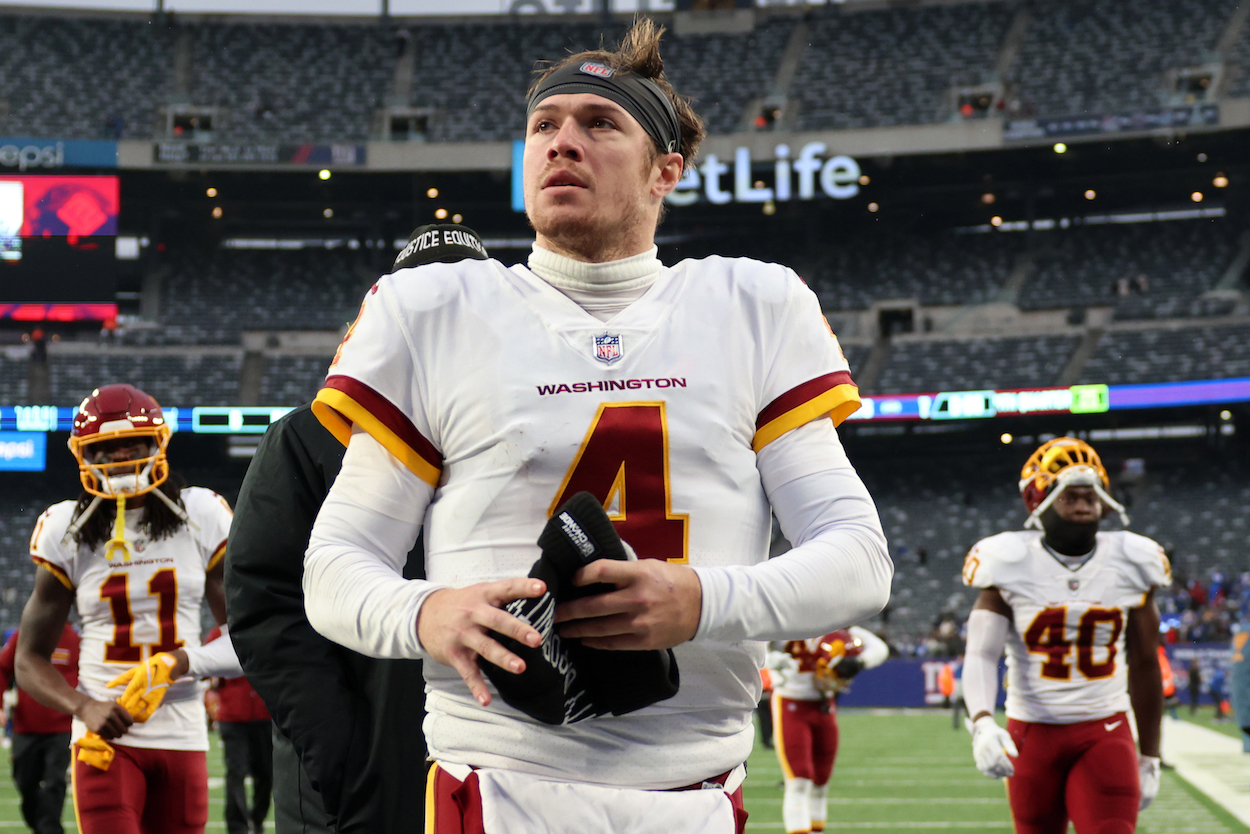 Heinicke is a fun character who appears to be a fan-favorite and locker room favorite in Washington. He fights hard every week and never gives up. While these are essential characteristics in a starting quarterback, he lacks the necessary talent to lift Washington to a consistent playoff threat.
As Rivera and Mayhew are alluding to, Washington should replace Heinicke via the draft this spring. Kenny Pickett, Matt Corral, Sam Howell, and Malik Willis are all notable draft-eligible quarterbacks.
It's an unfortunate conclusion to Heinicke's story, but it's the route the Football Team need to take. They need a true starter — Heinicke is just a solid backup.
All stats courtesy of Pro Football Reference.