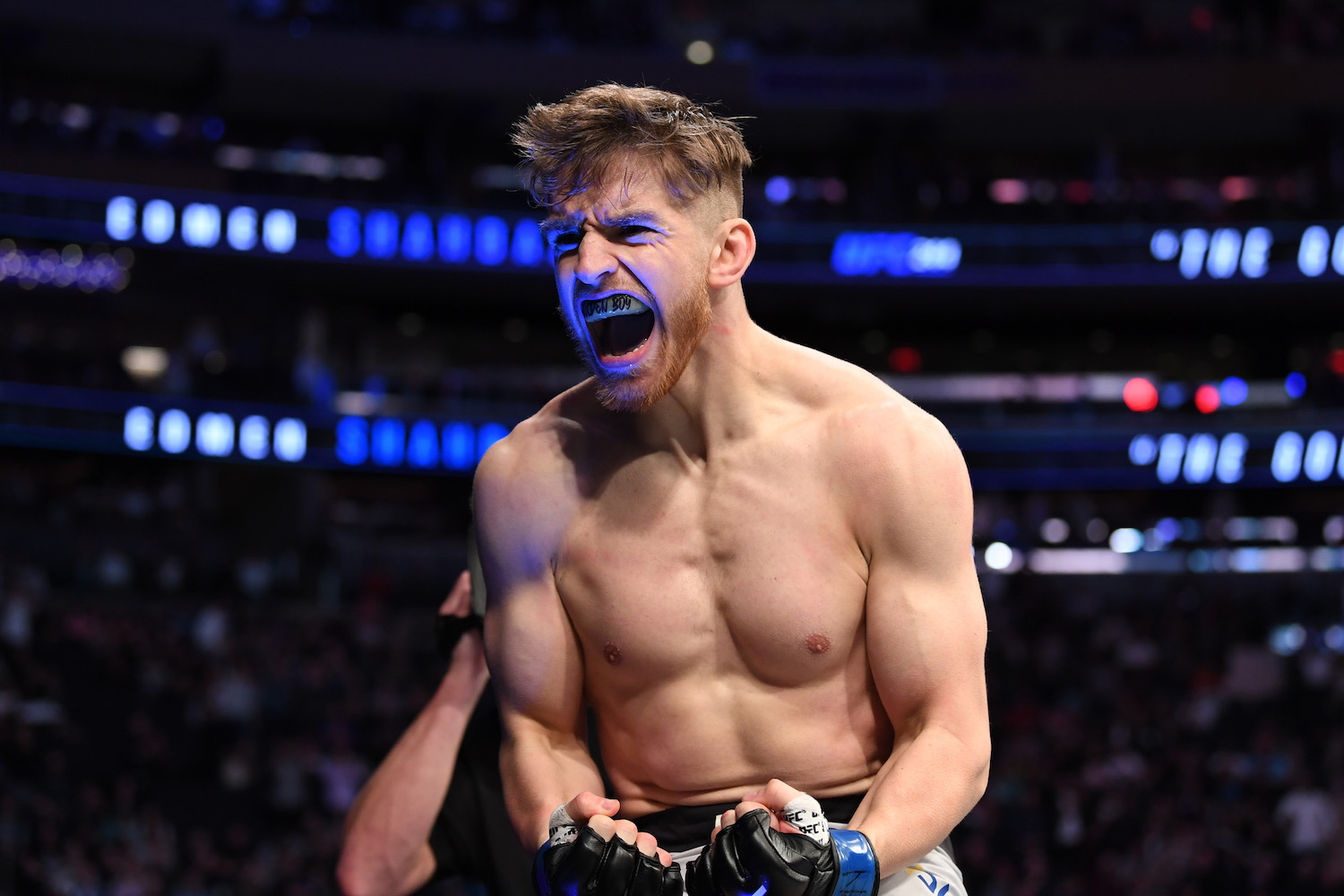 Ronda Rousey Returns to UFC Octagon with Middleweight Rising Star Edmen Shahbazyan
When Edmen Shahbazyan steps into the Octagon, he channels Ronda Rousey as the UFC Hall of Famer has been a huge reason for his success and been there with him since those early days.
Ronda Rousey has been a trailblazer her entire athletic career. She first did it in judo, becoming the first U.S. woman to win an Olympic medal. She dominated women's MMA and put it on the map, including a two-year reign in UFC. Today, she's doing it from a management capacity.
Just years after Rousey launched her fight management company, her youngest client, Edmen Shahbazyan, is undefeated and destined for stardom. The UFC Hall of Famer believes Shahbazyan is a special talent who will achieve greatness in the UFC. And if anyone knows about greatness, it's Rousey.
Ronda Rousey trains with Edmen Shahbazyan early on
Almost eight years ago, Ronda Rousey started training at Glendale Fighting Club under the tutelage of gym owner and trainer Edmond Tarverdyan. Rousey, while already successful in her early MMA career, worked to improve different components of her game. 
Almost a year after joining the gym, Rousey was introduced to a young teenage fighter named Edmen Shahbazyan. The gangly kid impressed Rousey as the two sparred together. Shahbazyan's first taste of the spotlight happened in 2013 when Rousey was training for her UFC debut against Liz Carmouche.
In an open workout before the match, Rousey tossed her 15-year-old opponent all over the mat. No matter the move Edmen Shahbazyan would try, Rousey transitioned into her trademark armbar. It was an impressive display for the first female fighter in the UFC, and a lessen for the young fighter on what he could expect just a few years down the road. 
Rousey manages Shahbazyan
Since those early days training with Edmen Shahbazyan, Ronda Rousey knew he was something special. When Rousey launched her fighter management business a couple of years ago, her former sparring partner was tops on her list to sign. 
Now, Edmen Shahbazyan is 11-0 heading into his main event fight against Derek Brunson. Rousey told UFC president Dana White during an Instagram interview, she has high expectations for the 22-year-old fighter. 
"This kid is special. He is one in a generation. I know what the [expletive] I'm looking at and you [White] know what you're looking at," she told White. "It's interesting to finally be in this time where everyone is starting to take notice. He's such a sweet and quiet kid, but man he's a killer. When people take a moment to watch him, they'll never be able to forget him." 
Edmen Shahbazyan says Ronda Rousey inspires him
Edmen Shahbazyan's success can be traced back to his early days at Glendale Fighting Club and his work with Ronda Rousey. While sparring against the world's best female fighter opens your eyes to greatness on a consistent basis, Shabazyan's overall success comes from his natural talent and his willingness to learn. 
"Mentally, he's the strongest kid I've seen at that age. He's strong mentally because when you speak, he always listens," Glendale owner and former Rousey trainer Edmond Tarverdyan said. "He's a student of this game. He's always been humble. Ronda would give advice to him, and Edmen is the one putting 100 percent effort into all of it."
Rousey described Shahbazyan as one of the kids who grew up watching UFC and is passionate about the sport, which is why he works so hard at becoming the best. Shahbazyan said the former UFC champion has always been an inspiration for him. He said it was her success that pushes him to become the best.  
"I know I have a lot to learn. I'm improving every single day. I have a long way to go and a lot of good fights to do, amazing fights to do," Shahbazyan told the Orange County Register. "I'm just happy I'm this young and in the UFC. Not many people get this opportunity like me. Working hard every single day, getting better, being this young. It's amazing. I'm hungry. I love it."
While Edmen Shahbazyan took a beating in those early days against his sparring partner in Ronda Rousey, he's now seeing all that hard work pay dividends. It will be interesting to see if he attains the same level of success of the former UFC champion because she believes his future is destined for greatness equal to or better than anything she ever accomplished.