Rookie Harrison Burton Driving Two NASCAR Legacies: Family, Wood Brothers Racing
Harrison Burton is proud of his legacy.
Without his family, Harrison would be the first to say he wouldn't be one of three competing for the 2022 NASCAR Cup Series Rookie of the Year award.
The younger Burton has a second legacy he's driving: Wood Brothers Racing.
Harrison Burton carries on the storied tradition of Wood Brothers' No. 21 car
If (when?) Burton wins his first Cup event this season; the triumph would be a crowning achievement for Wood Brothers Racing, the oldest active NASCAR operation.  
Over the past 72 years, 18 drivers captured at least one premier series race for Wood Brothers. From the Grand National circuit to the Winston Cup to whatever it was called at different points of the 2000s, to finally the Cup Series, the organization played a significant role in stock-car racing's rise from a Southern blue-collar pastime into a multi-billion-dollar white-collar industry, coast-to-coast.  
Here are the top five drivers and the number of wins they compiled for Woods Brothers Racing's No. 21 car: 
David Pearson, 43 wins
Cale Yarborough, 13
Neil Bonnett, nine
Marvin Panch, eight
A.J. Foyt, five
Formed by Glen and Leonard Wood in 1950, Woods Brothers fell behind dominant teams like Hendrick Motorsports over the past two decades and responded by entering a technical alliance with Team Penske in 2015.
More help could be needed. A No. 21 Ford has not visited Victory Lane since June 11, 2017, when Ryan Blaney earned his first win at Pocono Raceway.
The next win will be the organization's 100th.  
If Harrison does it this season, it would be his first.
Burton seeks to give family Cup win No. 27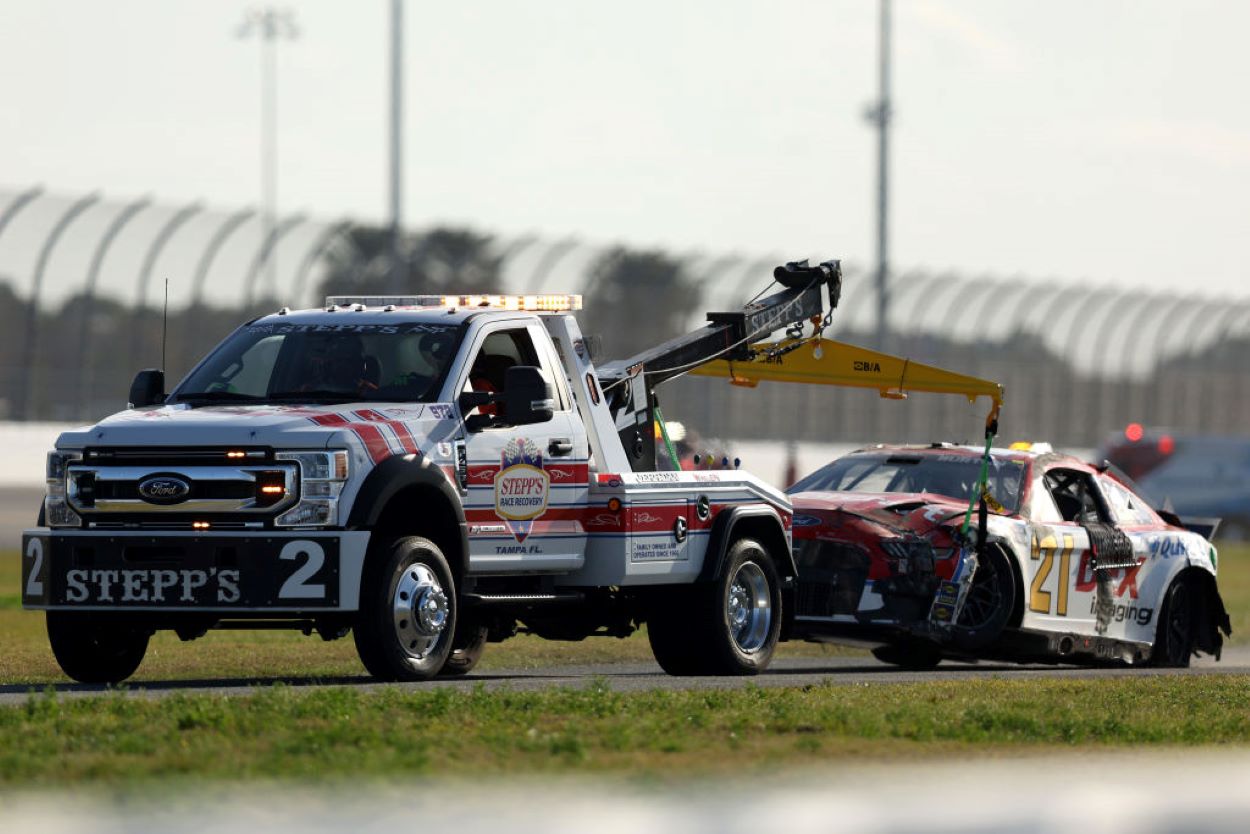 Burton's father, Jeff, spent parts of 22 seasons (20 full-time) on the premier series, collecting 21 wins and 254 top-10 finishes in 695 starts.   
Ward Burton earned five wins in 375 starts during his 13-year career.
Jeb has appeared in 33 Cup races and 77 Xfinity Series events, winning the spring race at Talladega Superspeedway last season.
Harrison has appeared in just two Cup races. He compiled four Xfinity wins and 44 top-10s over the past two seasons.  
"It's definitely a cool opportunity and a big responsibility to carry on that legacy and do it the right way," Burton told nascar.com. "That's not lost on me, but I think the biggest thing for me is that I've kind of always put that same pressure on myself to perform and do well. External pressure doesn't really change my mentality about things. I think all drivers want to be the winner. We all want to do the best we can, and I think that personality is the same with Wood Brothers, and we're all aligned with our goals." 
Burton: 'We had a fast … Mustang and we ended up on our lid' 
Some motorsports insiders picked the rookie to capture the Wise Power 400 at Auto Club Speedway on Feb. 27 and present Wood Brothers with its milestone trophy.  
In his team debut during the 64th Daytona 500, Burton, who looked strong during Speedweeks, led three Stage 1 laps before Brad Keselowski aggressively tapped his bumper, sending the machine into William Byron's car and up and over the track.  
After being cleared by medical personnel, Burton spoke to Fox Sports in the garage area.
Like his driving, he was sharp and to the point.
"We had a fast … Mustang," he said, "and we ended up on our lid."   
Well, that's one way to begin a legacy.
Like Sportscasting on Facebook. Follow us on Twitter @sportscasting19.
RELATED: Austin Cindric's Win Highlights Start of Intense NASCAR Rookie Battles