Forget Trae Young vs. Luka Dončić; Rookie Standouts Jalen Green and Cade Cunningham Teeing up a Decade-Defining NBA Rivalry
The night of the NBA draft is not Las Vegas. What happens on draft night never goes away. Chris Webber and Anfernee Hardaway, Sam Bowie and Michael Jordan, the list of players inexorably linked by what happened at the draft is nearly endless. There's no better current example than Atlanta Hawks star Trae Young and Dallas Mavericks mega-talent Luka Dončić. Traded for each other on draft night in 2018, those two seem destined to be virtually joined at the hip for the duration of their careers. In 2021, there's a case that the top two picks, Cade Cunningham and Jalen Green, are next in line.
The No. 1 and No. 2 overall selections met for the first time in their careers on Nov. 10. The individual battle was roughly a draw, but Cunningham's Detroit Pistons got the win over Green's Houston Rockets in the first of two meetings between the teams this season.
Jalen Green thought he deserved to be the No. 1 overall pick
While Cade Cunningham took the conventional route to the NBA, Jalen Green took the road never traveled.
Cunningham played his first two seasons of high school basketball in Arlington, Texas, at Bowie High School. Then he transferred to hoops-centric Montverde Academy in Florida for his final two years before playing a single season at Oklahoma State.
Green spent three years at San Joaquin Memorial High School in Fresno, California, before transferring to Prolific Prep in Napa, California, as a senior. Rated as ESPN's No. 1 recruit in the nation, Green opted not to play college basketball.
Instead of playing for room, board, and allegedly classroom study, Green for $600,000 to play with the new Ignite program in the NBA G League. In 15 games in the G League bubble in Orlando, Green averaged 17.9 points, 4.1 rebounds, 2.8 assists, and 1.5 steals in 32.0 minutes a game against professionals.
Meanwhile, Cunningham put up 20.1 points, 6.2 boards, 3.5 dimes, and 1.6 thefts in 35.4 minutes a game for the Cowboys, who were 21–9 before they lost in the second round of the NCAA Tournament by Oregon State.
Green thought he was the best player in the 2021 NBA Draft, per Farbod Esnaashari of Bleacher Report.
"I just felt like I should be No. 1 because I work harder than a lot of the dudes in my class," Green said in May 2021. "That's the only reason. It's not something that could have been or should have been; it's just because I work harder."
The Pistons chose to disagree, taking Cunningham with the first overall pick and leaving Green to the Rockets.
Cade Cunningham going to the Pistons made it personal for Jalen Green
At the NBA Summer League in Las Vegas, Jalen Green debuted against No. 3 overall pick Evan Mobley and the Cleveland Cavaliers before a matchup against Cade Cunningham's Detroit Pistons.
Green scored 25 points while leading the Rockets' Summer League unit to a 111–91 victory. Cunningham dropped 20 points. Green was aggressive, hitting 6-of-11 from the floor and 3-of-5 from deep while getting to the line 11 times and making 10. He also had five rebounds and three assists in his 30 minutes of work.
Cunningham finished 8-of-18 and 4-of-9 from long range in 29 minutes with four boards, three steals, and two helpers.
The stakes were higher when the teams met at Toyota Center in Houston on Nov. 10. Green scored a team-high 23 points for the Rockets on 8-of-20 shooting but was just 3-for-11 from 3-point range.
Cunningham, who missed five of Detroit's first six games recovering from a preseason ankle injury, had his best performance to date. He scored a career-high 20 points on 8-of-18 shooting, hitting 4-of-8 from long range, in other words almost identical to what he did in Las Vegas.
The difference was that the Pistons came away with a 112–104 win.
Can it really be a rivalry when Cade Cunningham doesn't seem to care?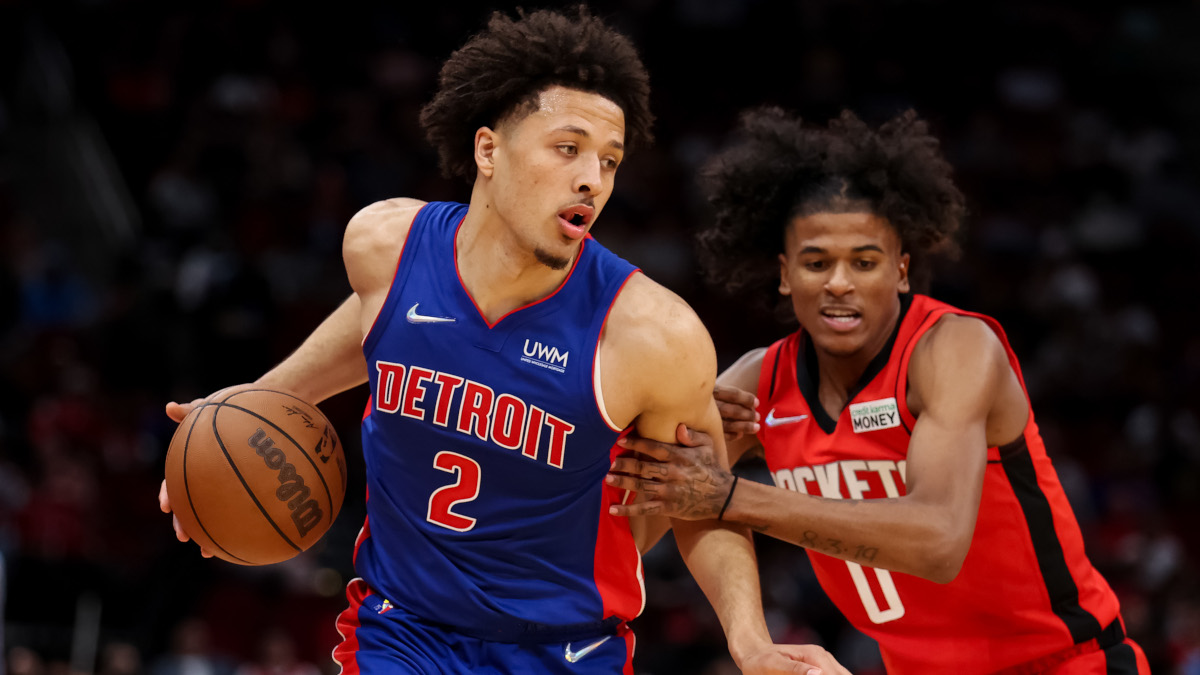 One of the highlights for Jalen Green was a monster dunk late in the third quarter that tied the game at 73–73. One of his lowlights came when his celebration aimed at Cade Cunningham drew a technical foul.
Jerami Grant hit the foul shot, then drained an 18-foot pull-up jumper as part of a 35-point night. Detroit led the rest of the way, and Green was held scoreless for the remainder of the game.
After the game, Cunningham took a little shot at Green via a tweet from James Edwards III of The Athletic:
"Nothing I heard tonight held any real weight. It was all for the cameras, I thought."
That's the one thing that might prevent the Cunningham-Green rivalry from completely blowing up. Cunningham seems unmoved by the entire affair.
Per Rahat Huq of the Houston Chronicle, Green downplayed the exchange with Cunningham.
"It's just basketball," Green said. "Trying to get fired up."
File that under good ideas gone wrong.
Neither team is likely to contend for anything aside from more ping pong balls in the NBA Draft Lottery. The win improved Detroit's record to 2–8, still last in the Eastern Conference. Houston fell to 1–10, just a half-game ahead of the woeful New Orleans Pelicans in the West.
Still, the matchups between Cade Cunningham and Jalen Green bear watching. The second and final meeting between the Pistons and Rockets is a little more than a month from now, Dec. 18, at Little Caesars Arena in Detroit. Will there be more fireworks in store?
Statistics courtesy of Basketball Reference and NBA.com.