Roy Williams Has a Large Net Worth After Coaching Michael Jordan and Winning Championships at North Carolina
Roy Williams is one of the greatest college basketball coaches of all-time. His career at Kansas and North Carolina has been incredible. He also got to coach the greatest basketball player of all-time in Michael Jordan when he was an assistant at North Carolina. All of Roy Williams' success throughout the years has ultimately helped him rack up a massive net worth.
Roy Williams has been a great coach at North Carolina and Kansas
RELATED: What Happened to Former Star North Carolina Player Tyler Hansbrough?
In 1988-89, Roy Williams started his head coaching career with the Kansas Jayhawks. He succeeded immensely there too, and almost right away. In just his third season at Kansas, the team went to the national championship before losing to Duke. Then, two seasons later, the Jayhawks went to the Final Four again. Williams then helped Kansas go to two more consecutive Final Fours in 2001-02 and 2002-03. This included another trip to the national championship game in 2002-03.
Then, during the 2003-04 season, Williams became the head coach of the North Carolina Tar Heels, who he had been an assistant coach for from 1978 through 1988, according to the team's site. He has since helped the Tar Heels continue to be one of the best programs in the country.
In just his second season at North Carolina, the Tar Heels won the national championship in 2004-05. The team then went to the Final Four again in 2007-08 and won another title in 2008-09. Williams and North Carolina then went to the national championship in 2015-16 and lost to Villanova, but then went back and won it all in 2016-17.
In his career, Williams has an 885-253 career record. He has also been to nine Final Fours, and has won three national titles. 
Coaching Michael Jordan
RELATED: Michael Jordan's 40-Yard Dash Time at North Carolina Could of Put Him on the Football Team
As mentioned above, Williams was an assistant coach at North Carolina under Dean Smith from 1978 through 1988. The greatest basketball player to ever play, Michael Jordan played at North Carolina under Smith and Williams from 1981-82 through 1983-84. He even won a national championship with them in 1981-82.
Williams later talked about Michael Jordan and what it was like coaching him in an interview with Newsweek. 
"Michael was just an unbelievable athlete with tremendous potential, and he put it all together with tremendous work ethic and competitiveness every single day," Williams said, according to Newsweek. "So he got better every single day, and I think that drove him even more. He saw what he was able to do, and I think that made him even more competitive. I think that's what set him apart for the rest of his career."

Roy Williams
Williams also saw that Jordan had potential early.
"The first time I ever saw him was the summer before his senior year in high school," Williams said, according to Newsweek. "I told Eddie Fogler, our other assistant coach at that time, that I had just seen the best 6-foot-4-inch high school player I'd ever witnessed. None of us had any idea that he was going to develop into the greatest player who's ever played the game. You know, we'd like to say we knew, but we didn't."
Jordan went on to win an AP Player of the Year award at North Carolina. That is in addition to a Naismith Award and a Wooden Award. 
Roy Williams has a massive net worth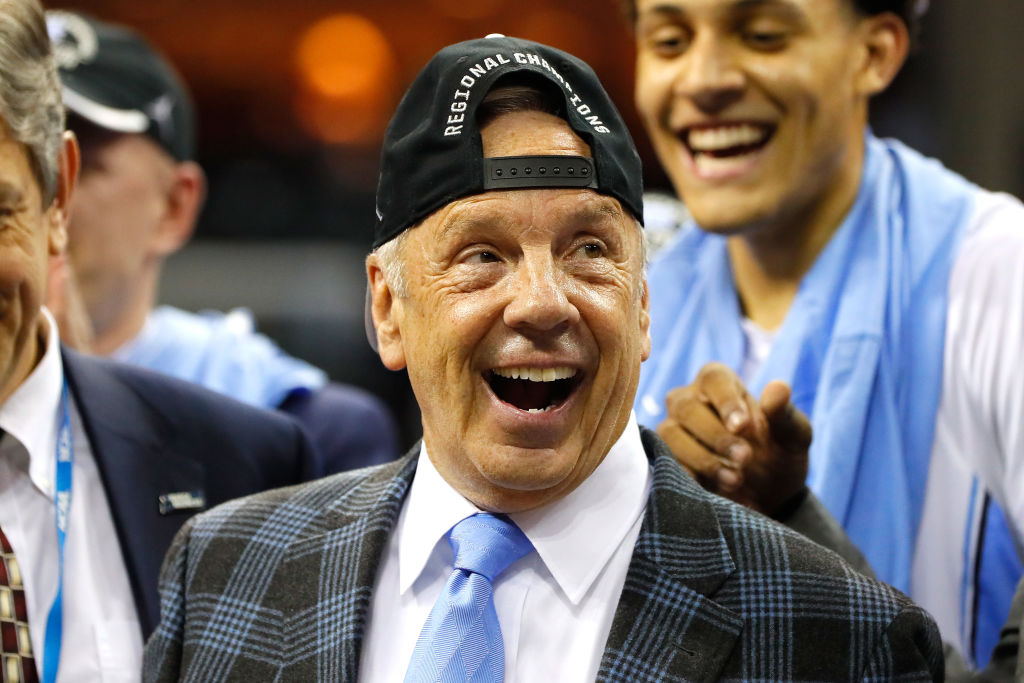 RELATED: The Game Michael Jordan Changed Everyone's Perception of Him
Because of all of Roy Williams' success throughout his coaching career, Williams has a massive net worth. 
Celebrity Net Worth estimates that Williams has a net worth of $12 million. That is almost $1 million for each Final Four he has been to. It is not even close to Michael Jordan's net worth of $2.1 billion, according to Forbes, but Jordan is just on another planet.
Roy Williams has become one of the greatest coaches in the history of college basketball. If he continues to have success at North Carolina too, he could also become one of the richest.
Stats courtesy of Sports Reference