Rudy Gobert Was Ridiculously Traded From the Denver Nuggets to the Utah Jazz for an Irrelevant Player
Rudy Gobert has become a really effective big man for the Utah Jazz. He is a key reason that the Jazz have made the playoffs in four consecutive seasons. Even though Gobert has played for the Jazz his entire career, the Jazz did not actually draft him. In fact, the Denver Nuggets selected Gobert and then ridiculously traded him for an irrelevant player.
Rudy Gobert had a slow start to his career with the Utah Jazz
RELATED: Dennis Rodman's Ex-Wife Has a Much Higher Net Worth Than He Does
Gobert began playing for the Jazz during the 2013-14 season, but he did not play very much. He ultimately played in only 45 games and in only 9.6 minutes per game. He averaged 2.3 points per game and 3.4 rebounds in those games. The Jazz were awful too as they went 25-57.
During the 2014-15 season, Gobert actually got a lot more playing time, and his numbers were much better. He played in all 82 games, playing 26.3 minutes per game, and he scored 8.4 points per game. Gobert also pulled down 9.5 rebounds that season and 2.3 blocks. The Jazz were better as a team that season too, going 38-44, but they missed the playoffs again.
Gobert continued to improve during the 2015-16 season as he played 31.7 minutes per game and averaged 9.1 points per game. He also pulled down 11 rebounds per game and averaged 2.2 blocks. The Jazz, again, took another step forward as they went 40-42, but they missed the cut for the playoffs by just one game.
The next season, though, Gobert became one of the best big men in the NBA.
Rudy Gobert and the Utah Jazz have been excellent the past few seasons
RELATED: Phil Jackson's Romantic Relationship With Lakers Owner Jeanie Buss Was Great but Also Complicated
During the 2016-17 season, Gobert became a star for the Jazz. He averaged 14 points per game, 12.8 rebounds, and he led the NBA in blocks per game with 2.6. His play helped him earn First-Team All-Defensive honors, as well as Second-Team All-NBA honors. The Jazz were an excellent team too as they went 51-31 and reached the Western Conference Semifinals before losing to the Kevin Durant led Golden State Warriors.
Gobert continued to play really well in 2017-18, and he was recognized for it as he earned the league's Defensive Player of the Year award. The Jazz were a successful team again too, reaching the Western Conference Semifinals again. 
During the 2018-19 season, Gobert scored a career-high 15.9 points per game to go with 12.9 rebounds and 2.3 blocks. He also earned a second consecutive Defensive Player of the Year award, and the Jazz went 50-32, making the playoffs for a third consecutive season.
This season, Gobert earned his first All-Star selection as he is scoring 15.1 points per game and is pulling down a career-high 13.7 rebounds. He is also averaging two blocks per game. The Jazz head into the NBA restart with a 41-23 record and as the fourth seed in the Western Conference.
The Denver Nuggets ridiculously traded him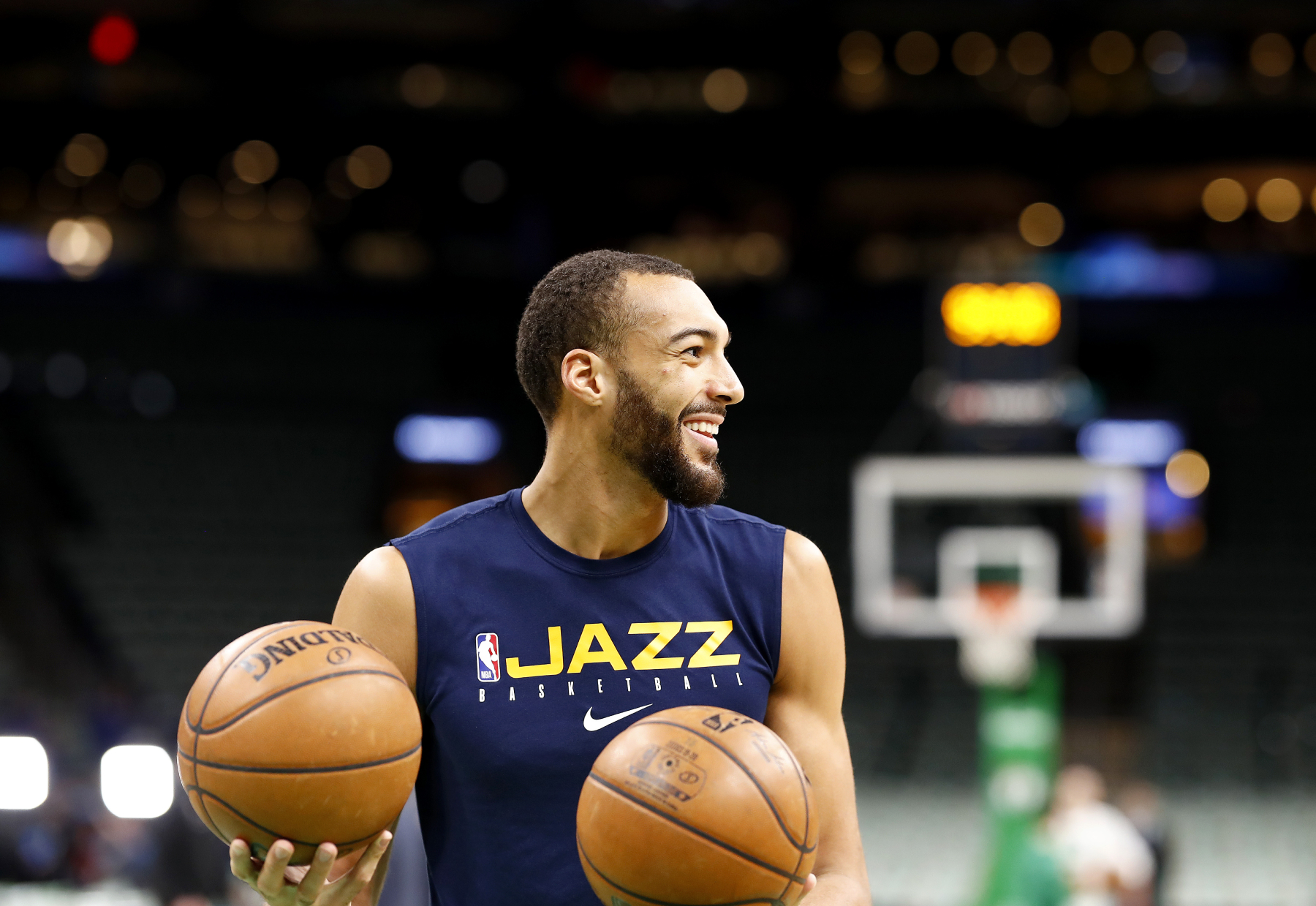 RELATED: LeBron James Has Sadly Had to Mourn Two Deaths During the 2019-20 Season
Gobert went to the Denver Nuggets with the 27th overall pick in the 2013 NBA draft out of France. However, the Nuggets then traded him to the Jazz for the No. 46 overall pick and cash, according to Bleacher Report.
Who ended up being the 46th pick that year? Erick Green, who played for Virginia Tech in college.
Green ultimately played in 52 games in his entire NBA career, and he averaged 3.1 points per game, 0.8 assists, and 0.7 rebounds in those games. He was actually a teammate of Gobert's for a short period too as he played in six games with the Jazz during the 2015-16 season. He has not played in a game in the NBA since that season.
The Denver Nuggets are an excellent team now, led by Nikola Jokic and Jamal Murray, but they certainly made a massive mistake by trading Gobert for Green in 2013.
Stats courtesy of Basketball Reference