From Rugby Star to NFL Lineman to Country Singer, Philadelphia Eagles Left Tackle Jordan Mailata Is Winning at Life
A seventh-round pick in 2018, Jordan Mailata has had a rollercoaster of an NFL career thus far. 
A professional rugby player in Australia before joining the NFL, Mailata was drafted by the Philadelphia Eagles solely for his athleticism. Standing at an impressive 6-foot-8, 346 pounds, Eagles general manager Howie Roseman envisioned Mailata as someone who could be sculpted into a pro football player.
The Eagles weren't sure if Mailata would be an offensive lineman (the position they drafted him at) or a fullback, but they stuck with him through his first two seasons. Mailata was thrust into action for the first time in 2020, making his NFL debut at the ripe age of 23 years old.
Surprisingly, Mailata held up admirably well at the position, so well that talks began to emerge of him being Philadelphia's full-time starting left tackle moving forward. With future Hall of Famer Jason Peters on the brink of retirement and 2019 first-round pick Andre Dillard struggling to stay on the field, there was a pathway to a starting role for Mailata.
Jordan Mailata has blossomed into a legitimate piece for the Philadelphia Eagles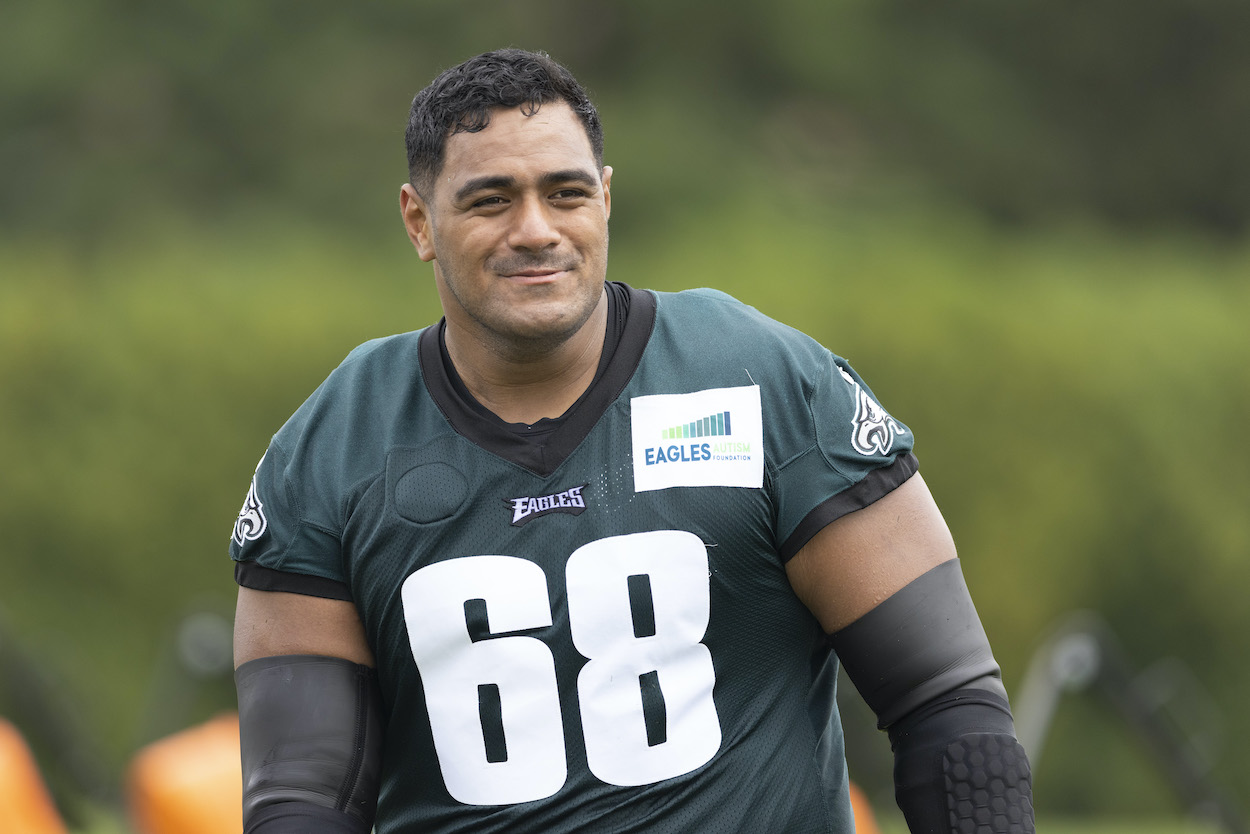 Fast forward to the 2021 offseason, and Mailata has been spending most of his time battling for first-team reps on the offensive line.
While he's looked impressive thus far (during the Eagles' brief open practice), it's a different skill of Mailata's that has caught the fanbases' attention.
A skill far more *musical* in nature.
Mailata wowed Eagles fans with his performance of Chris Stapleton's "Tennessee Whiskey"
Australian rugby star to professional football player to country singer, is there anything Mailata can't do?
Not only was Mailata's delivery of "Tennesse Whiskey" comparable to some of the world's best country singers, but it was pretty clear his teammates loved every second of it.
Building that sense of team chemistry is an important piece to the puzzle for teams during the offseason, hence why the Eagles hosted this karaoke event in the first place.
The Philadelphia Eagles have all but named their starting left tackle
Mailata may have a career in music post-football; however, as things currently stand, he is slated to be the Eagles starting left tackle in 2021. Not only was he outperforming Dillard during training camp, but Dillard recently suffered an injury as well.
Dillard was already playing catch-up due to missing all of last season with a torn biceps. This latest setback should only lock in what most Eagles fans and reporters already knew heading into the offseason. Mailata is the team's best bet at left tackle.
After a year in which they won just four games, the Eagles aren't expecting to be all that competitive in 2021. They're currently unsure if Jalen Hurts is truly the answer at quarterback moving forward, and the coaching staff is largely unproven and inexperienced. However, it's going to be a significant year for Mailata and his NFL future. The Aussie is a free agent after this season and is looking to earn a second contract with Philadelphia — his play will dictate how big that contract looks if/when the Eagles offer it.
Promising music career withstanding, the pressure is on Mailata this season to perform as a starting-caliber left tackle for 17 straight games. A difficult task for any 24-year-old, even one who seemingly thrives at everything he tries.
All stats courtesy of Pro Football Reference.