Rumblings of the 76ers Pursuing Mike D'Antoni Totally Undermine the Superb Job Doc Rivers Has Done This Season
Philadelphia 76ers head coach Doc Rivers had to breathe a sigh of relief knowing he wouldn't take any more Ben Simmons questions after the Sixers shook up the NBA trade deadline by acquiring James Harden from the Brooklyn Nets. However, Harden has already brought even more drama to Rivers, even if in the most tangential of ways.
One of the reasons the 76ers put on the full-court press for Harden — and likely risked tampering fines — is the connection between The Beard and Sixers president Daryl Morey. The latter served as Houston Rockets general manager as Harden became one of the NBA's biggest stars in H-Town. Morey's affinity for the 2017-18 NBA MVP resulted in a vigorous pursuit.
Suddenly, another man connected to Morey and Harden finds himself linked to Philadelphia. Although the veracity of these rumors remains in question, they ultimately are a massive disservice to Rivers' tremendous coaching job.
League insiders believe the 76ers could hire Mike D'Antoni to replace Doc Rivers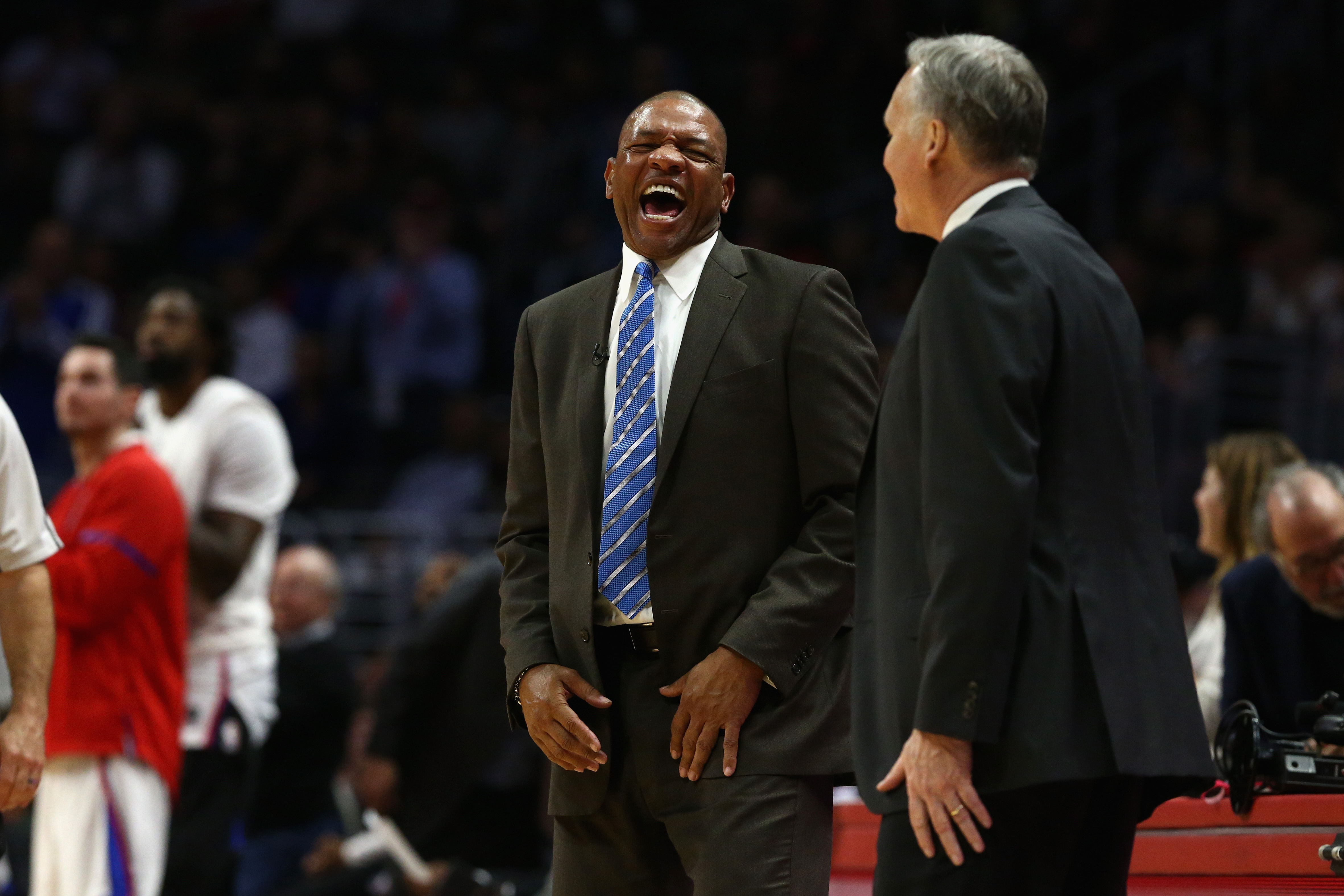 The 76ers' aggressive move for James Harden is a very win-now move. Rivers and the rest of the coaching staff face immense pressure to get their hands on the Larry O'Brien Trophy and work Harden into the fold.
Should Rivers fail to steer the Sixers to a championship, Morey could allegedly turn to a familiar face to replace him.
Marc Stein reported on Sunday (h/t Substack) that league insiders hypothesize that Morey might target former Rockets head coach Mike D'Antoni to succeed Rivers as the next head coach of the 76ers. Although Philly almost certainly won't make a coaching move this season, it's suspected that Morey could employ a championship-or-bust mindset and use that to evaluate Rivers going forward.
On the one hand, Rivers generally has a reputation as a players' coach, more so than an X's and O's kind of guy. Then again, Harden is a big and demanding personality. Morey might feel a sense of familiarity will win out in making things work on the court.
Realistically, much of the 76ers' success depends on how Harden meshes with Joel Embiid. Additionally, Kyle Neubeck of the Philly Voice spoke to team sources who denied the D'Antoni-Rivers rumors. Still, an executive as mercurial as Morey could well shake things up on the bench.
Are the 76ers catering to James Harden?
Whether Harden ruined his legacy by essentially demanding another trade is up for debate. However, even the most cynical fan cannot deny his status as one of the elite offensive players of this generation.
Mike D'Antoni played a huge role in cultivating Harden's offensive brilliance. Are the 76ers hoping to replicate this by eventually bringing D'Antoni into the fold?
After devising the "seven seconds or less" offense as head coach of the Phoenix Suns, D'Antoni — who coached the Rockets from 2016 to 2020 — made Harden the centerpiece of Houston's offense. D'Antoni allowed The Beard to isolate at will in five-out schemes and surrounded him with shooters and a rim-rolling big in Clint Capela.
Harden's usage rates speak volumes about D'Antoni's offensive scheme. Before D'Antoni arrived, Harden had just come off the highest usage rate (32.5%). By the time the 2018-19 season rolled around, The Beard's usage rate exceeded 40%, and he led the NBA in that category in consecutive seasons.
Here's something else to consider: D'Antoni served as Steve Nash's assistant in Brooklyn last season. Harden enjoyed a brilliant run in 2020-21 before a hamstring injury ruined the campaign.
The 76ers assuredly want to acclimate Harden to Philly as soon as possible and do everything in their power to make The Beard comfortable. Naming D'Antoni head coach could achieve this goal, though that move would clarify that the Sixers are essentially catering to Harden.
Making front-office decisions based on Harden's whims and wishes seems foolish enough. But it's even worse considering the job Doc Rivers has done this year.
Doc Rivers is a Coach of the Year candidate
Regardless of how fans perceive Ben Simmons, he's an All-NBA talent. Simmons is one of the best defenders in the NBA and had been the 76ers' second-best player.
It's pretty remarkable that the Sixers are near the top of the Eastern Conference, given that Simmons hadn't played a single game for them all season. That speaks volumes about Rivers' coaching job.
Rivers has allowed the offense to run through Joel Embiid and given the big man more freedoms to maximize his skill set as a passer and playmaker in transition. He hasn't been afraid to play Tyrese Maxey heavy minutes and give the second-year guard added responsibilities. In many ways, that early-season commitment to Maxey ultimately made Simmons expendable.
Rivers has also done a strong job handling the Matisse Thybulle-Danny Green wing duo and carving out time for Georges Niang as a vital floor-spacer. More specifically, the 76ers' head coach has helped facilitate enjoyable basketball.
Embiid has routinely suggested that he is having more fun this season than ever before. Part of his enjoyment surely stems from a higher usage rate. Still, Rivers has pushed the right buttons and established a strong culture.
The 76ers need to give Rivers some rope in light of the job he's done this season. Yes, the multiple blown 3-1 playoff leads hang over Doc's head. But he deserves the chance to make things work with Philly's new star duo going forward, particularly given Harden already reached out to Rivers and wants to play for him.
Daryl Morey is as unpredictable as they come. But firing Rivers in favor of a more familiar touch would unjustly erase what Doc accomplished with this Sixers team to this point in the season.
Stats courtesy of Basketball Reference.
RELATED: For 76ers Coach Doc Rivers and Guard Seth Curry, the Blockbuster Acquisition of Star Guard James Harden Separated Their Family