NFL: 6 Running Backs Destined to Exceed Fantasy Football Expectations in 2019
Fantasy football has, in many ways, become just as much a part of the game as the NFL itself. For the entirety of the season, fans constantly update their friends, family, and followers on social media about who they were right about, and who they were wrong about. In the 2019 season, the current crop of running backs is likely to break hearts or make waves, but some may do so while currently hidden underneath the radar.

Going into the season, these running backs should be a worthwhile gamble for those looking to make waves with their out-of-nowhere picks in the 2019 season.

Tony Pollard, Dallas Cowboys
Ezekiel Elliott is one of the best running backs in the NFL, but the team intends to lessen his workload in 2019. So rookie Tony Pollard will be getting a great opportunity to step up for the Cowboys, and his strong build, speed, and overall ability mean that if he is given this opportunity, Pollard may be able to prove a worthy player on not only the Cowboys' roster but fantasy players everywhere. 

Dalvin Cook, Minnesota Vikings
With the addition of coaches Gary Kubiak and Kevin Stefanski, Dalvin Cook should be poised for a breakout season. Kubiak has always had a knack for getting the most out of his offenses, and a young player like Cook, who rushed for over 600 yards in 11 games last season, should be able to flourish under the new staff. Injuries are a concern, but if he is healthy, and if the Vikings continue to give him the ball, there is no reason that Cook can't be one of the breakout running backs of the season. 

Ronald Jones II, Tampa Bay Buccaneers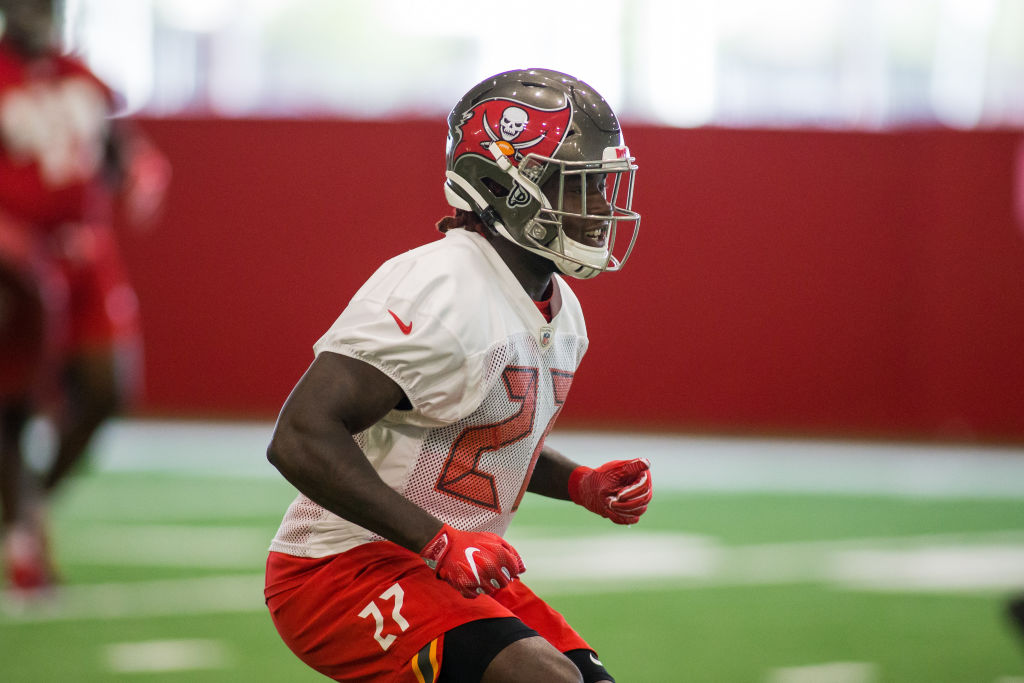 Although he disappointed in his first season with the Tampa Bay Buccaneers, Ronald Jones II has been hitting the gym and practice facility with the hopes that his sophomore campaign can make up for it. With a new head coach in Bruce Arians and a quarterback who has vocally committed to taking the offense to the next level, Jones's disappointing 77 yards and one touchdown could increase exponentially, especially if all things about both he and his team are to be believed. 

Jordan Howard, Philadelphia Eagles
With the Eagles committed to developing their young talent before throwing them out there as starters, the recently acquired Jordan Howard has many reasons to be confident in his role. While Jones has been consistent in his first three seasons, he has not been the go-to option. That should change this season, as people from across the Eagles organization have committed to their new running back, who averaged over 250 yards and eight touchdowns a season during his time with the Bears. 

Royce Freeman, Denver Broncos
After losing his presumed starting role to the undrafted Phillip Lindsay, Royce Freeman could have given up on his hope. However, just because something unfortunate happens to a player, it doesn't mean that all hope is lost. Freeman still got 521 yards and five touchdowns in his first season. He's getting more action during the offseason with the Broncos following Lindsay's injury, and he may build on that moving forward to become one of the best fantasy running backs in 2019.

Kenyan Drake, Miami Dolphins
With 535 total yards and nine touchdowns, Kenyan Drake didn't have a terrible year in 2018, but many expected more from him. His play for the Dolphins was wildly inconsistent, but with a new coaching staff and an increased role within the team, Drake's production on both rushing yards and touchdowns should be enough to make people forget about his inconsistent play. While Drake may go late in many drafts, he might be worth the gamble that would come with swiping him in one of the middle rounds.