Russell Westbrook and James Harden: Who Has a Higher Net Worth?
There are plenty of great duos in the NBA today. LeBron James and Anthony Davis, Kawhi Leonard and Paul George, Kyrie Irving and Kevin Durant — and Russell Westbrook and James Harden. For years, the latter have been associated with each other since Harden already played with Westbrook on the Oklahoma City Thunder before teaming up with him again this season. Now, the duo is trying to lead the Houston Rockets to an NBA championship.
Westbrook and Harden have certainly been two of the most exciting players to watch over the years. Their incredible talents have helped them both earn a lot of money too. So, which one of the two has a higher net worth? 
Russell Westbrook had an incredible career with the Thunder
RELATED: The Houston Rockets Season Maybe in Jeopardy With Russell Westbrook Testing Positive for COVID-19
Westbrook's college career at UCLA helped him become the fourth overall pick in the 2008 NBA draft. He then immediately had success for the Oklahoma City Thunder. In his rookie season in 2008-09, Westbrook averaged 15.3 points per game to go with 5.3 assist and 4.9 rebounds. 
He then continued to get better each year, and in his third season, Westbrook averaged 21.9 points per game, 8.2 assists, and 4.6 rebounds, which helped earn him his first All-Star selection. Westbrook, alongside James Harden and Kevin Durant, helped lead the Thunder to the Western Conference Finals that year too. 
Then in 2011-12, Westbrook not only averaged 23.6 points per game, but the Thunder went all the way to the NBA Finals before losing to the Miami Heat. 
Westbrook has since become one of the best point guards in the league. He has led the entire NBA in points per game twice in 2014-15 and 2016-17, and he ultimately won the league's MVP award in 2016-17. Additionally, Westbrook has led the entire league in assists per game twice in 2017-18 and 2018-19. He also averaged a triple-double in three straight seasons from 2016-17 through 2018-19.
However, after he and Durant went to the Western Conference Finals with the Thunder in 2015-16, Westbrook could not get them past the first round without Durant in the next three seasons. 
Westbrook was then traded to the Houston Rockets in July 2019. He is averaging 27.5 points per game, seven assists, and eight rebounds this season. 
For his career, Westbrook is a nine-time All-Star. He is averaging 23.2 points per game, 8.3 assists, and 7.1 rebounds.
James Harden has become a star for the Houston Rockets
RELATED: James Harden Used His Massive Wealth to Become an Owner of the Houston Dynamo
After an excellent college career at Arizona State, Harden went to the Thunder with the third overall pick in the 2009 NBA draft. 
He ultimately spent three seasons there and averaged as much as 16.8 points per game in 2011-12, which helped him win the Sixth Man of the Year award that season. His play also helped Westbrook, Durant, and the Thunder reach the NBA Finals that year.
However, in October 2012, the Thunder traded Harden to the Rockets. He has since become one of the top players in the entire league, and one of the top scorers of all-time. Harden has averaged 25 points per game or more in every season with the Rockets. He has also earned eight straight All-Star selections since he has been there. 
Additionally, after leading the NBA in assists per game with 11.2 in 2016-17, Harden has since led the NBA in points per game in three consecutive seasons. In 2018-19, Harden averaged a career-high 36.1 points per game. Also, in 2017-18, when he averaged 30.4 points per game and 8.8 assists, Harden won the league's MVP award. 
Harden has also led the Rockets to a lot of success as they have reached the playoffs each season he has been in Houston. The Rockets also went to the Western Conference Finals in 2014-15 and 2017-18.
This season, with Westbrook back playing alongside him, Harden is averaging 34.4 points per game, 7.4 assists, and 6.4 rebounds. For his career, he is averaging 25.1 points per game, 6.3 assists, and 5.3 rebounds. He is also an eight-time NBA All-Star. 
Does Russell Westbrook or James Harden have a higher net worth?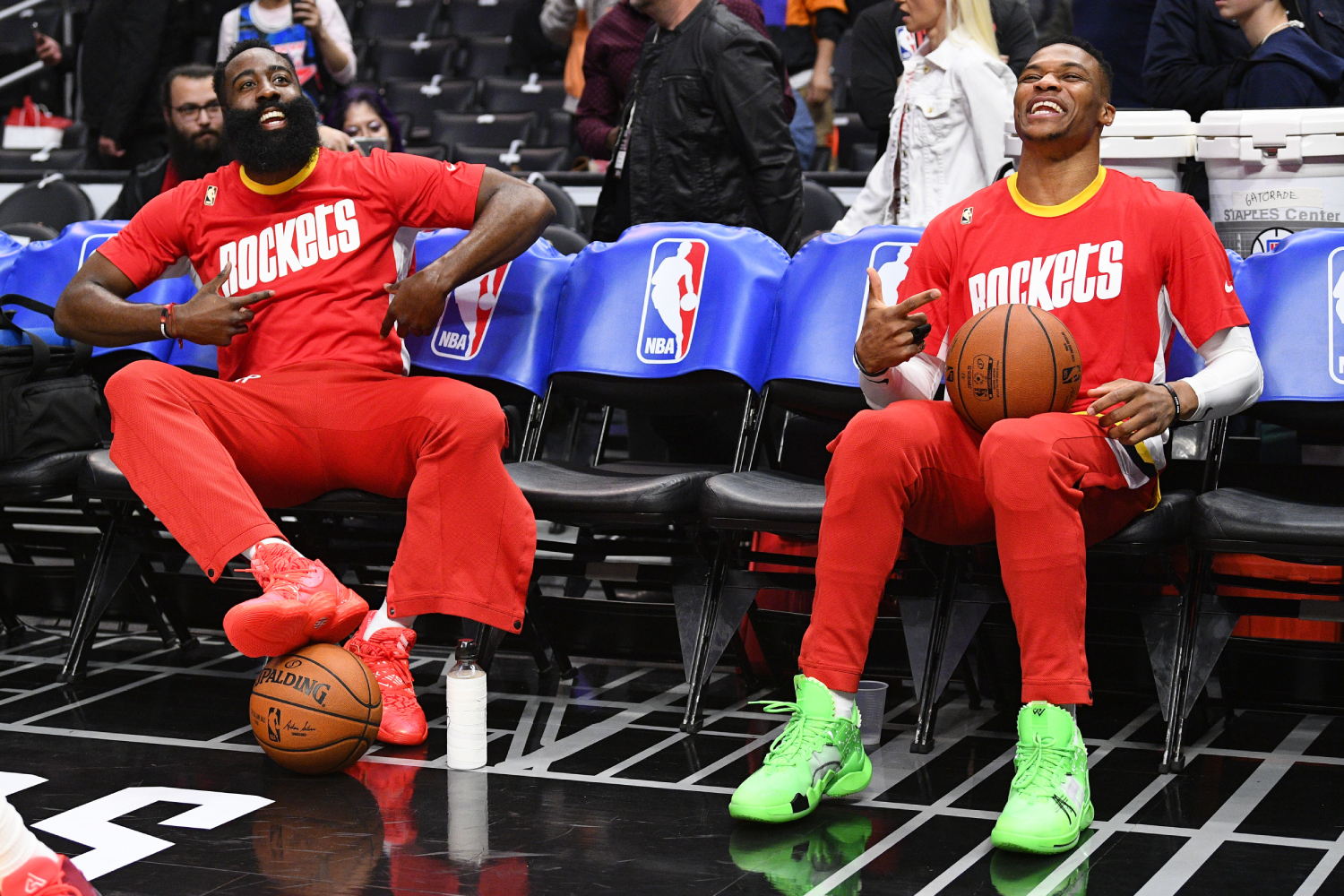 RELATED: Russell Westbrook and Kevin Durant Could Still Be on the Oklahoma City Thunder If One Move Would Have Happened
Both Westbrook and Harden have made a lot of money so far in their NBA careers. Harden has earned an estimated $185.48 million on the court in his career, according to Spotrac. That, however, doesn't include any money he may lose due to COVID-19 shortening the 2019-20 season. On the other hand, Westbrook has made an estimated $205.41 million, according to Spotrac, not including any money lost in 2019-20.
However, despite Westbrook making more money so far, Harden actually has the higher net worth. Celebrity Net Worth estimates that Harden is worth $165 million while Westbrook is worth an estimated $150 million. 
Westbrook and Harden are both superstars. Their basketball talents have certainly paid off too.
Stats courtesy of Basketball Reference