Russell Westbrook and Kevin Durant Could Still Be on the Oklahoma City Thunder If One Move Would Have Happened
The Oklahoma City Thunder were just one win away from going to the 2016 NBA Finals. However, after losing to the Golden State Warriors in the Western Conference Finals, Kevin Durant signed with the Warriors that summer. Then, last summer, the Thunder traded Russell Westbrook to the Houston Rockets to play with James Harden again. However, if the team had done one thing, Durant and Westbrook could still (maybe) be playing in Oklahoma City. 
The Thunder traded away James Harden after reaching the Finals
RELATED: Michael Jordan and Kevin Durant Would Have Been Terrible Teammates
The 2011-12 Oklahoma City Thunder team was stacked. It was also really young, but it was absolutely stacked. The Thunder had Kevin Durant that season along with Russell Westbrook and James Harden. That big three ultimately led the team to the NBA Finals. They just, however, were not experienced enough yet, as the Miami Heat (led by LeBron James, Dwyane Wade, and Chris Bosh) defeated them in five games.
Harden was not the player he is now, but he still showed promise that season. He averaged 16.8 points per game and won the Sixth Man of the Year award. However, he was going to be a restricted free agent in 2013, and the Thunder did not know if they could afford him. This led to them trading Harden away to the Houston Rockets before the 2012-13 season. They acquired Kevin Martin and Jeremy Lamb in the deal, along with some picks, according to ESPN.
As you probably know, Harden has since become one of the greatest scorers ever. He has scored over 30 points per game each of the last three seasons. He even averaged 36.1 points per game in 2018-19. The Thunder, on the other hand, were still really good after trading him. They still went to the Western Conference Finals in 2013-14, and then went back there in 2015-16. The Thunder ultimately lost in six games to the San Antonio Spurs in 2013-14, and in seven games to the Golden State Warriors in 2015-16.
Bradley Beal almost went to the Thunder
RELATED: What Motivates Bradley Beal to Be a Good Basketball Player?
Washington Wizards star Bradley Beal recently went on the All The Smoke podcast with Matt Barnes and Stephen Jackson. He ultimately recalled when he almost went to the Thunder during the 2012 NBA draft, according to CBS Sports. This had actually been a surprise to him, though. He had only worked out for the Wizards, Cleveland Cavaliers, and the Charlotte Hornets (who were the Bobcats at the time).
"OKC was going to trade up to get me, trade James to Washington for me," Beal said, according to CBS Sports. "I would have been in OKC with K.D. and Russ. … That was a last-minute decision. It was almost done." 

Bradley Beal
Michael Lee, who was of The Washington Post, has reported in the past that Wizards owner Ted Leonsis backed out of the deal. He reportedly did not want to commit to a roughly $80 million deal over five years for Harden, according to CBS Sports.
However, if this would have happened and Beal would have gone to the Thunder, the chances of Russell Westbrook and Kevin Durant still being in OKC would be a lot higher. 
Westbrook and Durant could still be in OKC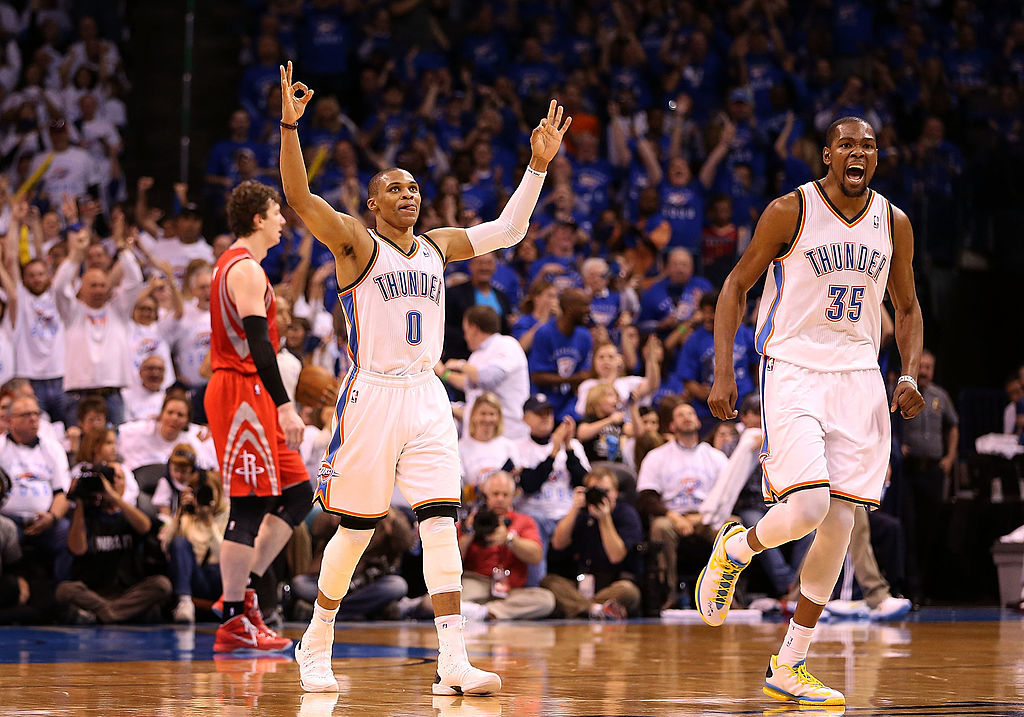 RELATED: Russell Westbrook, Jazz Face $100 Million Lawsuit From Banned NBA Fan
Obviously, this is just pure speculation. Durant maybe would have still wanted to leave the Thunder in the summer of 2016. However, if Bradley Beal would have been on the Thunder during Durant's final four seasons in Oklahoma City, the Thunder could have won championships. So, then why would Durant have wanted to leave a team that is winning championships?
When the Thunder lost to the Spurs and Warriors in the Western Conference Finals during the 2013-14 and 2015-16 seasons, they only had Westbrook and Durant to turn to for scoring. Westbrook and Durant both averaged 25 points per game or more in both of those series. Next was Reggie Jackson in 2014 with 11.8 points per game, and Serge Ibaka in 2016 with 12.4 points per game. In 2013-14, Beal averaged 17.1 points per game for the Wizards. In 2015-16, he averaged 17.4. He would have given the Thunder that other weapon that would have gotten them past the Western Conference Finals. He could have even possibly helped them win NBA championships.
So, again, if they would have won championships (or at least one), then why would Durant have wanted to leave that? It does not seem like Westbrook would have wanted to leave either as he seems very eager to win rings. 
This is all speculation, but if the Thunder could have traded for Bradley Beal in 2012, then it seems that the chances for Westbrook and Durant still currently being in OKC would be much higher. We're all left wondering "what if" though.
All stats courtesy of Basketball Reference