Russell Westbrook Blasts Rajon Rondo's Brother After Getting Blasted by the Lakers
During NBA games, especially NBA playoff games, emotions can get heated. Players want to win, so anything that gets in their way of that, or anything that gets in their heads, can ultimately make them pretty upset. That was the case during Russell Westbrook and the Houston Rockets' recent Game 5 loss to the LA Lakers.
The loss ultimately ended the Rockets' season as the Lakers dominated throughout the majority of the series. However, near the end Game 5, when everyone knew it was over for the Rockets, Lakers guard Rajon Rondo's brother seemed to get Westbrook pretty upset. The two exchanged some words, and the altercation then later resulted in Westbrook blasting him while talking to the media.
The Houston Rockets' season ended in Game 5 against the LA Lakers
The Houston Rockets went all-in this season by adding Russell Westbrook, as they paired him up with James Harden to try and win an NBA championship.
At times, it looked as if it was going to work. The Rockets ultimately went 44-28 and earned the No. 4 seed in the Western Conference standings. Westbrook and Harden both ended up having great individual seasons too. Harden led the NBA in points per game with 34.3 to go with 7.5 assists and 6.6 rebounds. Westbrook, on the other hand, averaged 27.2 points per game, seven assists, and 7.9 rebounds.
However, after beating the Oklahoma City Thunder in seven games in the First Round, the Rockets only took the Lakers to five games in the Western Conference Semifinals. They got crushed in Game 5 too, losing 119-96.
Overall, Westbrook struggled immensely in the series. He averaged 19.8 points per game, 7.4 rebounds, and five assists. He also only shot 42.4% from the field.
Obviously, Westbrook had plenty of reasons to be frustrated during Game 5. However, Rondo's brother then made it worse.
Russell Westbrook and Rajon Rondo's brother exchanged words during Game 5
During the fourth quarter of Game 5, Westbrook and Rondo's brother, William, exchanged words. This led to William getting ejected from the family area, as the NBA has a policy that restricts bubble fan conduct, according to The Washington Post's Ben Golliver.
According to Marc Spears of ESPN, Rajon said that William called Westbrook "trash" and gave him the "Damian Lillard" wave when Westbrook asked what he said.
Rondo also reportedly said that he hopes that there won't be any discipline, according to Spears.
Even though things got broken up pretty quickly, Westbrook still wasn't too happy after the game.
Russell Westbrook blasted Rajon Rondo's brother after the game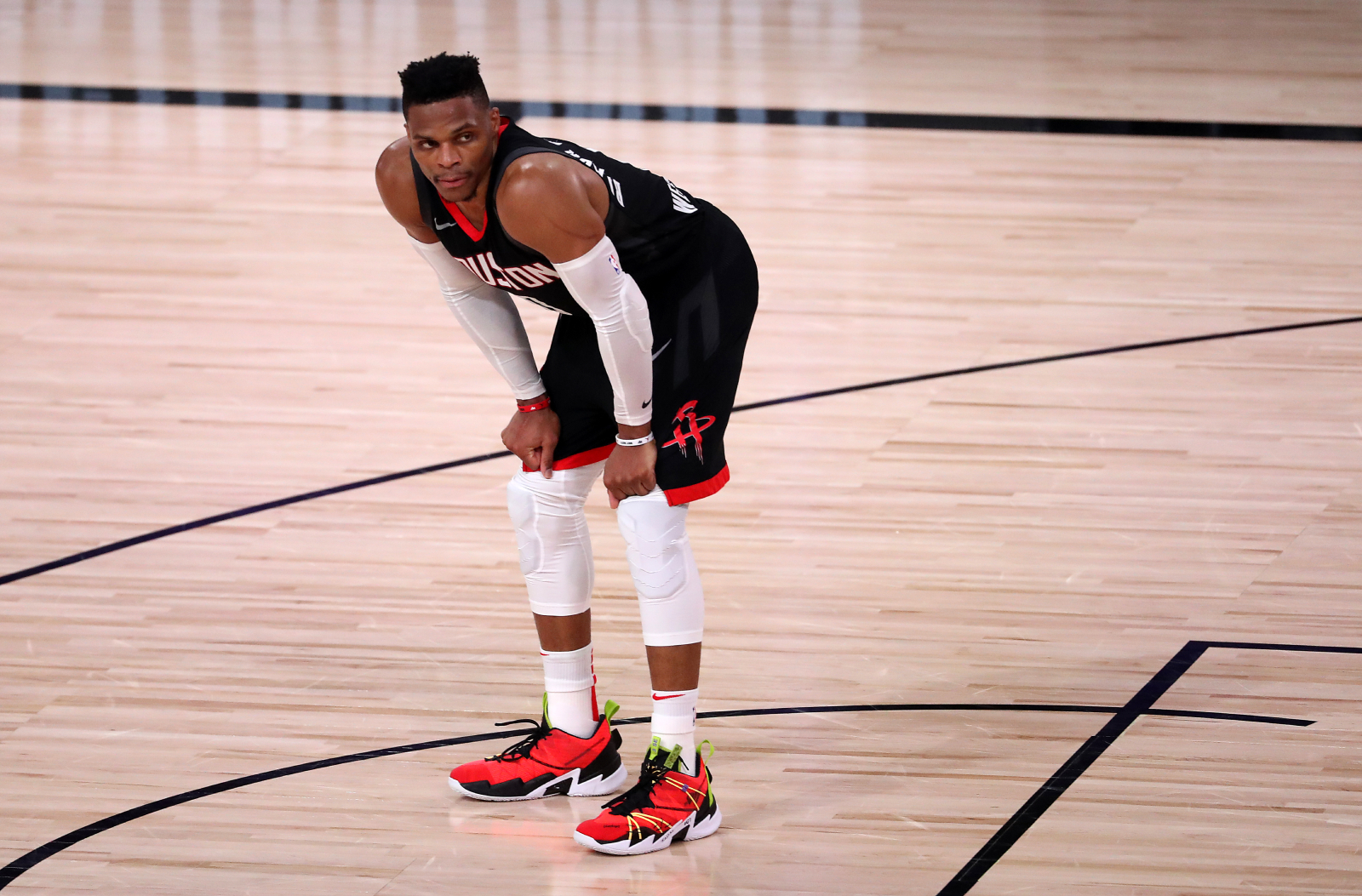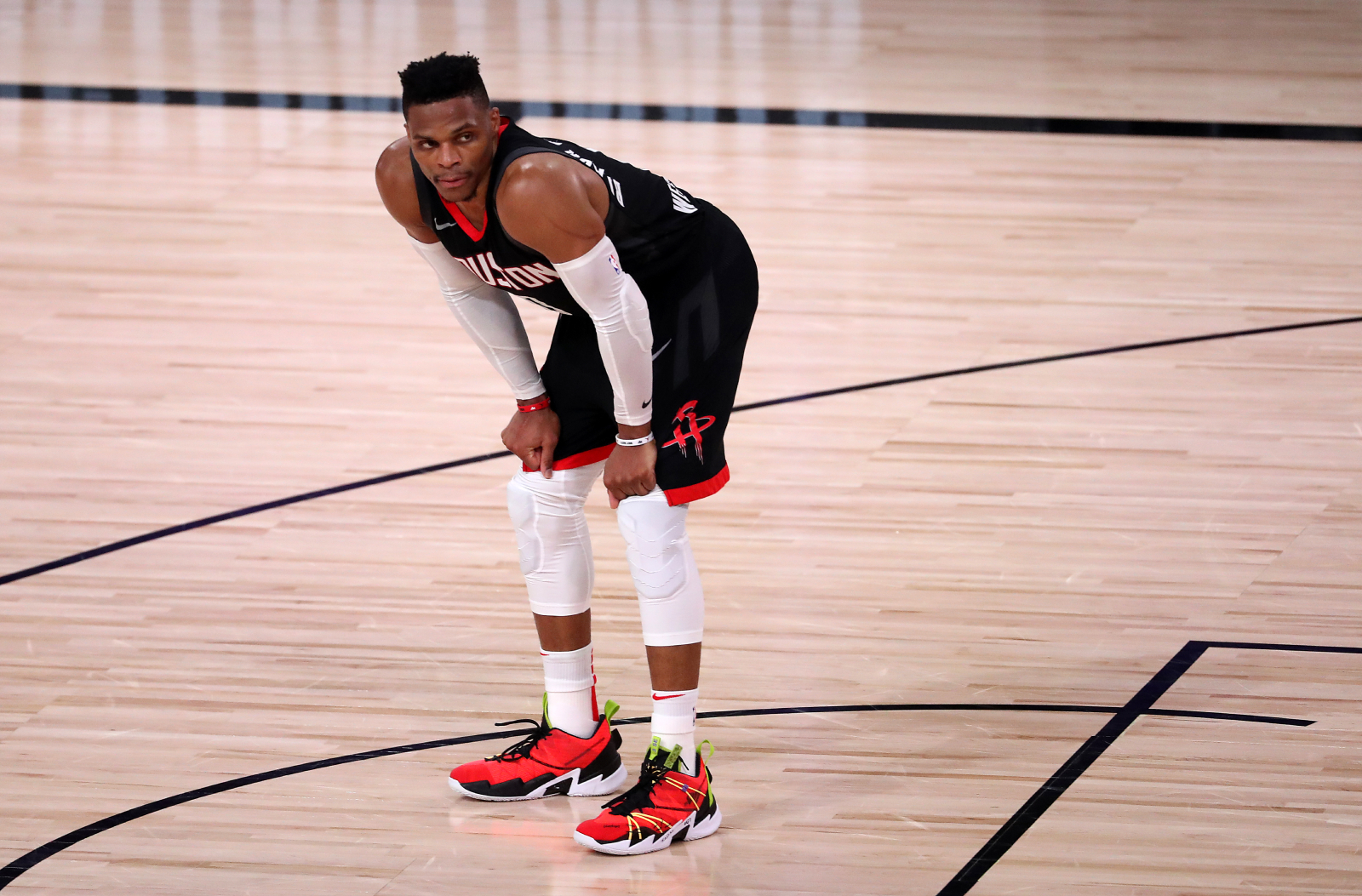 After the Rockets' loss, Westbrook had this to say about the altercation.
"People at the game, you're supposed to shut your mouth and watch the game. That's the rules, especially when you have families and people here," Westbrook said, according to Yahoo Sports. "Apparently, I guess because [Rajon] Rondo was talking s***, [William] decided he wanted to hop in, too. But it's OK. I mean, it's all good, I get it. He wanted to take up for his brother. … But those rules stand for everybody, though, no matter who it is — family, whatever."
Westbrook also said: "He started talking crazy, and I don't play that game."
He clearly wasn't happy, but he won't have to worry about running into Rondo's brother in the bubble again now that the Rockets' season is over.
What are the Houston Rockets going to do next?
Westbrook must now focus on the offseason as some fans are calling for the Rockets to trade him after this season didn't go as planned.
However, it appears that Harden wants him to say.
"I feel like we're a piece away," Harden said after the Rockets' loss to the Lakers, according to a tweet from Golliver. "We just got to keep trying to figure it out, keep trying to grow and put the right pieces around me and Russ to get to where we want to go."
So, what will the Rockets do with Westbrook this offseason? It is hard to tell, but, like every other NBA offseason, this one should be entertaining.
Stats courtesy of Basketball Reference