Russell Westbrook Tried to Bring the Wizards Organization to Its Knees Before Asking for a Trade
Russell Westbrook will try to help build the Los Angeles Lakers back to championship status. Before joining the Purple and Gold, however, Westbrook attempted to tear down the Washington Wizards organization from within by trying to convince Bradley Beal to leave The District.
Westbrook's split from the Wizards was amicable, at least on its face. But The Brodie would have brought the organization to its knees if he persuaded Beal to ask out.
Russell Westbrook implored Bradley Beal to ask for a trade from the Wizards
The relationship between Russell Westbrook and Bradley Beal was under the microscope as soon as the Wizards acquired Russ from the Houston Rockets last summer. But the two stars enjoyed playing together, so much so that Westbrook was seemingly hoping Beal would follow him elsewhere.
The Athletic reported Monday that Westbrook had conversations with Beal about asking for a trade and leaving Washington in the weeks before the 2021 NBA Draft. Now, there probably was never a guarantee both Westbrook and Beal would have landed with the same team had they both asked for a trade. Those are two big salaries for any given team to take on at the same time.
However, Westbrook's apparent determination to loop Beal into his offseason plans demonstrates his genuine desire to keep playing with the star 2-guard. But Beal has repeatedly said — despite a myriad of rumors — he wants to build something in Washington and thus declined to indulge Westbrook.
Beal declined to seek a trade but eventually supported Westbrook's efforts to get to LA
Having failed to convince Bradley Beal to request a trade, Russell Westbrook plotted his next move. Still, he wanted Beal's support.
Westbrook had an initial interest in joining the Lakers. According to The Athletic, his urgency in seeking a trade grew after he heard about LA's negotiations for Sacramento Kings guard Buddy Hield.
The former league MVP approached Wizards governor Ted Leonsis about sending him to the Lakers. Westbrook also went back to Beal, this time to get an affirmative in his own desire to seek a trade. Beal offered his support, paving the way for Washington to finalize a deal.
The Wizards traded Westbrook to the Lakers in exchange for Kyle Kuzma and Montrezl Harrell as part of a five-team blockbuster. Both sides had seemingly parted on good terms, with Westbrook getting to play for his hometown team and general manager Tommy Sheppard creating future financial flexibility.
Yet, it's hard to ignore the lengths Westbrook went to in trying to deprive the Wizards of their franchise cornerstone before asserting his will in trade talks.
Russell Westbrook could have destroyed the Wizards organization if Bradley Beal joined him in asking out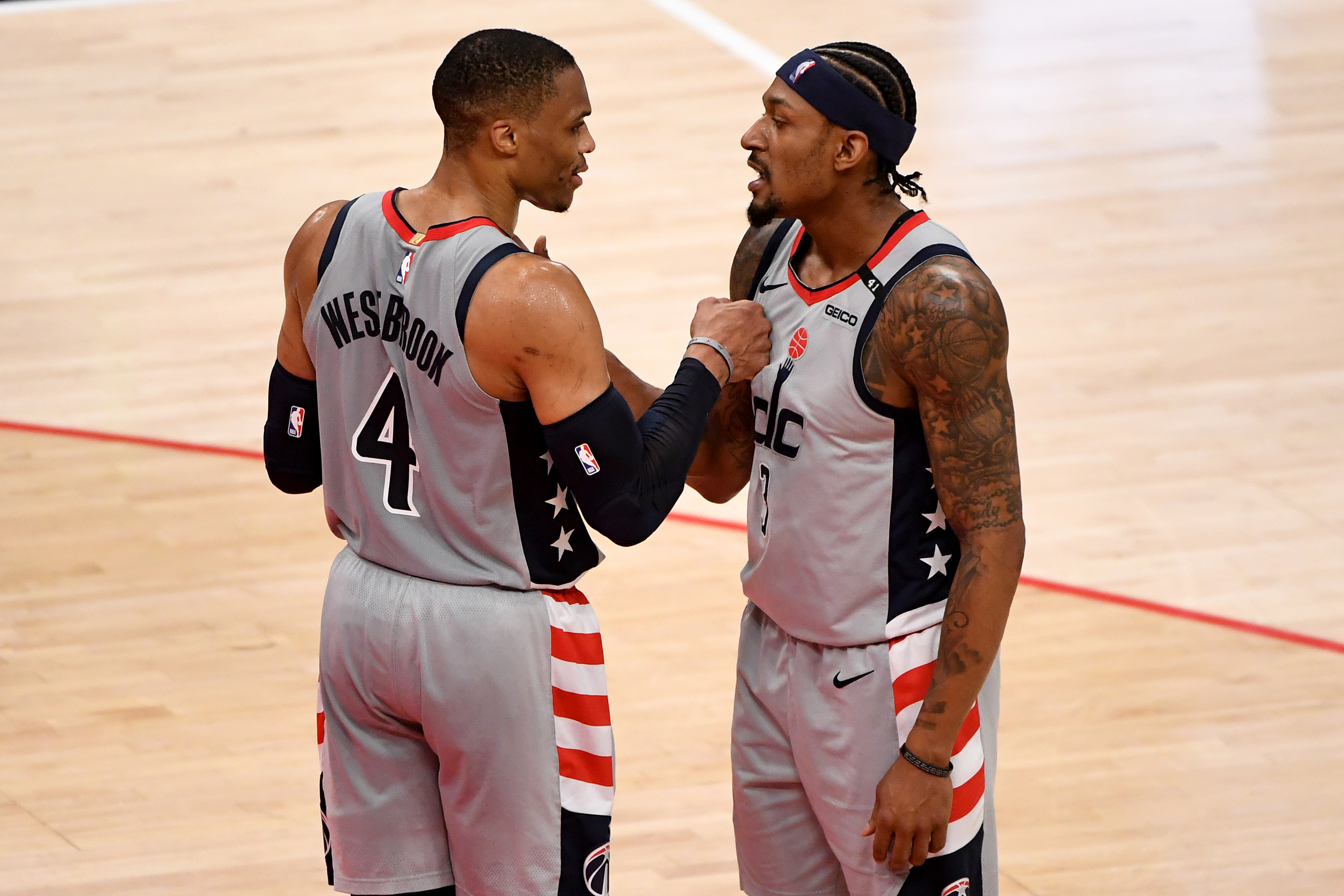 The Wizards made it abundantly clear in recent years that they view Bradley Beal as their franchise player. And why not?
Beal has become one of the best scorers and playmakers in the NBA. He averaged 31.3 points, 4.7 rebounds, and 4.4 assists on a career-high 48.5% shooting from the field. The three-time All-Star showed he could be every bit as dangerous off the ball as he was with the rock in his hands. Beal is rapidly becoming one of the best players in the league on a roster that is desperate for that kind of impact player.
Yet, Westbrook was reportedly adamant about ridding the Wizards of their franchise star. The veteran point guard would have brought the organization crumbling down around him were it not for Beal's steadfast belief in leading a winner in Washington.
Thus, while the Westbrook-Wizards divorce optics appeared relatively smooth and straightforward, the truth is that The Brodie was willing to sabotage the franchise.
Stats courtesy of Basketball Reference.