Russell Westbrook Brutally Destroyed by NBA Insider Who Calls Out Hypocritical Complaints
Los Angeles Lakers star point guard Russell Westbrook has put himself in the limelight again by discussing the ongoing criticism against him. Westbrook attempted to cool the flames by underlining how the negativity has impacted his family.
However, the nine-time All-Star's remarks backfired by putting him further into the spotlight. All that led longtime NBA writer Kevin O'Connor to point out the hypocritical nature of Westbrook's latest actions.
Russell Westbrook addresses the "Westbrick" criticism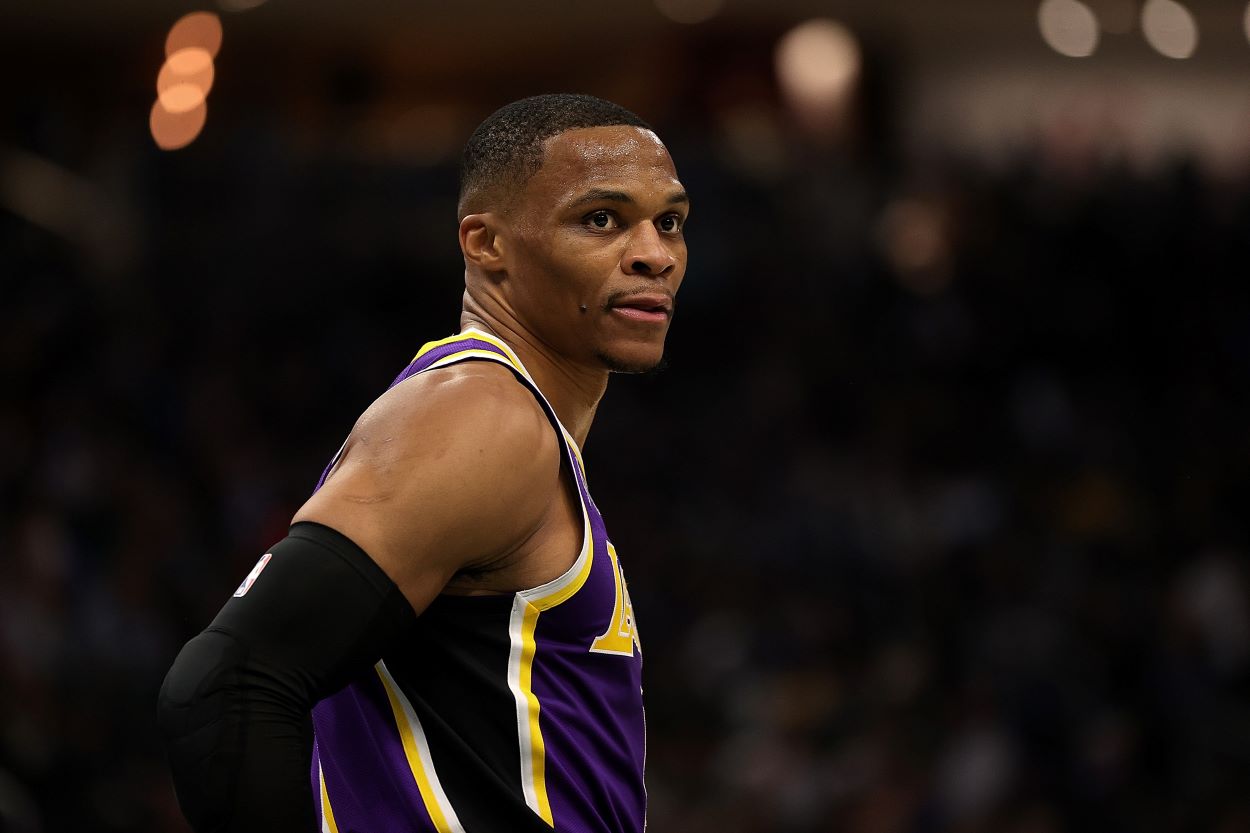 Amid his disastrous first year with the Lakers, Westbrook's reputation has been dragged through the mud.
The 33-year-old has struggled to find consistency, while his shortcomings have significantly impacted his team falling toward likely participating in the play-in tournament. After Monday's loss to the San Antonio Spurs, Westbrook hit a breaking point with the criticism directed regarding his last name called "Westbrick."
"I've kind of let it go in the past because it never really bothered me," Westbrook said via ESPN. "But it really kind of hit me the other day. Me and my wife were at teacher-parent conferences for my son. And the teacher told me, 'Noah, he's so proud of his last name. He writes it everywhere. He writes it on everything. He tells everybody and walks around and says, 'I'm Westbrook.'…And I kind of sat there in shock, and it hit me, like, 'Damn. I can no longer allow people [to besmirch my name].'"
The nine-time All-Star's stern comments quickly led to his feet being put the fire concerning his contradictory actions.
Russell Westbrook brutally destroyed by NBA Insider who calls out hypocritical complaints
Westbrook's decision to address the "Westbrick" criticism has only placed a bigger target on his back.
The star point guard attempted to quiet the noise, but that has only amplified the outside chatter concerning his history of petty behavior. During a recent episode of The Ringers' The Mismatch podcast, longtime NBA writer Kevin O'Connor called out Westbrook for his hypocritical actions.
"This is the same guy that has cupcakes at his 4th of July party, playing into the Kevin Durant cupcake nickname," O'Connor said. "What a f***ing hypocrite."
O'Connor's remarks reference Westbrook's 4th of July photo on Instagram showing cupcakes. That wound up being a dig at his former Oklahoma City Thunder teammate Kevin Durant for leaving the franchise. According to a Sports Illustrated piece, Kendrick Perkins used to call his Thunder teammates "cupcake" if he believed they were acting soft. Westbrook and Durant adopted the term, paving the way to the subtle social media slight.
At the same time, O'Connor keenly pointed out that the outside noise would dissipate if Westbrook simply adjusted his game to what the Lakers need to succeed.
"Fans won't be calling him Russell Westbrick if he doesn't shoot," O'Connor said. "The Lakers would be a better team if he just didn't shoot the ball. If Russell Westbrook just attacked the basket, finished at the rim, focused on passing, put better effort on defense, and did the things that he does well more and the things he does worse less, the Lakers would be a slightly better team.
'There would be less panic. There would be less frustration from Lakers fans and we would be talking more about when Anthony Davis comes back."
Westbrook's action speaks for themselves, but if he truly wants the criticism to dwindle, his performance on the court is the sole key to that.
Star guard can still be the x-factor to Lakers' playoff push
As much as Westbrook hopes that his words can finally quiet the chatter, it's his performance in a Lakers uniform that accomplishes that.
The former league MVP can shift the narrative almost entirely if he adjusts his game toward what the Lakers need. Los Angeles acquired him to be the third scoring option who can playmake as a scorer and passer. He's still a dynamic factor in transition and can get to the rim off the dribble.
When he's not forcing the issue, the 33-year-old can create scoring opportunities for teammates off his dribble drives and court vision. He will need to undergo a dramatic shift, but the formula is there to excel next to LeBron James and Anthony Davis when he returns.
More than anything else, the 18 remaining regular-season games are a prime opportunity to prove those longstanding criticisms wrong.
Like Sportscasting on Facebook. Follow us on Twitter @sportscasting19.
RELATED: Stephen A. Smith Delivers Knockout Blow to Russell Westbrook Experiment: 'Doesn't Deserve to Be a Laker'