What Makes Russell Westbrook Different From Oscar Robertson and Magic Johnson?
Even for a guy who routinely puts up video-game numbers, Russell Westbrook's run the last two months is unreal. On Monday, Westbrook became the NBA's all-time leader in triple-doubles. (He's averaging a triple-double this season for the fourth time in his career). His 28-point, 21-assist, 13-rebound line came in a one-point loss to the Atlanta Hawks, and that moved him past Hall of Famer Oscar Robertson as the triple-double king.
Only four players in NBA history have recorded at least 100 triple-doubles, but there is a way Westbrook differs. While some critics will charge Westbrook with stat-padding, there's a pivotal point to keep in mind. You have to be awfully good to have the ability to chase those stats in the first place. There's also a mistaken notion that Westbrook is a product of the modern era's style of play. The numbers — at least from Robertson's era — claim otherwise.
Meanwhile, for the Washington Wizards, Westbrook's efforts have been far from occurring in a vacuum.
Russell Westbrook has led a Washington Wizards resurgence
Russell Westbrook is averaging 22.0 points, 11.6 rebounds, and an NBA-leading 11.6 assists for the season. The last two numbers are career bests from a player who's had a heck of a career already. Since the All-Star break in March, though, Westbrook has performed at another level. In 35 games, he's put up 23.4 points, 13.0 rebounds, and 13.0 assists per game.
As the Wizards have climbed the standings with 15 wins in their last 20 games, Westbrook has led the charge. When Washington fell to the Toronto Raptors on April 5, the Wizards were 17-32 and buried in the Eastern Conference. Washington is now 10th in the East with three games to play — a win or a Chicago Bulls loss away from locking in a play-in spot.
Westbrook's statistical surge isn't just a paper accomplishment. He is now the all-time leader in triple-doubles. That is made more remarkable by one key difference that separates him from the other leaders on the list.
What makes Westbrook different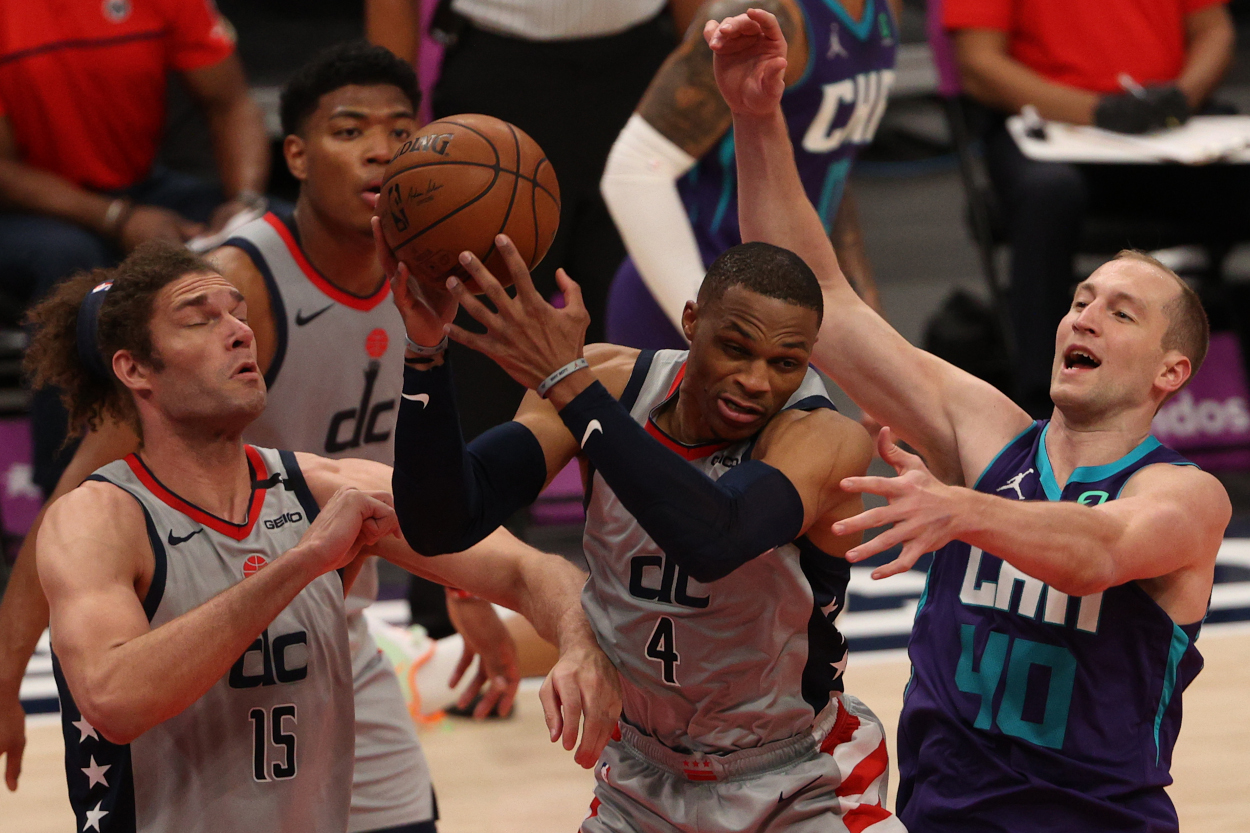 Of the four players topping 100 triple-doubles, Russell Westbrook differs in one key area in chasing the numbers needed. Oscar Roberson was a 6-foot-5 point guard when there were forwards the same height or smaller. Magic Johnson, a 6-foot-9 basketball savant, was a matchup nightmare as a point guard. Even Jason Kidd, at 6-foot-4 and 205 pounds, often had a size and strength advantage in his matchups.
Westbrook is 6-foot-3 and 200 pounds. For an average guy on the street, that's big. For a guy averaging double figures in rebounding in the National Basketball Association, not so much. Here is the list of players 6-foot-3 or shorter to average 10 rebounds per game in a season, per Stathead:
2016–17 Russell Westbrook
2017–18 Russell Westbrook
2018–19 Russell Westbrook
2020–21 Russell Westbrook
End of list
But is the fast pace of the 21st century NBA fueling Westbrook's numbers? Yeah, about that.
Debunking the pace argument against Russell Westbrook
The Washington Wizards play fast. At 104.1 possessions per game, they lead the NBA in pace. So that means Russell Westbrook benefits from his team getting more possessions to accumulate those ridiculous numbers, right?
Let's pace ourselves before making any assumptions.
In 1961-62, the year Robertson averaged a triple-double, his Cincinnati Royals averaged 124.9 possessions per game. That ranked fifth in an NBA comprised of only nine teams at the time. It's fair to assume Robertson might have done something with 20 extra possessions per game, no?
As for Magic, his Los Angeles Lakers averaged between 94.1 and 104.9 possessions per game. Kidd suffered the most because of pace, never playing for a team that averaged more than 95 possessions per game over his 19 seasons.
Westbrook is a polarizing player. Some fans love his style; others loathe it. But over the second half of this season, the numbers are fueling a lot of wins. That's not just stat-sheet stuffing.
Statistics courtesy of Basketball Reference.