Russell Westbrook's Face Mask of Choice Costs an Affordable $25
With the money they make, pro athletes can afford to buy virtually any clothing that they want. This allows them to show off their fashion style, which is a big thing for athletes, especially in the NBA. Russell Westbrook is one of the NBA players known for his fashion sense. He likes to showcase his style whenever he gets the chance.
These days, NBA fashion includes face masks. Westbrook has a preferred brand. Unlike most of his wardrobe, fans can get this face mask themselves for an affordable cost of $25.
Russell Westbrook's style evolution
RELATED: Russell Westbrook Is Still Motivated by the Tragic Death of His Childhood Friend
Since Westbrook entered the NBA in 2008, his style has evolved. Esquire has written about Westbrook's evolution. The former MVP says his style changes based on how he's feeling. He admits that "going to different fashion shows and events and being able to see what was going on in the whole fashion space in general" also plays a role in his fashion choices, as does simply "trying different things."
GQ has highlighted some of Westbrook's most notable outfits he has worn. Styles includes a bleached denim shirt and pants combination, paired with red shoes, and a floral-printed shirt that he wore at the 2014 ESPYs.
Westbrook's favorite face mask costs $25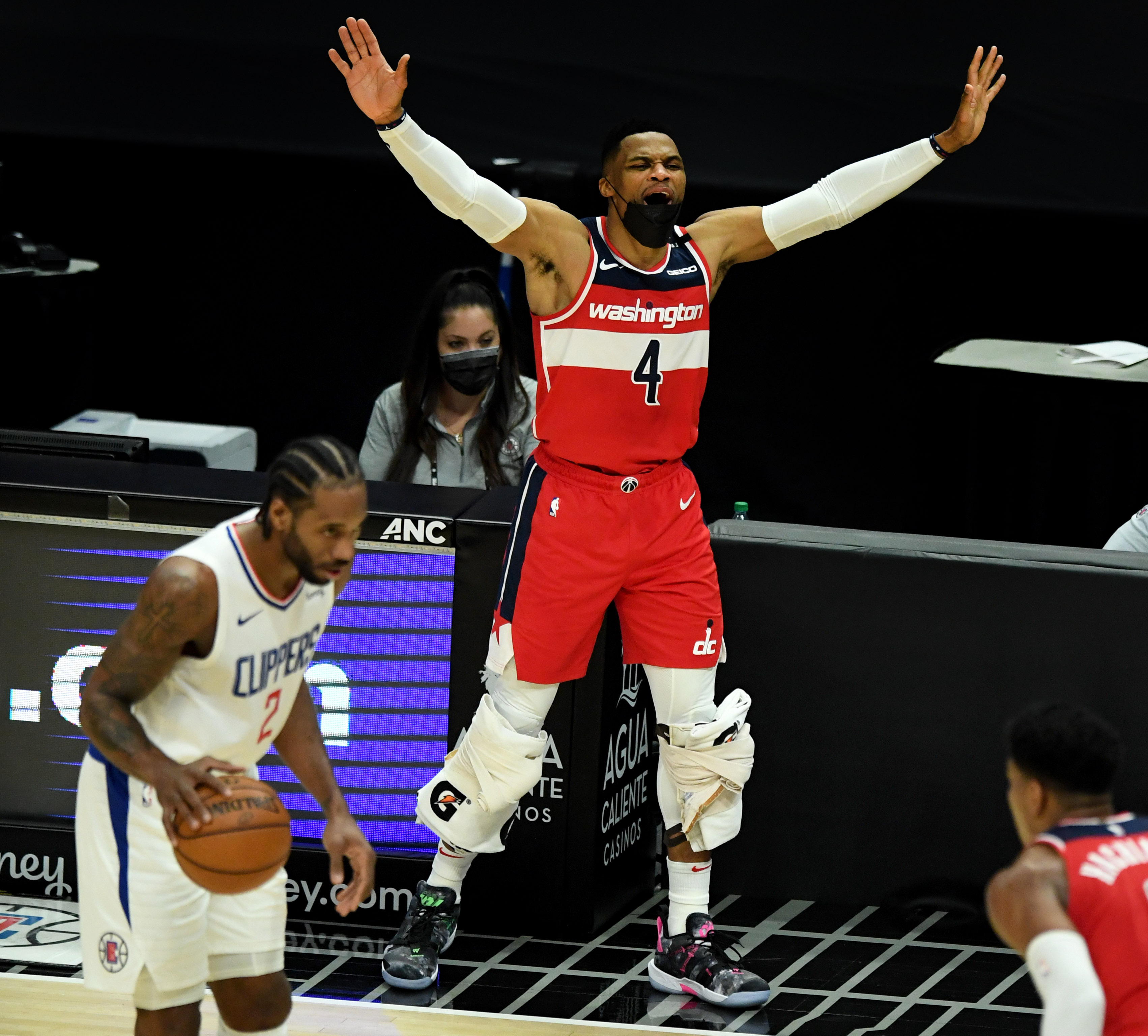 Face masks have become a part of the daily wardrobe for virtually all Americans in the last year. They come in a variety of styles and price points. You can get a fabric face mask for as little as a couple of dollars. Or you can splurge and spend significantly more for masks that are "designer" or made from higher quality material.
Surprisingly, Westbrook's preferred face mask is relatively affordable, at just $25. Westbrook often wears the SMRTFT brand, which sells for as low as $24.95. The company, which also sells personal training equipment and fashion accessories like beanies and socks, says the lightweight masks block 99% of dust particles, even after 100 washes.
The masks are sold on the brand's website. Despite what some people may think given his affinity for wearing the SMRTFT masks in public, it does not appear that Westbrook has a partnership with the LA-based company.
Russell Westbrook on the court in 2021
Westbrook is in his 13th NBA season but his first with the Wizards. Washington acquired him in a trade with the Rockets in the offseason. In his first 27 games with his new team, Westbrook is averaging 20.3 points per game, nearly three points below his career average, in 34.2 minutes per game.
He's playing above-average with rebounding, though. His 9.7 rebounds per game so far are 2.5 rebounds better than his career mark. He's also dishing the ball to teammates more than usual. Westbrook is averaging 9.8 rebounds per game, higher than his average of 8.4 for his career. He is also averaging 1.1 steals, down slightly from his career numbers.
The Wizards are struggling on the hardwood, with a 14-20 record at the All-Star break. According to NBA.com, this puts them in fourth place in the Southeast Division and in 12th place in the Eastern Conference, which is two spots out of contention for the play-in tournament at the end of the regular season that will determine the final two playoff teams in the conference.