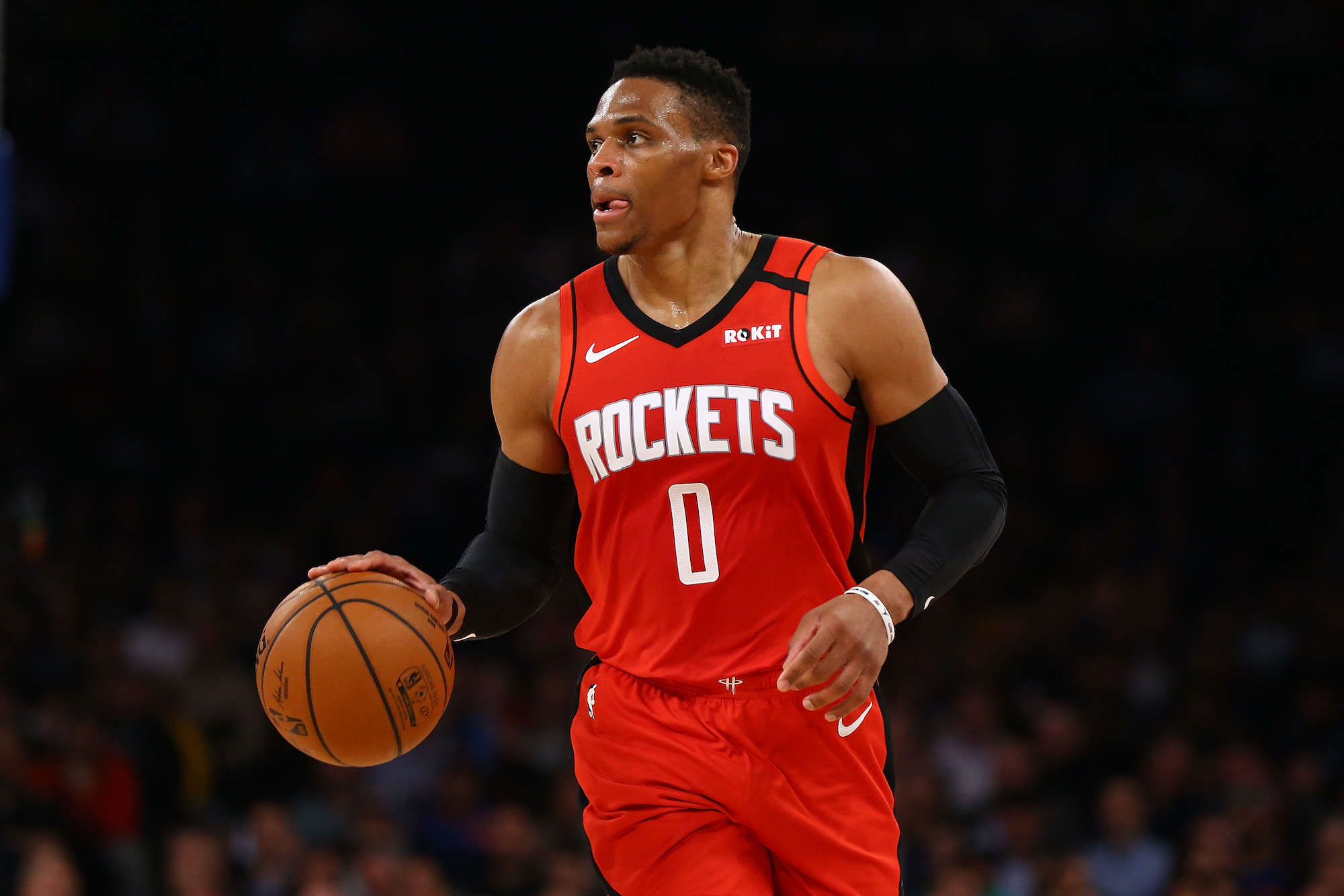 Russell Westbrook Is Still Motivated by the Tragic Death of His Childhood Friend
When Russell Westbrook was a teenager, his friend Khelcey Barrs died in tragic circumstances. The Houston Rockets guard hasn't forgotten what happened that fateful day.
While you don't become a professional athlete without an incredible drive, some NBA stars have a little extra motivation. Michael Jordan, for example, was able to turn an innocent comment into a perceived slight; after leaving Los Angeles, Shaquille O'Neal wanted to prove that he could win without Kobe Bryant. Russell Westbrook, however, has a much more personal source of inspiration.
When the Houston Rockets guard was a teenager, his friend, Khelcey Barrs, died in tragic circumstances. That loss, however, helped make Westbrook the star that he is today.
Khelcey Barrs, not Russell Westbrook, looked like a future star
These days, Russell Westbrook has established himself as a legitimate NBA star. During high school, however, Khelcey Barrs looked like the superior talent.
As Ric Bucher explained in a 2012 ESPN feature, Westbrook didn't seem like much of an athlete when he started high school. "Players of Westbrook's caliber generally don't blossom as late as he did," the writer observed. "As a freshman in high school, he was 5'9″ and 'deathly slow,' says Reggie Morris, Westbrook's coach at Leuzinger High in Lawndale, outside of LA. 'His biggest attribute was his heart."
Barrs, on the other hand, was overflowing with raw talent. "The 16-year-old Barrs popped up on the radars of college coaches around the country after he had led Leuzinger to an upset win over Long Beach Poly in the CIF Southern Section quarterfinals in 2003, averaging 18 points, 11 rebounds and three blocks per game during his sophomore season," Arash Markazi explained for ESPN. In fact, UCLA was initially interested in Barrs, not Westbrook.
The tragic death of Khelcey Barrs
During their time in high school, Khelcey Barrs and Russell Westbrook were inseparable. Unfortunately, a tragedy would abruptly change everything.
One afternoon, Barrs collapsed during a pickup game at L.A. Southwest College. He was rushed to Centinela Hospital Medical Center and pronounced dead; unbeknownst to everyone, the teenager had a fatally enlarged heart.
Understandably, the loss of Barrs rocked Westbrook's world. While his friend was gone, the young guard wasn't going to let him down.
"Westbrook not only doubled up his effort on the court as if he were now playing for two people; he also doubled up on his chores off the court. He began taking the trash out for Barrs' grandmother, who lived across the street, every week as Khelcey had done," Markazi explained. "It wasn't long before the undersized freshman had grown into a talented 6-2, 180-pound point guard who was being recruited by nearly every major school. He ended up choosing UCLA, the school that had originally wanted Barrs, and didn't officially offer Westbrook a scholarship until his senior year."
"I feel like I'm playing for him in a way," Westbrook explained. 
Russell Westbrook has made his late friend proud
Based on his KB3 bracelets and shoes, it's safe to say that Russell Westbrook never forgot about Barrs. Beyond that, though, he's also made his friend proud.
After two seasons at UCLA, Westbrook entered the 2008 NBA draft; the Seattle SuperSonics selected him fourth-overall and promptly rebranded as the Oklahoma City Thunder. The guard blossomed into a legitimate star with the franchise, eventually averaging a triple-double per game and claiming the NBA MVP title in 2017. Despite a change of scenery—Westbrook has since joined the Houston Rockets—he's still one of the league's most dynamic players. For all of that success, though, he hasn't forgotten one lesson learned in tragic circumstances.
"[Barrs] was my best friend," Westbrook told Markazi. "He lived across the street from me, and we were together all the time. When he passed, it just made me think about life and how every time I step on the floor I have to give it my all because every time he played he gave 100 percent. You can't take life for granted. Every day when I get on the floor, I give it my all and play because you never know what tomorrow holds."
Stats courtesy of  Basketball-Reference