Russell Westbrook Might Actually Be the Lakers' Greatest Solution to Their Problems
Fair or not, Russell Westbrook has become the face of everything wrong with the Los Angeles Lakers.
Westbrook is playing below expectations, that much is certain. But it's his team-high $44.2 million salary that accentuates his shortcomings more than anyone else on LA's roster. Worse yet, his $47 million price tag next season would place the Purple and Gold in an even greater bind than the one they're already in.
Things may feel hopeless in Lakerland. But Westbrook could actually end up being the solution to LA's problems. Better yet, it would require him stepping nowhere near the court at Crypto.com Arena again.
Russell Westbrook and the Lakers have 'mutual interest' in parting ways
Westbrook came to LA this summer as the final piece of the championship puzzle. With Russ, LeBron James, and Anthony Davis, the Lakers could assemble a roster of octogenarians and still win a title thanks to their superstar trio.
That plan didn't work. The Lakers are just 27-34, and that's with Russ playing in all but one of their 61 contests. Fortunately, Westbrook appears to be as interested in ending this ill-fated experiment as everyone else, especially the Lakers.
Sources told Jake Fischer of Bleacher Report there is "mutual interest in finding Westbrook a new home this summer." If both parties are successful, it would mean the nine-time All-Star moving to his fifth team in five seasons. The 33-year-old previously suited up for the Washington Wizards, Houston Rockets, and most notably the Oklahoma City Thunder.
Westbrook has managed to stay on the court for the bulk of LA's season. But his production has harmed them more often than it's helped. Brodie is averaging 18.1 points on 43.2% shooting from the field and 28.6% from three. He's also earning 7.7 rebounds, 7.3 assists, and 4.0 turnovers per game.
Westbrook wanting to leave is the answer to LA's problems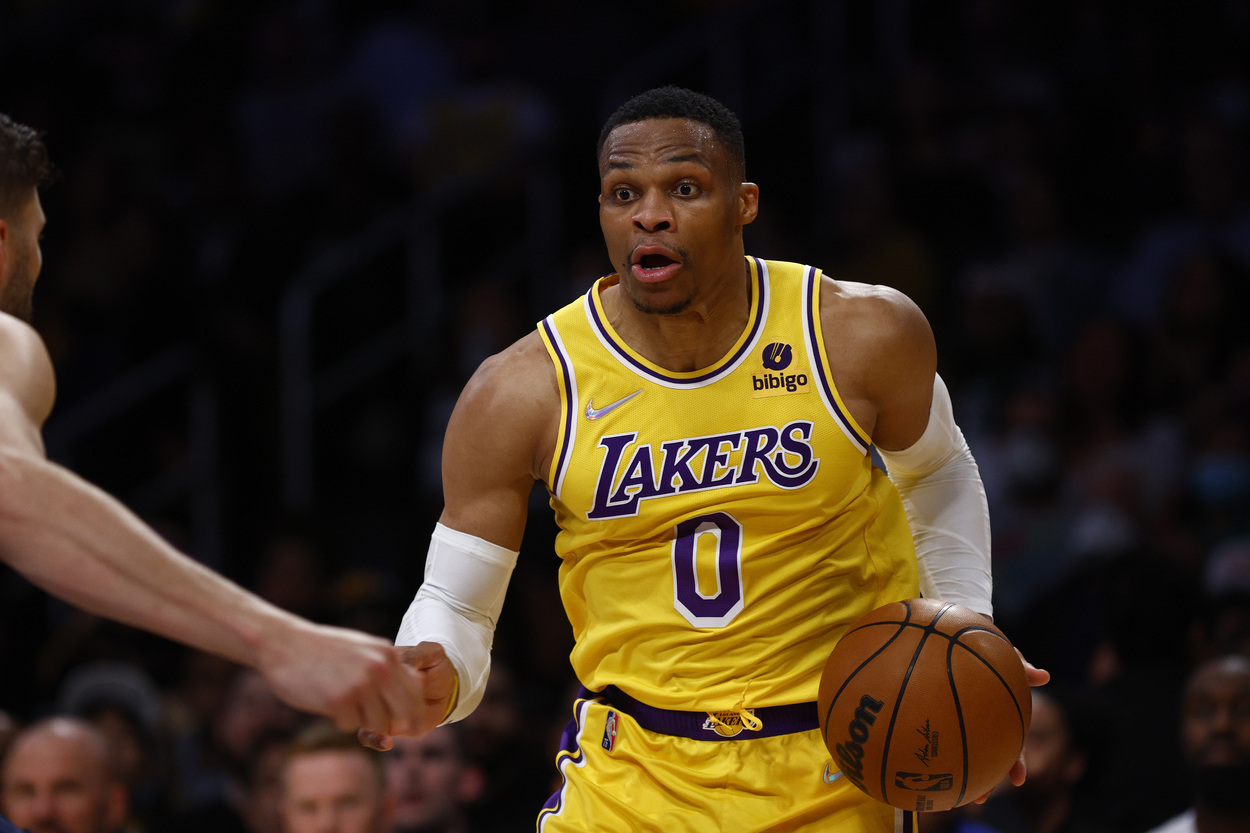 From the beginning, many questioned how Westbrook's shooting problems and downhill style would mesh with James, Davis, and the rest of LA's roster. Through 61 games, it's fair to say the doubters were right.
However, by wanting a change of scenery this summer, Russ isn't just doing himself a favor. He's also making things immensely easier for the Lakers.
As things stand, Westbrook could easily opt in to his $47 million player option for 2022-23 and call it a day. But he's open to a change, whether that be a trade or an outright buyout.
A trade would be more difficult to navigate. Russ hasn't done himself any favors in terms of increasing his value, evident by LA's failed attempts to move him before last month's trade deadline. In reality, the Lakers would need to package him with at least one first-round pick to sweeten the pot. But even then, the market for his services (at his current price) is minimal.
LA's best solution, one Westbrook could now be in favor of, is a buyout. Just like they did with Luol Deng before the 2018-19 season, the Lakers could stretch the remaining money on Westbrook's deal over the course of several years. As Fischer explains, the move would provide some salary relief and allow the Lakers to make some key additions.
Stretching Westbrook, according to the [salary cap] strategist, would drop the Lakers to merely $2.5 million above the salary cap, which would allow them to sign a rotation piece to the non-taxpayer mid-level, and another player to the bi-annual exception.

"You'll at least be able to patch something together," said another cap analyst. "It might actually be their best move and puts some pieces around LeBron."

Jake Fischer
It's not the greatest solution for the Lakers. For what it's worth, the Lakers are paying Deng $5 million this year due to his 2018 buyout. But it's the best option LA has available, and it's certainly helpful to know Westbrook would be open to it.
Russell Westbrook can help the Lakers this summer, but not this season
Moving on from Westbrook is ultimately the best path for the Lakers to get back on track in 2022-23. But that doesn't solve their issues this season. Sadly, there's not much that can be fixed there.
With Davis recovering from a mid-foot sprain, the Lakers needed Westbrook more than ever to keep their playoff dreams alive. Instead, the 2016-17 MVP has fallen flat in his three games since Davis' injury on Feb. 16. In losses to the LA Clippers, New Orleans Pelicans, and Dallas Mavericks, Russ shot just 35.8% from the field and went 0-of-9 from beyond the arc. While he had zero turnovers in two of those games, he had seven in LA's 28-point loss to New Orleans.
Even when (or if) AD returns, don't expect Westbrook's numbers to change much. While his attempts might decrease, he's still had far too many poor games with the big man on the court, like his 1-of-10 shooting display in a rare February win over the New York Knicks.
The Lakers will be lucky to make it through the play-in round and win a playoff game or two. But there's a glimmer of hope on the horizon if Westbrook also believes his time with the Lakers should come to an end.
All statistics courtesy of Basketball Reference and contract figures courtesy of Spotrac.
RELATED: Russell Westbrook is Taking a Break From Social Media Amid Lakers Dysfunction