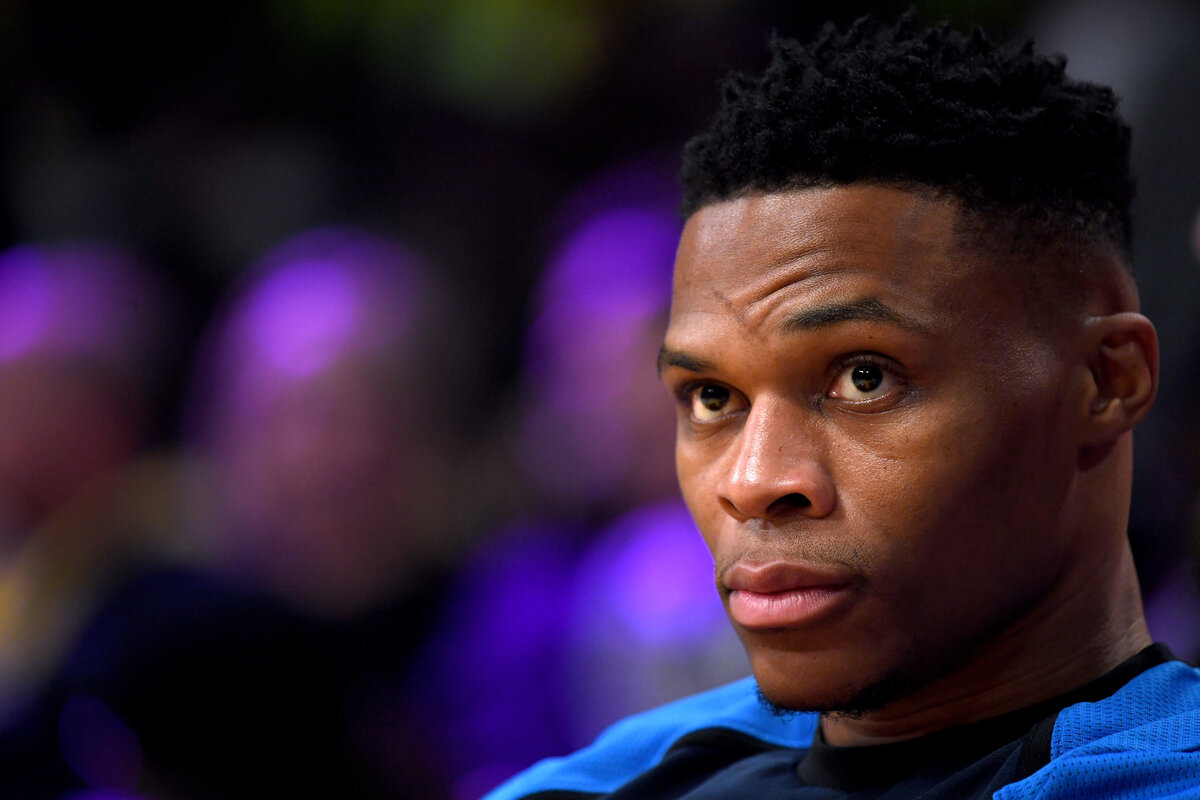 Russell Westbrook Learned the Thunder Traded Him at a Comedy Show
The Oklahoma City Thunder traded star guard Russell Westbrook to the Houston Rockets in 2019. Westbrook learned of his fate while hosting a comedy show.
Russell Westbrook and the Oklahoma City Thunder always seemed destined for a bad breakup.
Once Kevin Durant left the Thunder in the summer of 2016, the clock officially began ticking on Westbrook's future. Eventually, the Oklahoma City Thunder wound up trading Westbrook to the Houston Rockets.
Westbrook didn't find out at home or in the gym. Instead, he learned of his fate while hosting a comedy show — and that's not a joke.
Russell Westbrook had a legendary career in Oklahoma City
The fourth overall pick in 2008, Russell Westbrook built an excellent Hall of Fame resume in his 11 seasons with the Oklahoma City Thunder.
Westbrook averaged 23 points, seven rebounds, 8.4 assists, and 1.8 steals per night in 821 career games there. He made eight All-Star Games in a Thunder uniform and averaged a triple-double in three straight seasons from 2016-19.
In 98 career playoff games with the Thunder, Westbrook contributed 25.4 points, seven rebounds, 7.9 assists, and 1.9 steals.
Oklahoma City reached the 2012 NBA Finals with a trio of James Harden, Kevin Durant, and Westbrook. LeBron James and the Miami Heat won in five games.
Oklahoma City traded Westbrook to Houston in 2019
Everything changed for Russell Westbrook in July 2019.
Oklahoma City traded Westbrook to the Houston Rockets for star point guard Chris Paul and four-first round picks. Houston and Oklahoma City can swap first-round picks in 2021 and 2025.
Oklahoma City had traded forward Paul George for shooting guard Shai Gilgeous-Alexander, forward Danilo Gallinari, and five first-round picks to the Los Angeles Clippers earlier in the offseason.
Westbrook averaged 27.3 points, 7.9 rebounds, seven assists, and 1.6 steals in 57 games last year. His numbers dipped to 17.9 points, seven rebounds, and 4.6 assists in eight playoff games.
Houston, which acquired James Harden in October 2012, still has not made the NBA Finals since 1995.
Russell Westbrook learned of the trade at a comedy show
When the Oklahoma City Thunder and Houston Rockets officially reached an agreement on a trade, Russell Westbrook was in a joking mood.
That's not to say Westbrook thought the Thunder pranked him about trading the veteran point guard. On the night the trade broke, comedian Demetrius Deason hosted a comedy show in Tula, Okla.
Midway through the performance at Cain's Ballroom, Westbrook learned where he'd play the 2019-20 season.
Westbrook informed the fans in attendance about the trade. He also thanked them for their support over the years.
Westbrook is on the trade block once again. With positive COVID-19 cases skyrocketing around the country and events like well-attended comedy shows put on hold, don't expect Westbrook to have a similar situation in the coming weeks.
Who knows? Westbrook could always learn that Houston is trading him to the New York Knicks while he is hosting a comedy show on Zoom.
Like Sportscasting on Facebook. Follow us on Twitter @sportscasting19.