Russell Westbrook Isn't the Least Bit Concerned With Preseason Turnover Woes: 'I Could Turn that B**** Over 15 Times, Ain't Nobody Going to Do Nothing About It'
Russell Westbrook hasn't exactly dazzled in his first couple preseason showings with the Los Angeles Lakers. He's shot poorly from the field and has looked careless with the ball.
Turnovers have always been a drawback to Westbrook's rapid style, but LA needs him to be a more efficient playmaker alongside LeBron James and Anthony Davis this season. However, as the former MVP quickly reminded everyone, preseason numbers don't show up on final stat lines.
Russell Westbrook struggled in his first two preseason games with the Lakers
Russell Westbrook will likely face plenty of scrutiny this season as LA's most notable addition to the roster. His Lakers tenure is not quite off to a bountiful start.
Westbrook missed the team's first preseason game but made his debut on Friday. He couldn't find a rhythm, shooting 1-of-7 from the field and giving the ball away seven times. Surely he'd get into a better flow with his new teammates in the next contest, right? Nope.
The 32-year-old struggled even more mightily in Sunday's loss to the Phoenix Suns, which also marked the first time he shared the floor with Anthony Davis. Westbrook shot 3-of-12 from the field and had a whopping nine turnovers as the Suns ran away with the contest.
Davis admitted it could take LA some time to all get up to speed together. As for Westbrook, he isn't concerned with the quality of his play thus far. It is, after all, still the preseason.
Westbrook said now is the time to make mistakes
While Westbrook's turnovers and poor shooting have made for an ugly sight, he had his own version of Aaron Rodgers' "R-E-L-A-X" for Laker fans and the LA media following Sunday's game.
Westbrook reminded reporters that he's still gauging the pacing and speed of his teammates, and that they also need to make that adjustment for him. He spoke about preseason as the time for trial and error, humorously saying (h/t ESPN) he might as well turn the ball over more than a dozen times, and it still would not matter.
The Long Beach native elaborated on preseason as a tune-up, saying he's rarely had a strong showing from an individual perspective.
Indeed, it sometimes takes Westbrook time to get acclimated to new teammates. He started somewhat slow in his last couple stints in Houston and Washington before picking up the slack just before and after the All-Star break.
Tuesday's game against the Golden State Warriors could be slightly more telling. That's when LeBron James plans to make his preseason debut, with LA finally rolling out its full "Big Three" of James, Westbrook, and Davis.
The Lakers can afford to be patient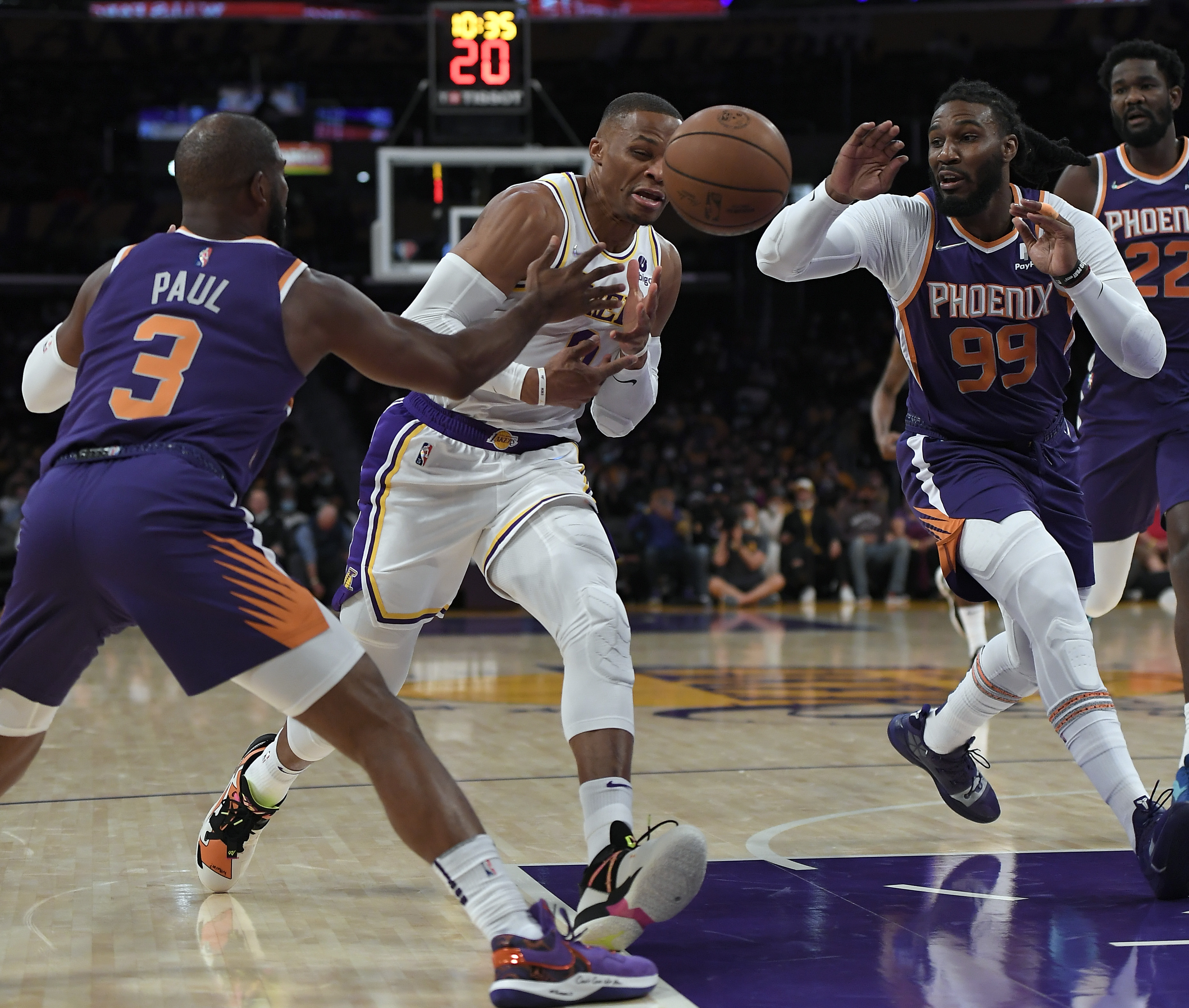 Although getting off to a slow start might not be the most amenable situation for the Lakers, it's one LA should be able to take in stride.
Sure, the Western Conference is flooded with talent, and the Lakers would probably prefer to have a higher seed come playoff time. Before getting there, though, LA needs its superstar trio to find out how to play together. As LeBron James understands from his first season in Miami, that can take time.
The 2010-11 Miami Heat started the season at 9-8. But the early-season struggles proved to be nothing more than a mirage, as Miami went 48-16 the rest of the way.
Whether LA can avoid a slow start or recover from an early stumble will depend, in part, on Westbrook finding his footing. But he seems more than confident in his ability to right the ship in a hurry.