Russell Westbrook Has Given the Los Angeles Lakers 23 Reasons to Be Concerned About His Fit With LeBron James and Anthony Davis
The Los Angeles Lakers are certainly glad to see the preseason end. LA finished the exhibition schedule 0-6, getting outscored by an average of 15 points per game. Russell Westbrook, the 2016-17 MVP, is hoping to be the missing piece alongside LeBron James and Anthony Davis. But early returns have been less than inspiring, particularly when it comes to ball security.
Russell Westbrook has had a major turnover problem
Westbrook is a ball-dominant point guard, so naturally, turnovers are always going to be a part of his game. The 32-year-old has averaged 4.1 turnovers throughout his career, although he's surpassed that number in each of the last seven seasons. Now with his fourth team in four years, Russ' turnovers are as concerning as ever.
Playing in four out of six preseason contests, Westbrook had 23 turnovers, eight more than the next-highest player (Collin Sexton) in the NBA. With an average of 5.8 turnovers per game, the nine-time All-Star is giving the ball away more than he's earning assists (5.0) and collecting rebounds (5.5). He has also displayed questionable shot selection, averaging only 9.5 points on 35% shooting in 25.2 minutes.
"[Russ is] trying. He's trying hard to distribute, to get his teammates involved, to play extra-pass basketball like we're asking him to," head coach Frank Vogel said after Russ' second preseason game against the Phoenix Suns. "New set of teammates, new system — it's going to take some time. Not worried about it."
There is a silver lining to Westbrook's turnovers, however. Out of the 23 he ended the preseason with, 15 came in his first two games. So the last two outings have been much more in line with his career average.
Westbrook is an odd fit alongside LeBron James and Anthony Davis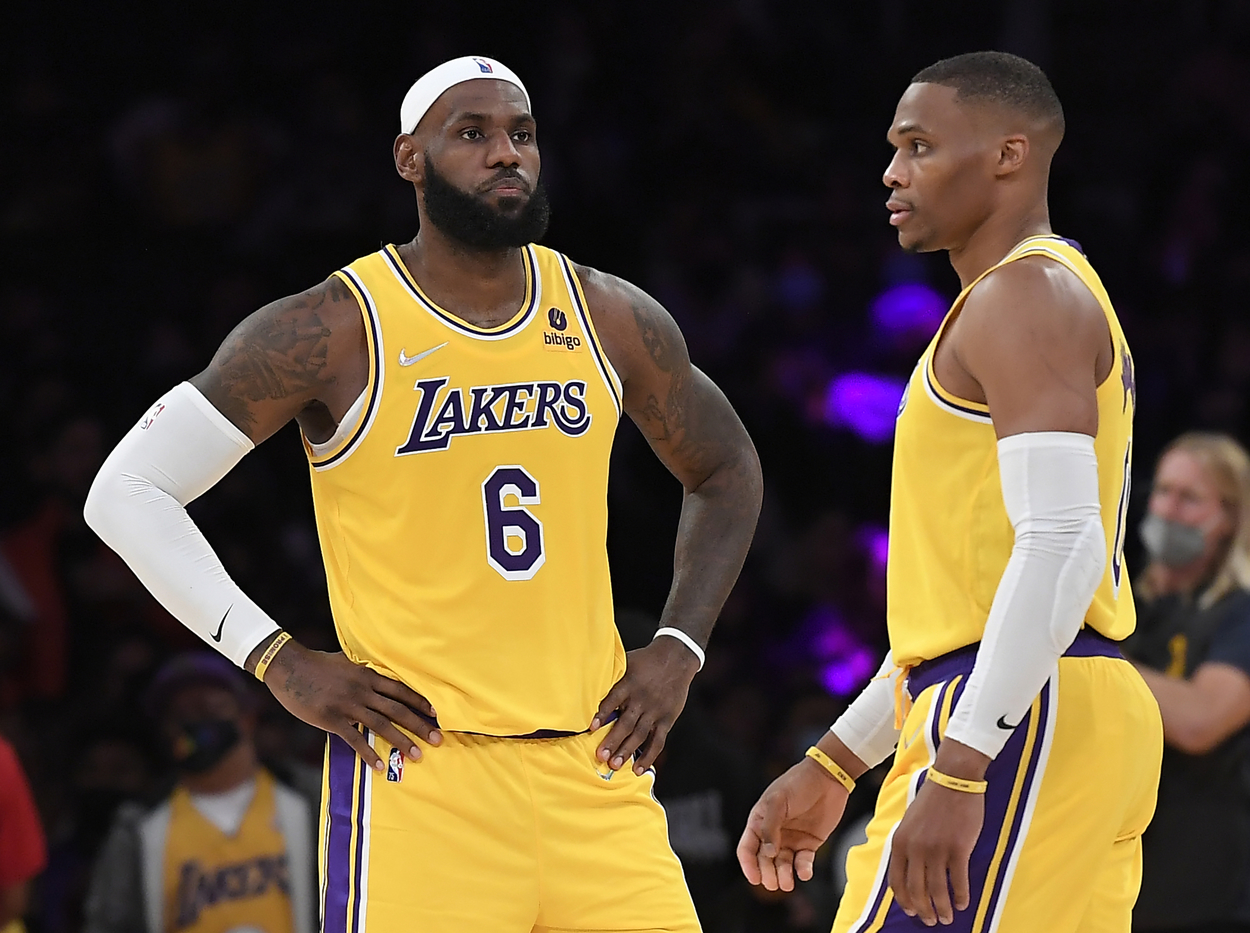 Throughout the preseason, the Lakers have seen Westbrook at his worst. While it's unlikely he'll continue to play this poorly when the games count, his overall fit with LA is worth debating.
Westbrook has played with stars before; Kevin Durant, James Harden, and most recently Bradley Beal. But he's never been the third option on any team, a role that will undoubtedly require lots of adjustment. With James serving as the primary playmaker and Davis as the go-to scorer down low, what will Russ be?
He won't be a spot-up shooter. Westbrook is a below-average three-point shooter and an average mid-range shooter, despite leading the NBA last season with an average of 6.1 mid-range attempts. Nor will he be much of a cutter and finisher, as once again, his value comes from him being the primary playmaker.
LeBron, despite clear reasons for pessimism, said he wasn't worried about Westbrook's fit.
"We need Russ to be Russ," James said. "We don't need Russ to change for anybody, that's why we got him."
Westbrook will be a difference-maker for the Los Angeles Lakers
For better or worse, the two-time scoring champ Westbrook will play a huge role for LA this season.
Rather than going after better fits like Damian Lillard and Buddy Hield, the Lakers went all-in on Westbrook, sending Kyle Kuzma, Montrezl Harrell, Kentavious Caldwell-Pope, and a first-round pick to the Washington Wizards. That commitment solidifies LA's belief in Westbrook rectifying its early playoff exit.
While his fit on offense is fascinating, Westbrook will also be asked to defend at a high level. In losing Alex Caruso, as well as Kuzma and Caldwell-Pope, LA lost a big part of their top-ranked defense from its championship-winning 2019-20 season. We know Russ is highly athletic and tenacious, but his defense over the years has been hit or miss.
To Brodie's credit, there is one huge advantage the Lakers now possess. LeBron and AD missed a combined 63 games last season, while Russ has largely been durable. Should anything happen to either of LA's biggest stars, Westbrook is good enough to keep the team on track, something they desperately lacked last season before falling to the seven-seed.
Westbrook is likely to be one of the more scrutinized NBA players this season. He has a chance to silence the doubters, but first, he'll need to take better care of the basketball and adjust his game for the betterment of the Lakers.
All statistics courtesy of Basketball Reference.
RELATED: LeBron James Reveals Brutally Honest Answer About the Lakers' New Big 3: 'It's Going to Take a Minute'