Russell Westbrook's Most Recent Stats Are Just Plain Embarrassing and Only Further Proof the Los Angeles Lakers Season Is Doomed
Russell Westbrook hasn't discovered how to integrate himself into the Los Angeles Lakers. At least not yet. Which is even more fascinating considering he plays alongside LeBron James, who has maybe the highest basketball IQ of all time, and brought Anderson Varejao, Daniel Gibson, and Ira Newble along with him to the NBA Finals.
But Russ's past few games have been staggeringly bad, worse than any stretch he's put together this year.
It's just further proof that LA's season is fated to fail.
The Los Angeles Lakers still haven't found a way to consistently win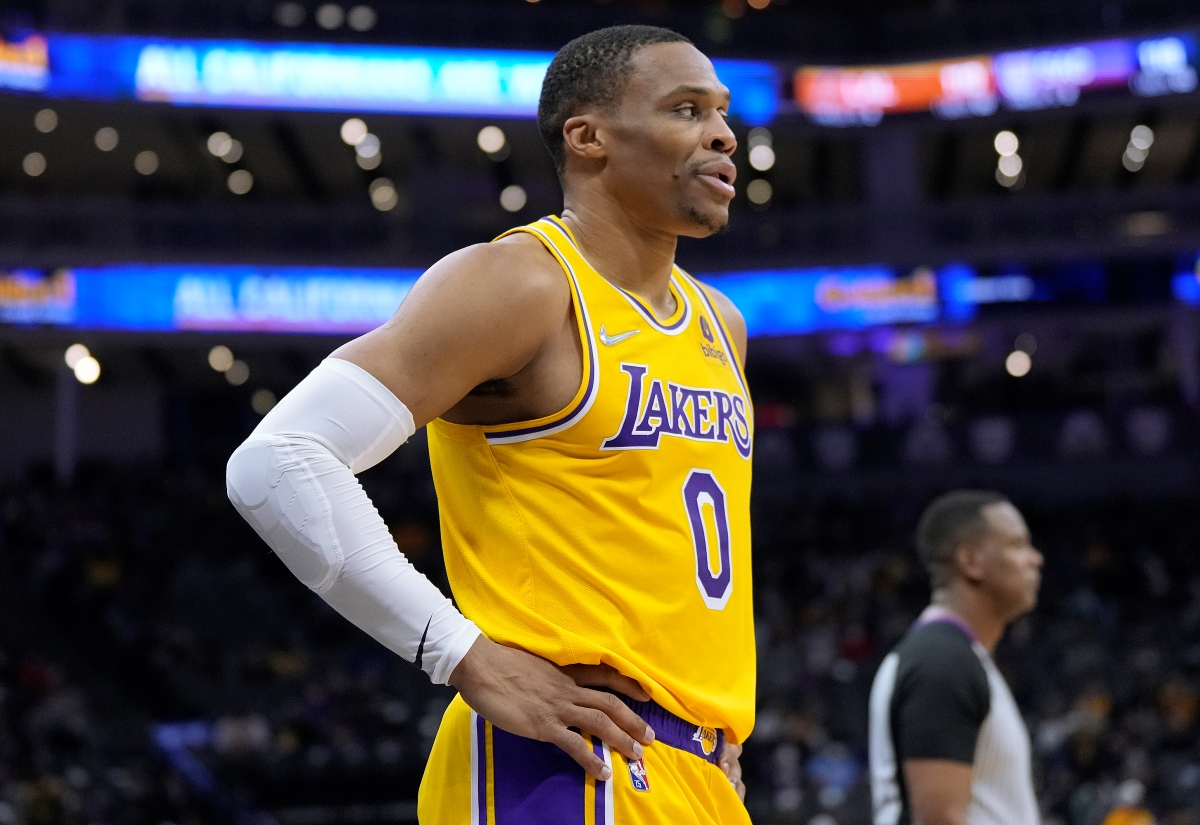 Prior to the Jan. 15 weekend slate of games, LA sits seventh in the West with a .500 record of 21-21. The Lakers are only two games behind the fifth-place Dallas Mavericks, but also only a half-game ahead of the LA Clippers for a spot in the play-in tournament.
Offense isn't the problem — the Lakers are third in the league in scoring. But they also give up the 26th-most points in the NBA.
The team discovered a wrinkle that's further unlocked its offense as well as it's 37-year-old superstar when head coach Frank Vogel began playing James at center. But a 6-foot-9 forward in his 19th NBA season — even if it's LeBron — isn't going to anchor a championship-caliber defense.
LBJ made his first start at the five on Dec. 29. Since then, the Lakers have led the league in scoring and are top five in both shooting percentage and 3-point percentage. The Akron Hammer is averaging 34 points, 9.0 rebounds, and 6.1 assists during that span.
But LA has barely tread water, even as LeBron turns back the clock. The team is 4-3 and allows nearly 114 points per game.
Westbrook is averaging 13.3 points, 9.0 rebounds, and 8.0 assists during those seven games. (And still leads the Lakers in turnovers at 3.1).
But it's been the former MVPs ' past three that have taken a turn for the even worse.
Russell Westbrook's stats in his last three games have been embarrassingly awful
From Jan. 7-12, the Lakers played the Hawks at home, the Grizzlies at home, and at the Kings. They were 1-2 in that span with a win over Atlanta.
Westbrook had nine points, 11 rebounds, and 13 assists in that victory.
He had six points, seven rebounds, and six assists in the loss to a surging Memphis team. And in the road loss to the Kings, he scored eight points and added 12 rebounds and six assists.
Unsurprisingly, Russ's traditional stats don't look that bad. He's still contributing with rebounds and assists, even if he's not scoring. But taking a step back, he's been a significant minus offensively.
In the win over Atlanta, the 13-year-vet shot 4-of-14 from the floor with three turnovers. In the loss to Ja Morant and Co., he had six points and shot 2 for 12, and against the Kings, he was 2-of-14.
That makes a total of 23 points on 4-of-40 shooting. But hey, only four total turnovers in three games!
Russ's poor play is just more evidence that the Lakers season is doomed
If this is the Westbrook LA is going to get, they may as well grab their Hawaiian shirts and plane tickets and head somewhere tropical now.
Anthony Davis is still injured and on the shelf. Vogel is so desperate he's gone to a starting five with James at center because nothing else is working.
LeBron has been incredible during that span, and the Lakers still can't consistently win.
There can't be much left at the bottom of LA's bag of tricks, and reinforcements aren't coming at the trade deadline. The players simply need to play better.
And this run of form from Russ is not quite that.
All statistics courtesy of NBA.com.