How Russell Westbrook Has Become the MVP of the 2016 NBA Playoffs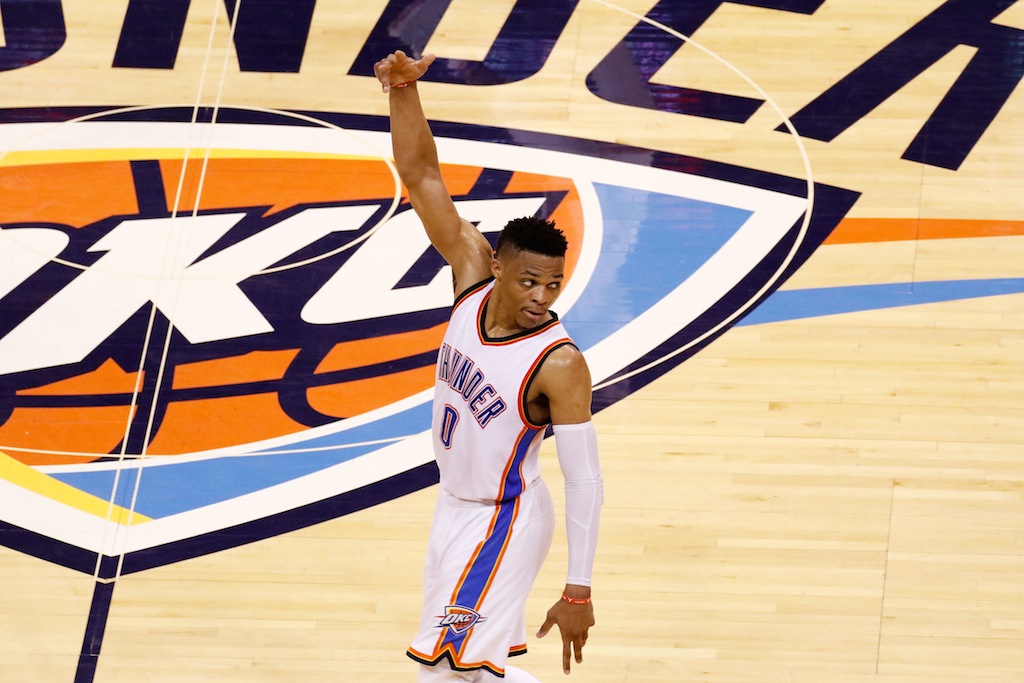 You can try and wake up all you want, but this is not a dream. After going 73-9 during the regular season, the Golden State Warriors are now just one loss away from being eliminated from the 2016 NBA Playoffs at the hands of the third-seeded Oklahoma City Thunder. We didn't see this happening. We're not sure anyone did. But here we are, and it's time we face the hard truth: The Thunder are for real.
The Dubs were supposed to be looking to secure a permanent place at the top of the league's historically great teams. Yet, for the second game in the row, they've been outworked, outclassed, and simply outplayed. During OKC's decisive 118-94 victory in Game 4, the Thunder controlled the glass (56 rebounds to Golden State's 40), spread the wealth (23 assists to Golden State's 15), and protected the paint (eight total blocks on the night).
OKC played championship-level basketball. And it begins and ends with point guard Russell Westbrook. After compiling 18 triple-doubles during the 2015–16 season, Westbrook picked the perfect time to secure his first of this postseason, finishing the contest with a game-high 36 points to go along with 11 rebounds and 11 assists. His unrivaled athleticism was on full display and the rest of his Thunder teammates fed off his energy; something he's been doing for most of the postseason.
And while the Golden State Warriors may have the regular-season MVP in Stephen Curry, Oklahoma City currently finds itself with a leg up thanks to something that's even more vital this time of year: the postseason's most valuable player.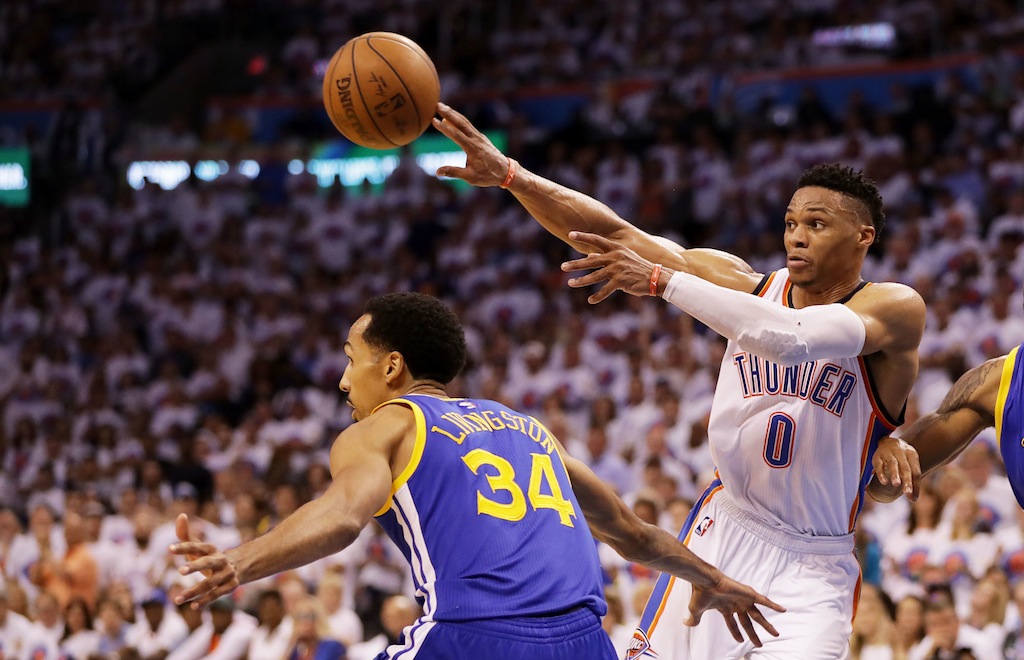 Westbrook is easily one of the most athletic players in the National Basketball Association. You'd have a difficult time finding anyone to refute this. Unfortunately, sometimes it works against him. This characteristic can overshadow the fact that he is a truly exceptional basketball player — one who's talented enough to do it all. Last week, Westbrook elaborated to ESPN:
I'm a guy that doesn't do one thing. I do everything. I come out and do everything and whatever it is that needs to be done that particular night. If it's scoring, then I'll score. If it's defending, then that's what I'll do. If it's rebounding, that's what I'll do. If it's passing, that's what I'll do. Whatever it is that needs to be done, that's what I'll do to make sure we win.
This is exactly what he's been doing throughout the 2016 playoffs. And the numbers reflect that. At this moment, among the postseason leaders, Westbrook is fifth in scoring (26 PPG), first in assists (11.1 APG), first in Player Efficiency Rating (28.8), first in Value Over Replacement Player (2.1), and most importantly, No. 1 in Win Shares with 2.8. None of this is to say he's perfect.
After all, Westbrook also leads all postseason players in turnovers with 63. Still, one thing remains clear, his pros vastly outweigh his cons. And on the back of his incredible play, the Thunder now find themselves one game away from returning to the NBA Finals for the first time since the 2011–12 season.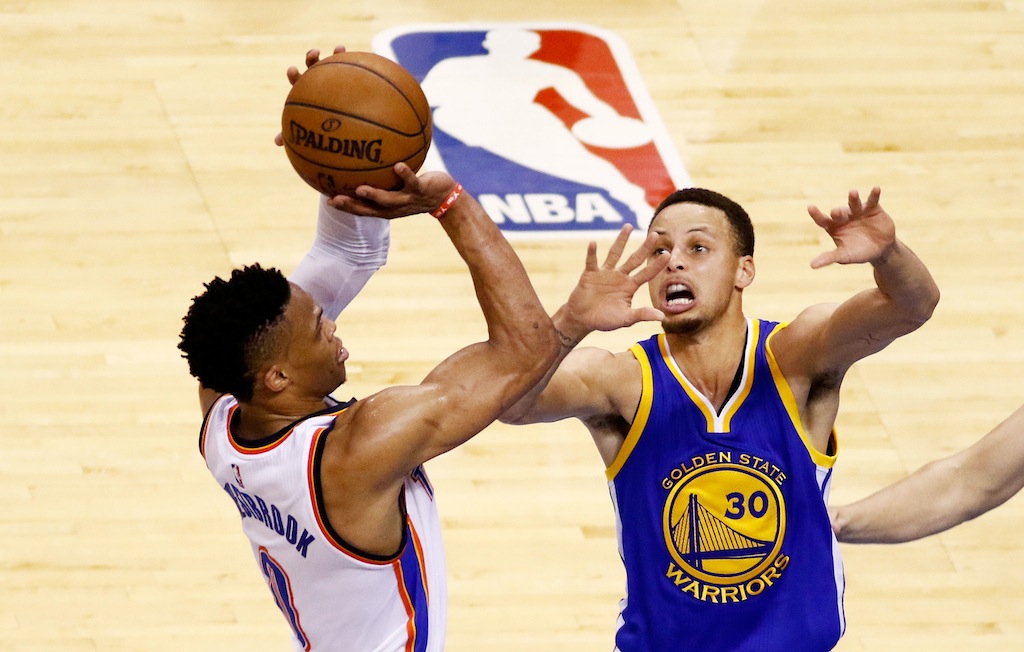 For the people who tend to overlook all the things Westbrook brings to the table, consider OKC coach Billy Donovan not among them. He is more than aware of how fortunate he is to have No. 0 on his side. Donovan told ESPN:
To absorb the amount of minutes he's absorbed and to put his body on the line like he does … Listen, I played the game, but not at that level. I know how physically demanding and taxing that is to do what he does under those minutes. As a coach, you sit there and you have great respect and admiration for somebody that plays that hard and gives to the game and his teammates what he gives.
Although Oklahoma City currently holds a 3-1 lead over the defending NBA champs, we think it'd be premature to suggest that this series is over. With the way the Dubs have been known to catch fire, they are more than talented enough to make a comeback in these Western Conference Finals.
In order to prevent that from happening, the Thunder can't afford to take their foot off the gas. They need to continue to play with a sense of urgency. Fortunately for them, this style is Westbrook's specialty. And as we've seen throughout these 2016 playoffs, it's made him more valuable than ever before.
Statistics courtesy of Basketball-Reference.com and ESPN.com.