Russell Westbrook Is Putting the Final Nails in His Coffin as a Laker
As the Los Angeles Lakers move toward a likely first-round playoff exit, the focus shifts toward the upcoming summer. The expectation has centered on massive roster change, starting with Russell Westbrook's departure.
The former league MVP's on-court struggles suggest that his tenure in Los Angeles won't go past one season. However, Westbrook's stubbornness may be the ultimate factor pushing the Lakers to the point of no return.
Russell Wesbrook can't shake his struggles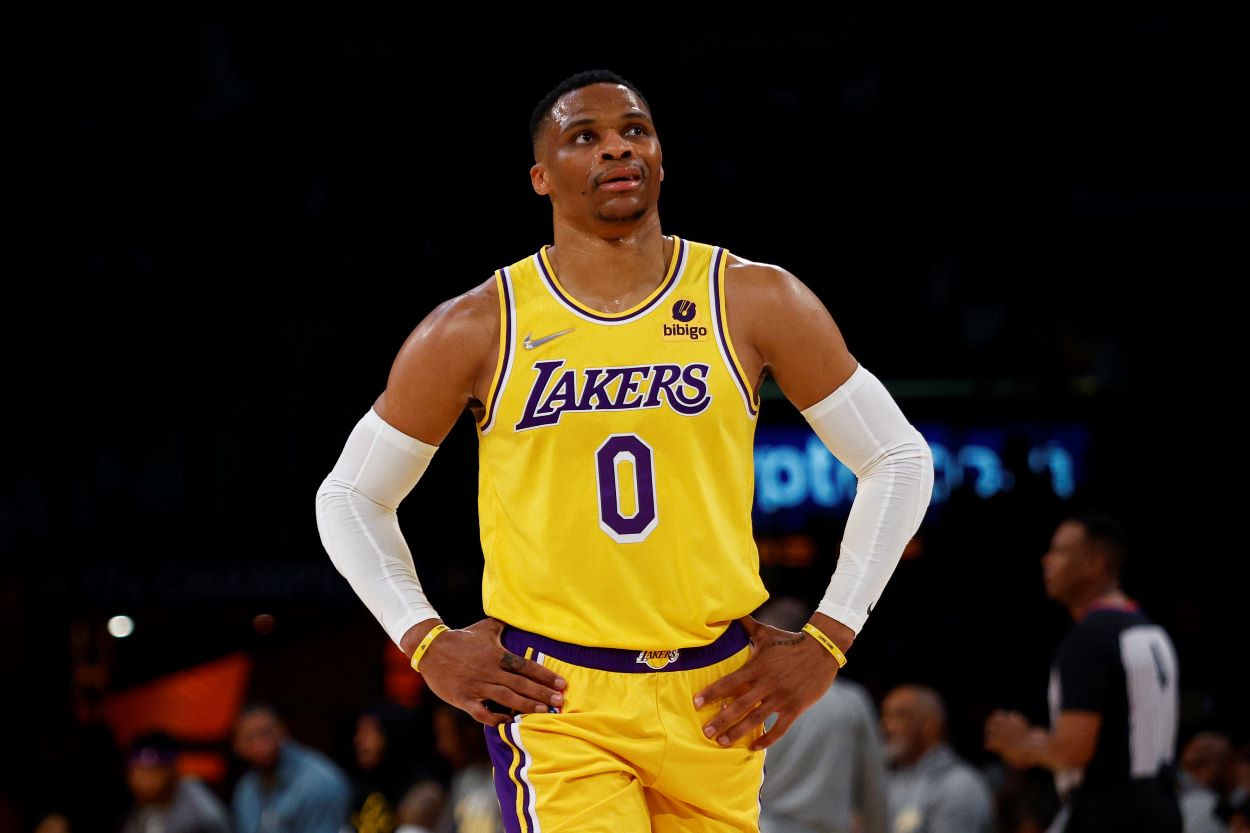 The Lakers' shortcomings are exemplified through Westbrook's inability to find his footing.
The 33-year-old at no point has found consistency in his new surroundings, contributing significantly to the team's ongoing problems. Injuries to Anthony Davis and LeBron James have played massive parts, but Westbrook can't shake his questionable decision-making and shooting woes.
Fair or unfair, those issues have pushed him to receive the brunt of the blame for the Lakers playing nothing like a championship contender. Beyond that, the star point guard may have already sealed his fate beyond this season.
Russell Westbrook's "defiance" to playing reduced role with Lakers may lead to his departure
For all the on-the-court issues that the nine-time All-Star is experiencing, things are becoming compounded behind the scenes.
New York Times NBA reporter Marc Stein recently reported that Westbrook's "defiance" toward playing another role within the offense is causing plenty of internal friction.
"There has been no shortage of defiance behind the scenes, I'm told, when coaches and teammates have tried to broach changes in role or approach with the former MVP," Stein wrote. "For all the obvious complexities involved in trying to move Westbrook when he's owed a whopping $47 million next season at age 34, one league source described the idea of bringing him back next season as "impossible" based on current tension levels."
Westbrook's unwillingness to take on another role further complicates the situation. His shooting woes and decision-making have already created lingering frustration. However, hearing that he doesn't want to adjust to what his coaches and teammates ask draws another concerning red flag.
It suggests that his headstrong nature will push him out of Los Angeles. Westbrook knew coming to the Lakers would require him to make a significant adjustment. His reluctance to play that role has significantly contributed to the team's struggles while the franchise will find a way to move him this upcoming summer.
The fact that the situation has reached the point where it's deemed as "impossible" to see Westbrook back in a Lakers uniform next season speaks volumes. More than anything else, the star point guard is cementing his departure.
Lakers need LeBron James and Russell Westbrook to lead playoff push
As much as the Lakers anticipate a massive summer of change ahead, the 2021-22 season remains an open book.
Los Angeles appears destined to participate in the play-in tournament, sitting in the ninth spot five games behind the Los Angeles Clippers. LeBron James' brilliance with 56 points in Saturday's win over the Golden State Warriors gave his team a much-needed win.
However, The Lakers need James and Westbrook to lead the charge with Anthony Davis sidelined for a few more weeks. Regardless of Westbrook already stamping his departure, his performance will play a significant part in shaping the next chapter of his career.
"Just trying to find ways to be active," said Westbrook via NBA.com's Mark Medina after recording 20 points and four assists against the Warriors. "That's about it."
With 19 regular-season games left, Los Angeles holds no wiggle room in the playoff picture. They sit one game ahead of the New Orleans Pelicans and three games above the Portland Trail Blazers. Every remaining game holds significant weight that will dictate their future.
Like Sportscasting on Facebook. Follow us on Twitter @sportscasting19.
RELATED: Russell Westbrook Might Actually Be the Lakers' Greatest Solution to Their Problems