Russell Westbrook is Taking a Break From Social Media Amid Lakers Dysfunction
When the Los Angeles Lakers acquired Russell Westbrook, the franchise held tremendous optimism that he could become the missing piece to the championship puzzle. Instead, he has struggled to find consistency, becoming the easy target for criticism and blame for the Lakers' ongoing shortcomings.
Westbrook's lackluster performance has not only clouded his future in Los Angeles but damaged his reputation. The star point guard has reached a breaking point with social media criticism.
Russell Westbrook's homecoming has become a nightmare
Westbrook jumped at the opportunity to play for his hometown team and potentially compete for an NBA title.
The experience has been anything but fruitful as he's struggled to find any comfort or consistency. Instead, he's stumbled through the campaign with no positive momentum in sight ahead. All that has led him to receive significant blame for the Lakers falling almost entirely out of the playoff picture.
Westbrook's production has waned, averaging 18.2 points while shooting 43.5% from the floor and an atrocious 29.2% from three-point range. His shortcomings have also placed lingering doubt that he won't remain with the team beyond this upcoming summer.
The star guard has now taken steps off the court toward moving away from the outside noise.
Russell Westbrook is taking a break from social media amid Lakers dysfunction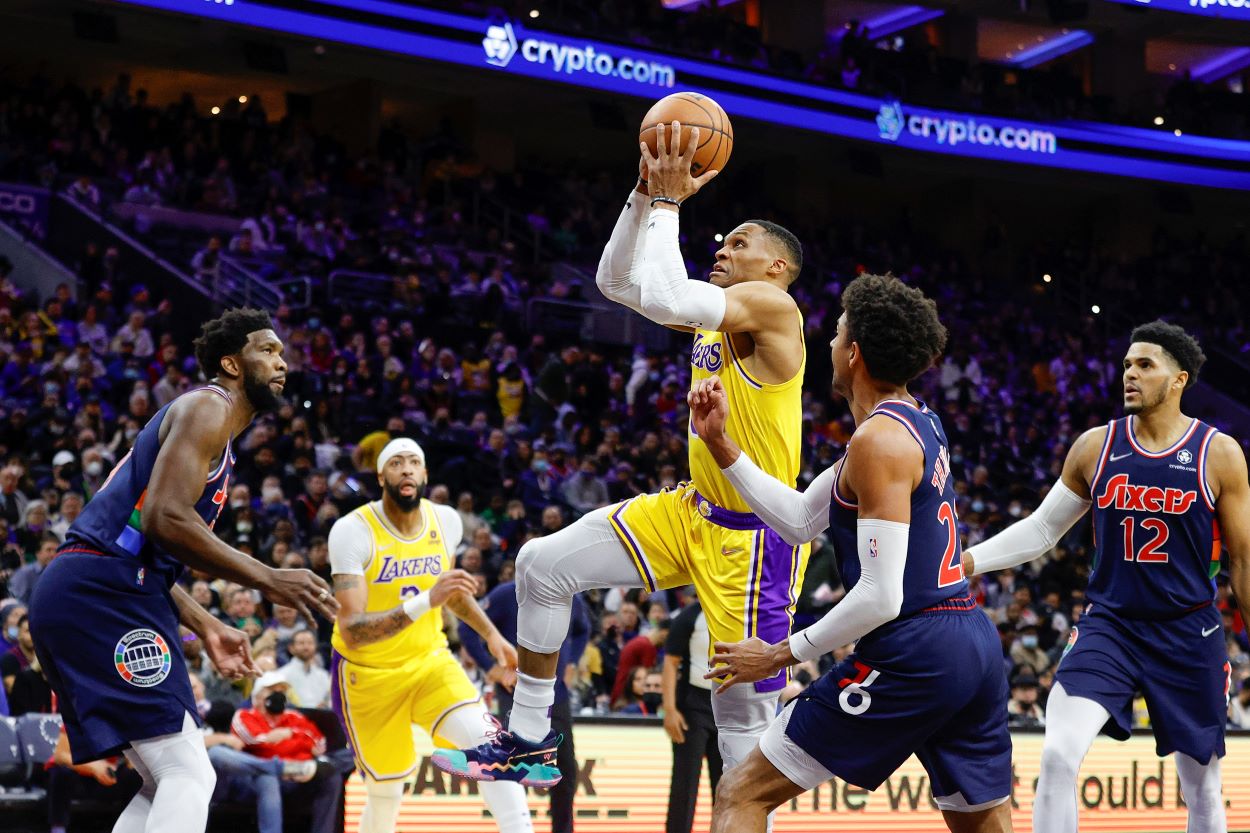 Throughout much of Westbrook's career, he's held a strong presence on various social media platforms.
The bulk of which is centered on promoting/extending his brand through endorsement deals while sharing personal moments with his family. However, the Lakers guard recently decided to make a notable change as his wife, Nina Westbrook, revealed that her husband is taking a break from using social media.
"My boo. He won't see this because he's on hiatus from socials, but he's amazing. ❤️#appreciationpost," Nina Westbrook wrote.
The 33-year-old holds every reason to do as he may, but his decision to briefly step away speaks volumes of where he's mentally at this moment. His tenure with the Lakers hasn't unfolded how he hoped because of his ongoing struggles to find his footing.
That alone has led to constant criticism, with his name brought up after every loss labeled as a primary reason for the team's shortcomings. Westbrook deals with a flurry of criticism from all angles from various media networks, reporters, and most prominently from fans.
He has an extensive reach with 6.8 million followers on Twitter and 19.1 million followers on Instagram. Westbrook is one of the most well-known players in sports. Over the last few months, he has likely heard and seen it all play out over social media.
All of that can become mentally overbearing, especially with playing on one of the most popular teams in all of sports. If anything, Westbrook will use the break to retool his focus and refresh himself mentally for the stretch run of his regular season.
Lakers need the star point guard to step up
As much as Westbrook has struggled, the Lakers are counting on him to play a significant role in their playoff push.
With Anthony Davis expected to miss the next four to five weeks due to a sprained ankle, the nine-time All-Star needs to step up a highly reliable No. 2 option behind LeBron James. He will have more range of freedom to take on a more significant offensive workload to take some of the onus off James to lead the charge.
Westbrook's tenure in Los Angeles may not extend beyond this year, but he has everything to gain from how he plays in the last 20-plus games of the regular season. His reputation certainly has taken a beating, which he could change if he excels while helping push his team toward the playoffs.
Westbrook may not control his Lakers future, but he can put forth a strong showing to finish the season.
Like Sportscasting on Facebook. Follow us on Twitter @sportscasting19.
RELATED: The James Harden-Ben Simmons Trade and Russell Westbrook Debacle Could Mean the Official End of the NBA's Big Three Era