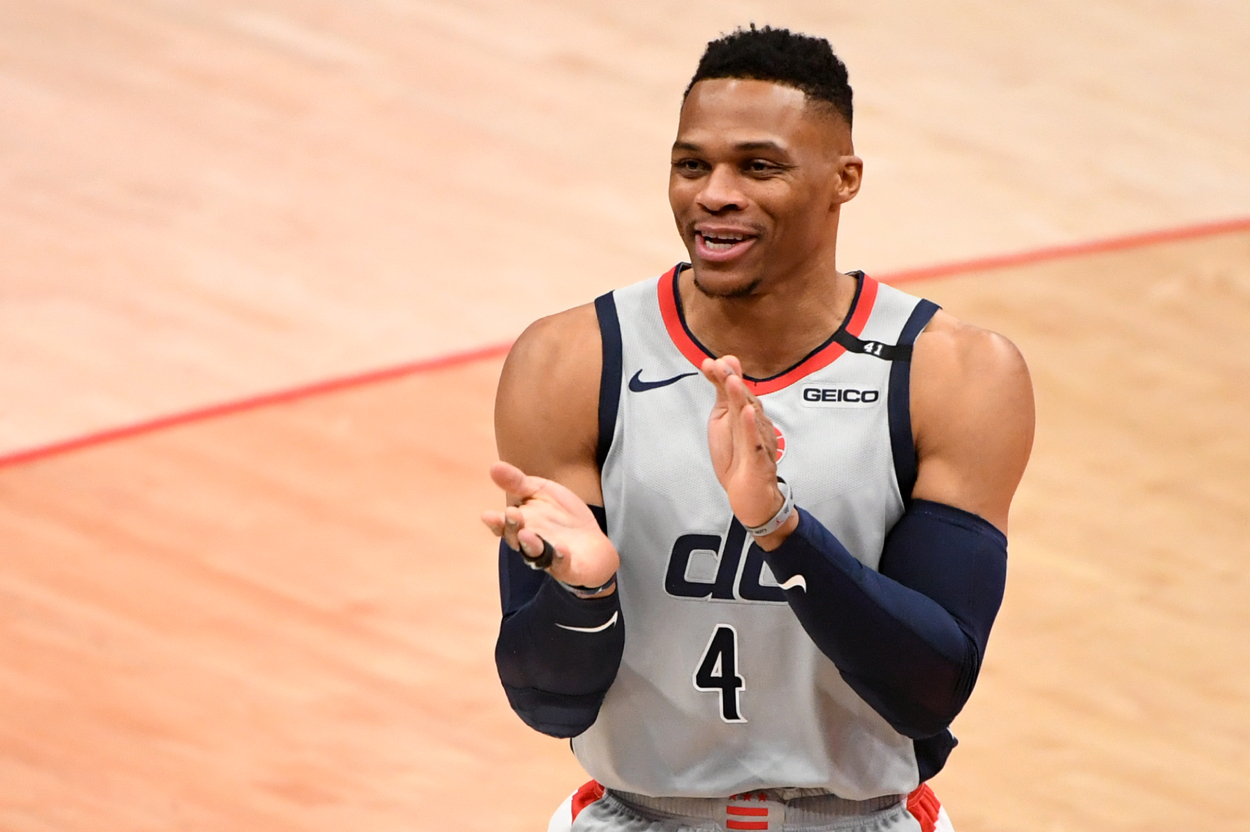 Russell Westbrook's Superstar Teammate Vehemently Shuts Down the Popular Misconception About Him
Everyone knows Washington Wizards superstar Russell Westbrook is one of the most talented players in the NBA. He is a former league MVP and is a triple-double machine. However, there has been a popular misconception about him over the past few years, and his superstar teammate just completely shut it down.
We all know Russell Westbrook is one of the most talented players in the NBA. His skills alone helped the Washington Wizards go from a 25-win team in 2019-20 to a playoff squad in 2020-21.
However, there's been a common misconception about Westbrook that has only grown in popularity in recent years: that he's potentially a bad teammate. He has played with several superstars and has failed to reach the promised land time after time, so it must be all his fault, right? It has to be that other players find it difficult to work with Westbrook, not the other way around.
False, according to Westbrook's superstar teammate Bradley Beal. In fact, Beal just shot down that misconception entirely.
Some people think Russell Westbrook is a bad teammate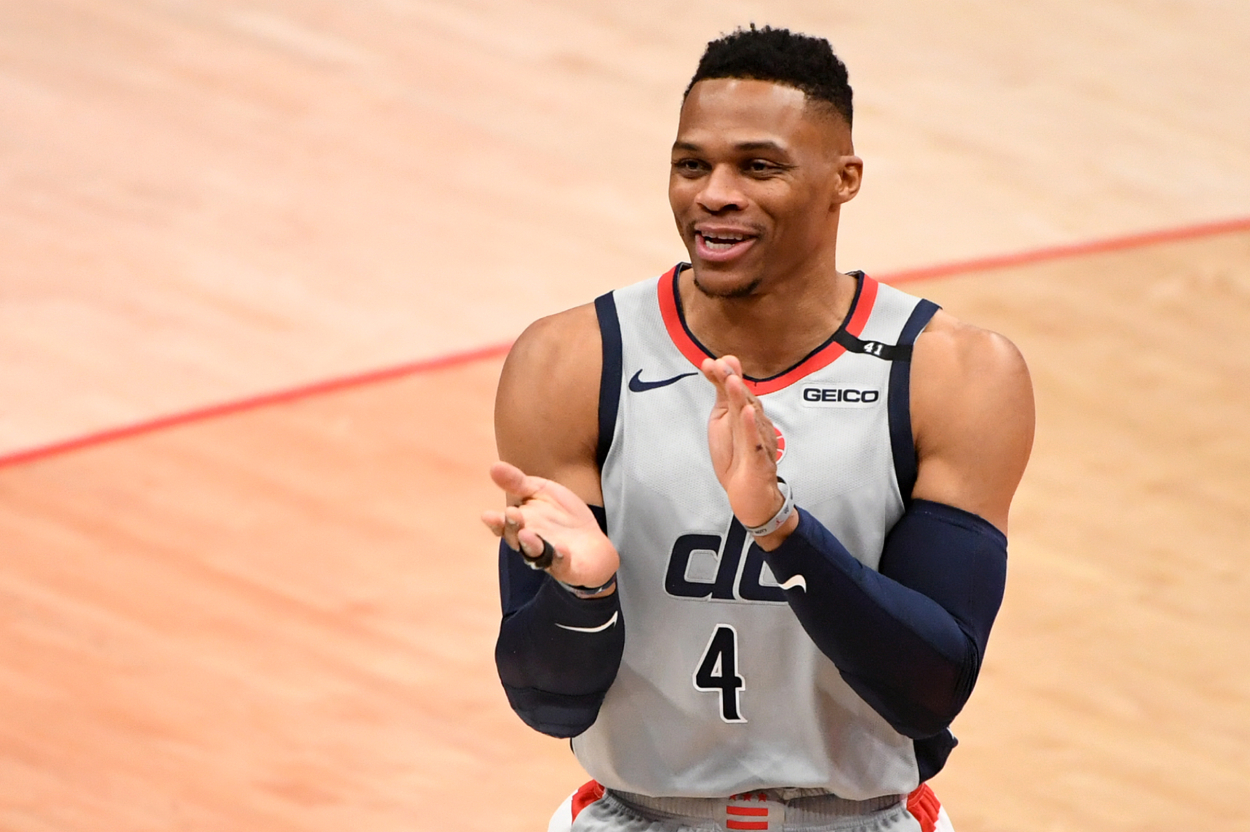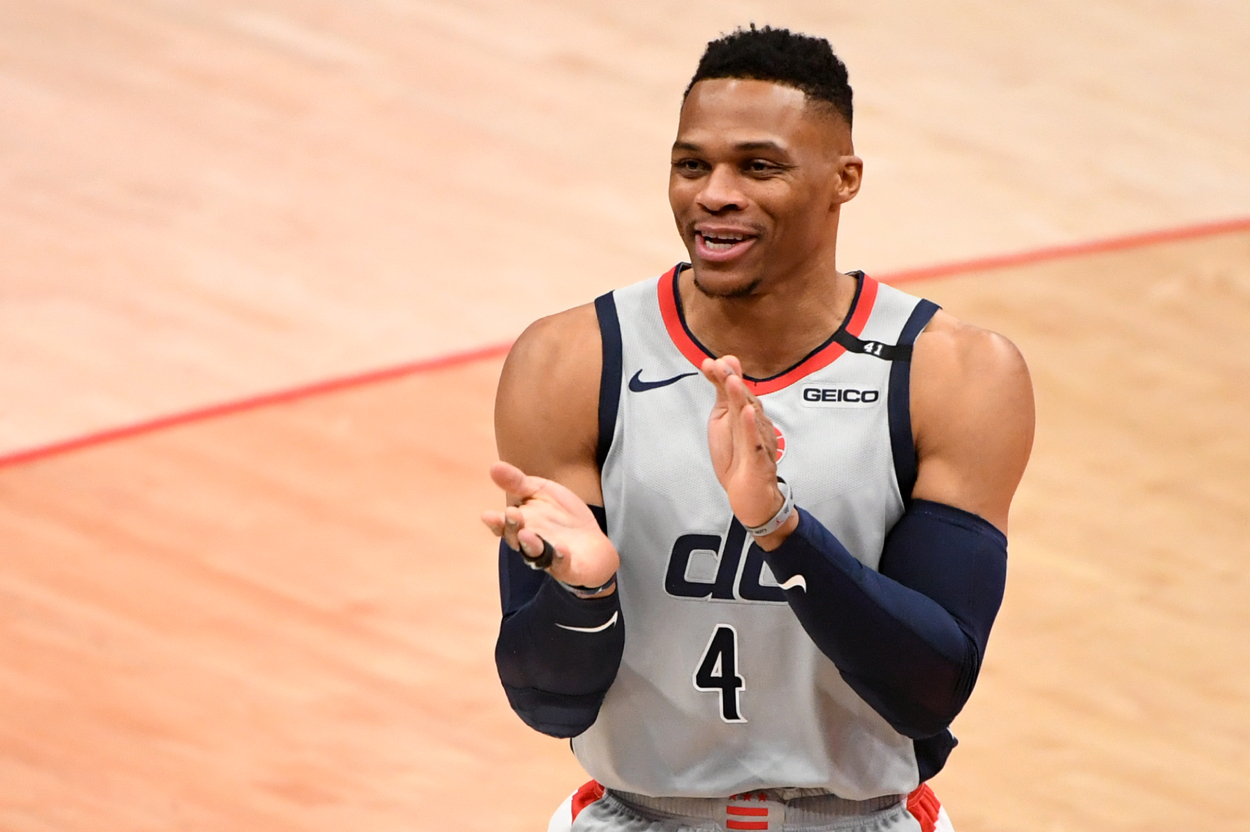 It's hard to figure out where the "Russ is a bad teammate" misconception came from and how it got started, but it's logical to assume that his non-title winning years with Kevin Durant on the Oklahoma City Thunder have something to do with it.
He and Durant had plenty of opportunities to win championships together in OKC but failed. So, when Durant left him for another point guard in Stephen Curry, many just wrongly assumed Westbrook was the problem on those teams.
Westbrook then worked with Paul George and Carmelo Anthony on the Thunder but failed to meet expectations again. He then took part in an unsuccessful experiment with James Harden on the Houston Rockets in 2019-20.
Seeing him not achieve his title-winning goals with Durant, George and Anthony, and then Harden made many wonder whether Westbrook could ever win a title. If he wasn't able to win rings with any of those superstars, there must be something up with him as a teammate.
ESPN's Adrian Wojnarowski, though, reported in 2020 that this misconception actually bothered Westbrook.
"He has been very bothered, I'm told, by the suggestion of the kind of teammate he is, and the criticism that he's felt he's taken here in the last months, year about being a great teammate — that's important to him," Wojnarowski said on Get Up in December 2020. "I think those who played with him in his career consider him among the most loyal [teammates], [a] guy who would do almost anything for the guys around him or people in an organization."
Now, Beal is completely shooting down the suggestion that Westbrook is a bad teammate.
Bradley Beal stood up for Russell Westbrook as a teammate
While preparing for the Olympics, Beal, who just finished his first season with Westbrook, talked to Complex Magazine, and he had nothing but praise for the 2016-17 NBA MVP.
"It's so weird because you compete against him for so long and you don't understand how he has that energy, that drive every single night," Beal said, per Complex. "That's what I appreciate the most. His mental toughness, when his body wasn't feeling great, when he wasn't in the best of moods, probably was injured more than half the year, for him to push through that and still do what he did and still have the impact he had on our team that was very telling. That spoke volumes."
Beal then stood up for Westbrook as a teammate.
"I think the biggest misconception about him is as a teammate," Beal said, per Complex. "He loves his teammates. He just wants the best out of everybody. He holds himself up here and he holds his teammates up here. He's always going to carry it that way. And I respect him for that. He can accept criticism and he's all about his teammates being better."
Beal added that Westbook's fiery nature is contagious.
"Whatever he does it's loud. You feel his presence," he said, per Complex. "You respect the MVP, you respect his resume. … He's a tremendous leader and everything that he does, like I keep saying, is loud so you feel it."
Beal and Russ had success on the Wizards in 2020-21
Beal and Westbrook have only played with each other for one season, but the Wizards improved tremendously with them in 2020-21.
After missing the playoffs in two consecutive seasons, only going 25-47 in 2019-20, and getting off to a poor start in 2020-21, Westbrook and Beal helped the Wizards go on a run toward the end of this past season and reach the playoffs. Westbrook averaged 22.2 points, an NBA-leading (and career-high) 11.7 assists, and a career-high 11.5 rebounds. Beal, on the other hand, scored a career-high 31.3 points per game.
Beal, Westbrook, and the Wizards may not have been championship contenders in 2020-21. But Washington improved significantly and showed just how dangerous it can be in future seasons, especially if the front office adds just one or two more All-Star caliber players.
Westbrook's abilities on the court — and as a teammate — also played a huge part in the Wizards' success. They wouldn't have made the playoffs without him.
No, Westbrook has not yet won a championship during his career, but it's time to put the "Russ is a bad teammate" misconception to bed; Russell Westbrook is, in fact, a tremendous teammate.
Stats courtesy of Basketball Reference