The LA Lakers Still Face Many Roadblocks Even After Trading for Russell Westbrook
As expected, the Los Angeles Lakers made a move, and it came when they completed a deal with the Washington Wizards to bring All-Star Russell Westbrook to LA.
But before Lakers fans celebrate, they need to understand one thing: This move does not guarantee the Lakers will be the favorites to win it all next year.
Several deciding factors will help determine next year's champion, including injuries and age, and other strong teams might have more depth than the Lakers. LA might be a serious contender, but winning it all will be tough.
How injuries played a factor in 2020-21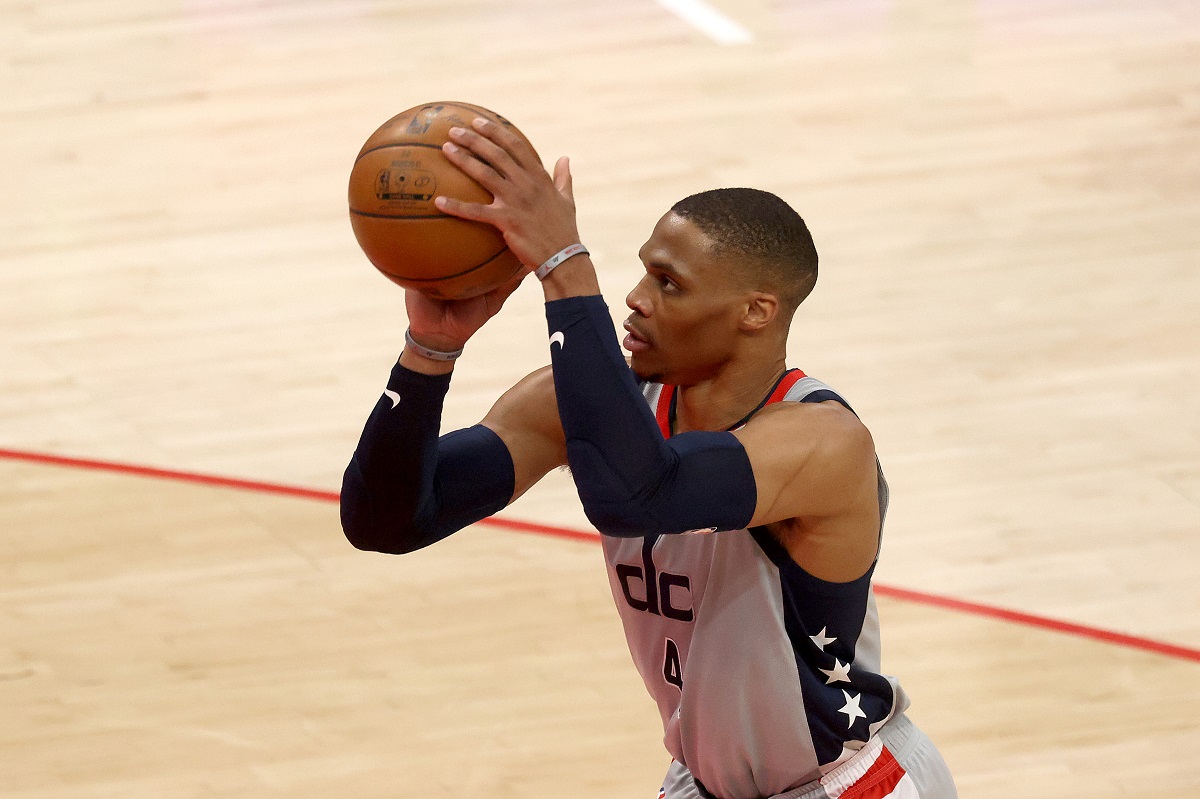 The Lakers barely made the playoffs this past year and had to deal with a boatload of injuries that torpedoed their chances of repeating as NBA champions.
LeBron James only played 45 games because of a high ankle sprain and barely returned in time for the playoffs. He warned the NBA before the start of this past season that opening play early could lead to more injuries around the league.
"They all didn't wanna listen to me about the start of the season. I knew exactly what would happen," he then tweeted during the playoffs, per NBC Sports. "I speak for the health of all our players and I hate to see this many injuries this time of the year. Sorry fans wish you guys were seeing all your fav guys right now."
James was not just speaking about himself but also fellow teammate Anthony Davis, who went down with a groin injury during the playoffs, and other NBA stars who were injured in 2020-21.
Davis admitted later he wasn't 100% but wanted to do all he could to help his team.
"It never really felt good, but it was my competitive nature to want to go out and help the team as much as I could," he said, according to USA Today. "My body didn't agree."
The addition of Westbrook will help the Lakers, but can he carry this team if James or Davis — or both — go down as they did this past year?
Age could play a factor
King James is not a spring chicken, but neither is Westbrook. James will turn 37 years old by the end of the year, which will make him the same age Kobe Bryant was when he retired, and sometimes his age showed, especially during the playoffs.
He looked like the old James at times, but he can't carry a team on his back like he did when he was younger.
Although Westbrook was relatively healthy this past year, you have to wonder when and if age will start to creep in on the All-Star. He will turn 33 in November.
The road to a championship is paved with good teams
The Lakers may be good, but several teams, both within the Western Conference and throughout the league, can give them problems, starting with the Phoenix Suns, who are the defending Western Conference champions.
Devin Booker and Chris Paul aren't going anywhere anytime soon. And as the Suns proved in the playoffs, they are a formidable foe for the Lakers.
Let's also not forget the defending NBA champion Milwaukee Bucks with reigning MVP Giannis Antetokounmpo, who was a terror in the NBA Finals, averaging 35.2 points, 13.2 rebounds, and 5.0 assists.
The Brooklyn Nets Big Three, Kevin Durant, James Harden, and Kyrie Irving, whose NBA championship hopes were dashed due to the injuries suffered by Harden and Irving, will also be a favorite. Irving went down with an ankle injury, and Harden had a hamstring injury that hampered him during the playoffs.
You know each of these teams will be hungry, so the Lakers better watch out. They aren't the only team looking to redeem itself in the playoffs next season.
What Westbrook brings to the Lakers
Taking all of this into consideration, Westbrook gives the Lakers a consistent scorer who has killer instincts. He can score from anywhere on the court, which is why he is one of the most dangerous players in the NBA. The only question may be whether a player who is used to being the main guy will be willing to step aside and be the third option behind James and Davis.
When he was with the Washington Wizards, the Oklahoma City Thunder, and, to a certain extent, the Houston Rockets, Westbrook was looked upon as a leader even though he was surrounded by the likes of Bradley Beal, Kevin Durant, and James Harden. It remains to be seen how his ego will adjust.
The Lakers needed to add a third scorer, and now they have one. For the first time in a long time, Westbrook might have a legitimate chance to win a ring and cement his legacy as one of the greatest players in NBA history.
RELATED: LeBron James Continues to Prove He's the Most Influential GM in the NBA With the Russell Westbrook Trade