Russell Westbrook's 'Defiance' in Changing Roles Is Killing His NBA Career
It has not been a banner year for Russell Westbrook. The former MVP is in the midst of his worst NBA season as he cannot figure out a way to fit in alongside LeBron James and the Los Angeles Lakers.
Now he apparently won't find a way to fit in in LA. He's been benched in crunch time multiple times this season and is refusing any role that doesn't include him as a core starter.
At this point in his career, though, a bench role may be the best option for the 33-year-old. But his reported defiance to accept it will end up killing his NBA career.
Russell Westbrook's time with the Lakers appears to be over
Two separate reports that boil down to essentially the same thing surfaced late on March 5.
Per Marc Stein, the relationship between Russ and the Lakers will come to an end after this season. There has been "defiance" from Westbrook when it comes to changing roles, whether his coaching staff or teammates broach the subject.
It would be "impossible" for the player and organization to remain together given the tension between them, Stein said.
Adrian Wojnarowski of ESPN then reported that "many in the Los Angeles Lakers organization" are pushing to remove Westbrook from the starting lineup.
But head coach Frank Vogel hasn't decided to go that route permanently yet.
"Is there a path where that's the better option? We have talked about that," Vogel said per Woj. "We've talked about everything we can do with our team.
"We're not there."
Both reports come from different angles but basically amount to the same thing: The relationship between the 2016-17 MVP and the franchise is deteriorating — or has already deteriorated — and a split is coming while Westbrook remains headstrong in his view of himself as a star in the NBA.
If he won't accept a lesser role, Russ's NBA career is coming to an end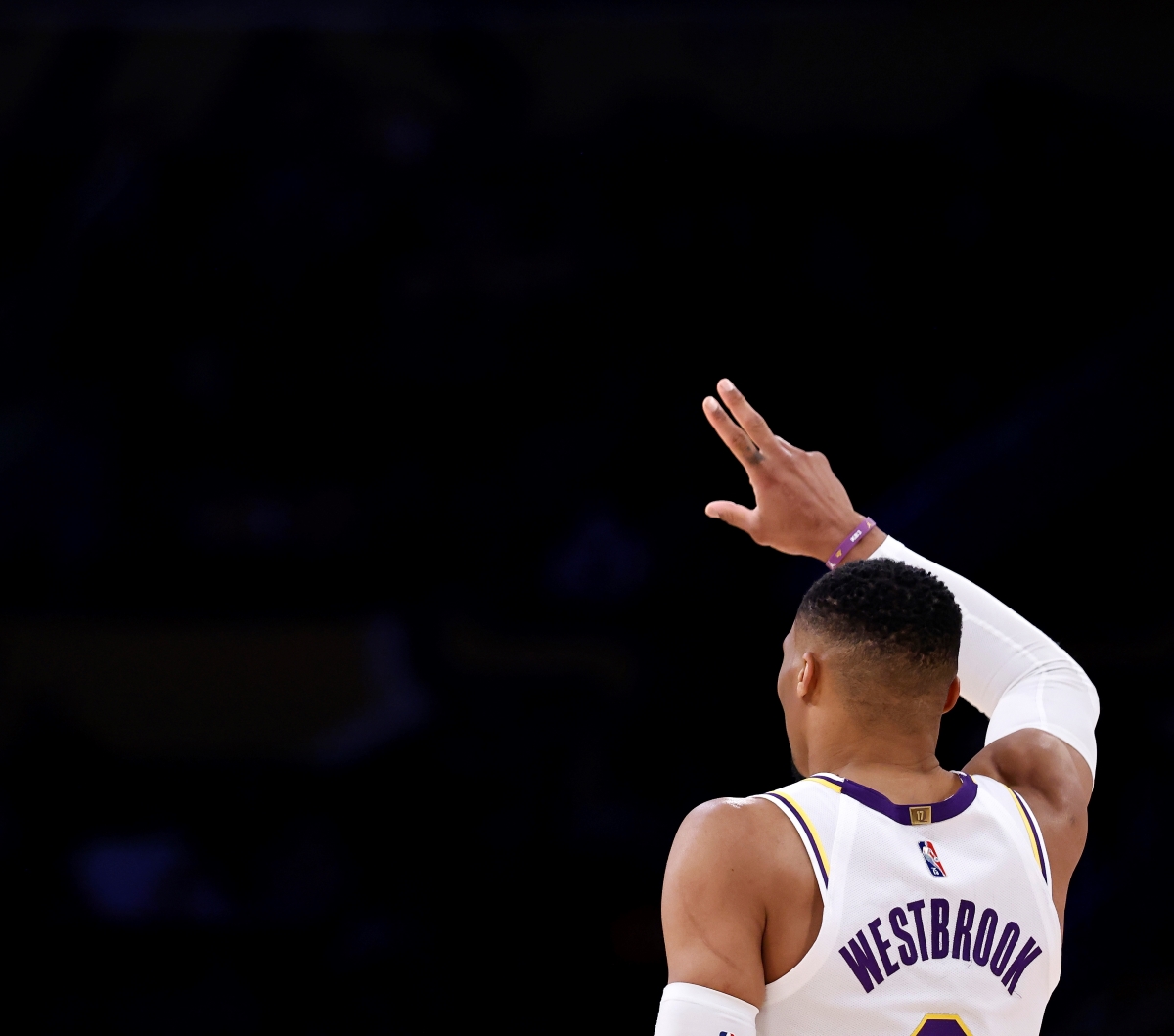 The former Oklahoma City Thunder star is 33 years old and in the midst of his worst statistical season since 2009-10 — his second year in the league.
Is it because of his fit alongside LeBron and Anthony Davis? Is it because he has the ball in his hands less? Is it the lack of shooting around him? Maybe it's one, two, or perhaps all three.
But Westbrook's game is predicated on athleticism — often reckless athleticism — and he's nearing the end of his 14th season in the NBA. He's played in 1,116 games between the regular season and playoffs as of March 6.
Russ might simply be reaching the point in his career where he's no longer the same player. Based on the eye test, he's still an explosive athlete, but father time is already catching up.
Coupled with his shooting inefficiency (44% from the field and 30% from three the last four years) and inclination for turnovers (4.4 per game in the same span), Westbrook needs to at least start to alter his game to remain productive as he ages.
But he's not. He's — to use the word again, defiant — in accepting a lesser role or altering his playing style. So, where does that leave him?
What does the future hold for Westbrook?
Will contending teams want to add The Brodie and his 15.9 field goal attempts per night this season (19 as part of the Wizards in 2020-21) to their starting lineup after watching what transpired this season?
What about rebuilding teams? Will the Orlando Magic or Detroit Pistons, for example, want to incorporate that player into their team to take shots away from their developing young players?
If a trade between LA and the Houston Rockets goes through as rumored and they swap Russ for John Wall, where does he fit with the Rockets and a roster that currently has seven players age 21 or younger that the franchise wants to grow?
On the plus side, Westbrook will be on a $47 million expiring contract next year. But after that, he'll be a free agent at age 35. Will he be willing to accept a lesser role and a smaller paycheck then? Or will he be just as stubborn? And if he is, where does he fit?
Russ needs to see the writing on the wall, and if he doesn't, his Hall of Fame career will be coming to a swift end.
All statistics courtesy of Basketball Reference.
RELATED: LeBron James Once Said the Creator of the Play-In Tournament 'Needs to Be Fired' and Now Ironically Needs It to Save the Lakers Season