Russell Wilson's $6.7 Million House Features 10,210 Square Feet, a Private Dock, and a Wine Cellar That Holds 2,000 Bottles
Russell Wilson is one of the most successful quarterbacks in NFL history, and he's had a great career so far. Thanks to his success on the field, Wilson is also extremely wealthy. In fact, he recently signed a $140 million, four-year extension, which means that he's earning about $35 million annually right now. With that much money, many fans may be wondering what Russell Wilson's house looks like — and suffice to say, it looks pretty expensive.
Wilson held off on buying a house at first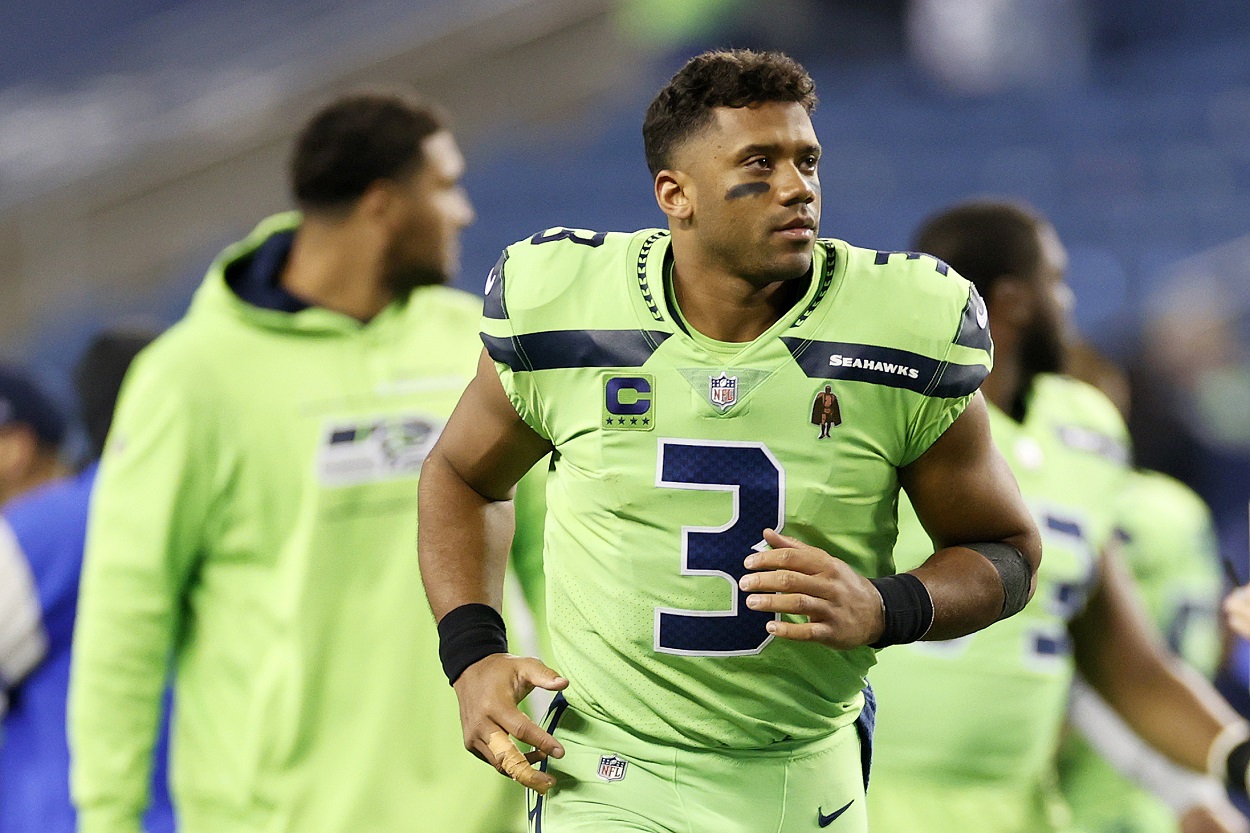 While Wilson is now one of the best-paid players in the NFL, let alone the world, it wasn't always like that. Early in his career, he was only a third-round pick, and as such, his salary was small by NFL standards. For example, in his 2013 season, he earned just over $500,000, which is a lot of money for a regular person, but not that much for a high-profile athlete.
As a result, it was not surprising that he listened to the advice of his agent and didn't buy a house just yet. However, like fans know, Wilson's financial status changed for the better, and it was obviously a good financial idea to buy a home after that. In 2015, Wilson did just that and bought himself a huge mansion near Seattle, according to Velvet Ropes.
Here's a look inside Russell Wilson's $6.7 million house
Wilson's $6.7 million mansion is located in Bellevue, which is a city that's right next to Seattle. The home sits on a 6.67-acre property, and it includes 84 feet of waterfront. The house itself measures in at 10,210 square feet, and that square footage includes seven bedrooms, seven bathrooms, and a custom kitchen that's fitting for a $6.7 million mansion. For example, the kitchen includes chandeliers and a walk-in pantry, among other things.
In addition to those rooms, there are quite a few amenities, too. According to Velvet Ropes, Wilson's house has a wine cellar that can hold up to 2,000 bottles. On top of that, there's a media room and a gym. Plus, in order to warm up during the cold, rainy days in Seattle, there are five fireplaces in the house. Not only are there fireplaces, though, but every room in the house also gets a panoramic view of the nearby Lake Washington.
Speaking of Lake Washington, due to the fact that Wilson's mansion has 84 feet of waterfront property, he also has a private dock there. As such, Wilson will occasionally pilot a boat in that lake. There is definitely more to the house, though. Like Velvet Ropes wrote, Wilson's received about 14 permits for improvements on the home. As such, he could've added or subtracted a lot of things from his house.
Wilson bought his mom a home, too
Like many other successful athletes, though, it didn't take long before Wilson was buying stuff for his family. In fact, on Mother's Day in 2019, Wilson surprised his mom with a brand-new home to call her own. There aren't that many details about the house that he bought for his mom, but it seems like a big, spacious home.
Velvet Ropes also wrote that her new home seems like it has some similarities to his mansion, and that it may be located close to his mansion as well. But again, details are sparse about that. In any case, it's clear that his mom loved the gift, and that he clearly loves her a lot, too.
RELATED: Russell Wilson Reminded the Rest of the NFL That He's Not Going Anywhere Anytime Soon