Russell Wilson and other NFL Stars with More than 3 Million Twitter Followers
What does it take to be a social media star? Being married to an internationally famous singer/songwriter? How about the ability to throw a football and baseball more than 50 yards? Or maybe making such a lasting impression, you have millions of followers even after you hang up the spikes? Whatever the case, there are more than a handful of NFL players whose Twitter accounts surpass a million followers. But two million—that space in the social media stratosphere is reserved for a select few.
Russell Wilson: A Whole Flock of Badgers
Russell Wilson's signature identification phrase on "Sunday Night Football" is one of many reasons the Seattle Seahawks quarterbacks tops the list of NFL players with more than five million Twitter followers. Wilson's account — @DangeRussWillson — is a mix of religious tomes (Jeremiah 29:11) and acknowledgments of his teammates…and lots of stuff in-between. And lest we forget, lots of mentions of his famous wife, Ciara who has 11 million followers on her own.
JJ Watt: Doctor of the Year
JJ Watt, the towering defensive end of the Houston Texans, is almost as well-known off the field for his charitable work as he is for his pass-rushing and sacking skills. A recipient of the Walter Payton Man of the Year Award and Defensive Player of the Year honors, Watt also boasts more than five million Twitter followers. And while he's not likely to be seeing patients anytime soon, in 2018 Watt received an honorary doctorate from the Baylor School of Medicine in Houston.
Watt's account — easy to find @JJWatt — is lighthearted and focused on his interactions with fans, especially at the team's training facility in sweltering Houston. And, as you might imagine, Watt is a family man, paying tribute to his mom and dad who recently showed up at training camp.

Aaron Rodgers: A Multisport Backer Packer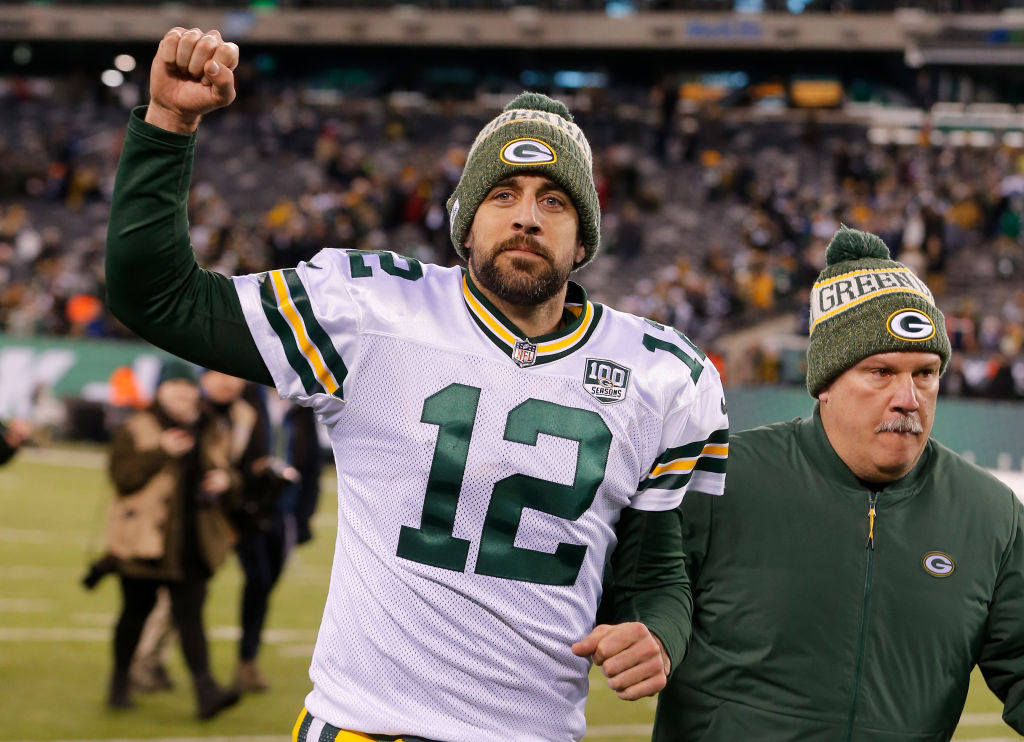 While Aaron Rogers may have slipped to number 24 in the 2005 NFL draft, this ex-Cal superstar quarterback is no social media slouch with 4.4 million Twitter followers. Never one to forget his college roots, Rodgers' Twitter feed is chock full of tribute to Cal athletes from the gridiron to the soccer field.
Having been a star athlete in Wisconsin for more than a decade, it's natural for Rodgers to be connected to other pro athletes in the area, so his tribute to the NBA's MVP, Giannis Antetokounmpo, is a great show of sportsmanship.
Drew Brees: A Saint in Every Way
From his days as a Texas high school quarterback throughout his college career at Purdue, and now with New Orleans, Drew Brees has always been a fan favorite. Not only does Brees hold the NFL record for pass completions, career passing yards, and career touchdown passes, but the Austin, Texas native is a star in philanthropy making his mark with the recovery of New Orleans after Hurricane Katrina, but also with such organizations as Operation Kids.
Brees uses his Twitter account not only to share football-related tweets, but also to promote Play FNA, a co-ed flag football program. Some criticize the star QB for his use of Twitter to promote Advocare, a multi-level marketing health-food supplement company that some consider a pyramid scheme.