Russell Wilson's Arrival Must Force the Broncos to Avoid Repeating Their Ridiculous Brock Osweiler Error
Article Highlights:
The Denver Broncos cannot waste an early 2022 NFL Draft pick on a quarterback after acquiring Russell Wilson
Former Denver general manager John Elway made that critical mistake after signing Peyton Manning in 2012
Whether or not the Broncos should use a late-round selection on a quarterback is another conversation
At long last, the Denver Broncos have a franchise quarterback in Russell Wilson. Huzzah for the fans who sat through the likes of Paxton Lynch, Joe Flacco, and Kendall Hinton.
Especially Kendall Hinton.
Wilson's arrival is great news for an organization that hasn't made the playoffs since Peyton Manning celebrated with the Lombardi Trophy in February 2016. Actually, speaking of Manning, the Broncos would be wise to avoid repeating a mistake they made only weeks after they signed the Indianapolis Colts legend in the spring of 2012.
The Broncos cannot waste an early 2022 draft pick on a quarterback after Russell Wilson's arrival
When the Broncos signed Manning, he'd just missed the entire 2011 season following neck surgery. However, Denver felt strongly enough about the then-four-time NFL MVP's future that he received a five-year contract worth $96 million, including $58 million guaranteed.
Less than two months later, the Broncos used the 57th overall selection on Arizona State quarterback Brock Osweiler for reasons that still don't make sense.
Flash forward to 2022, where Wilson — who went 18 picks after Osweiler in the 2012 draft — is the Broncos' newest quarterback. Unlike what former Broncos general manager John Elway did a decade ago, there should be no reason why Denver uses an early pick on a quarterback even if the likes of Malik Willis or Matt Corral fall further than expected.
Contrarians might point out that Wilson has two years remaining on his current deal, and they're not wrong. However, he's also going to play most of the 2022 season at 34 years old and has shown no signs of slowing down. Investing an early draft pick on a quarterback is too risky after acquiring one of the greatest quarterbacks of the last decade.
Although Osweiler played well in spurts, having him waste his first three years behind Manning was silly in hindsight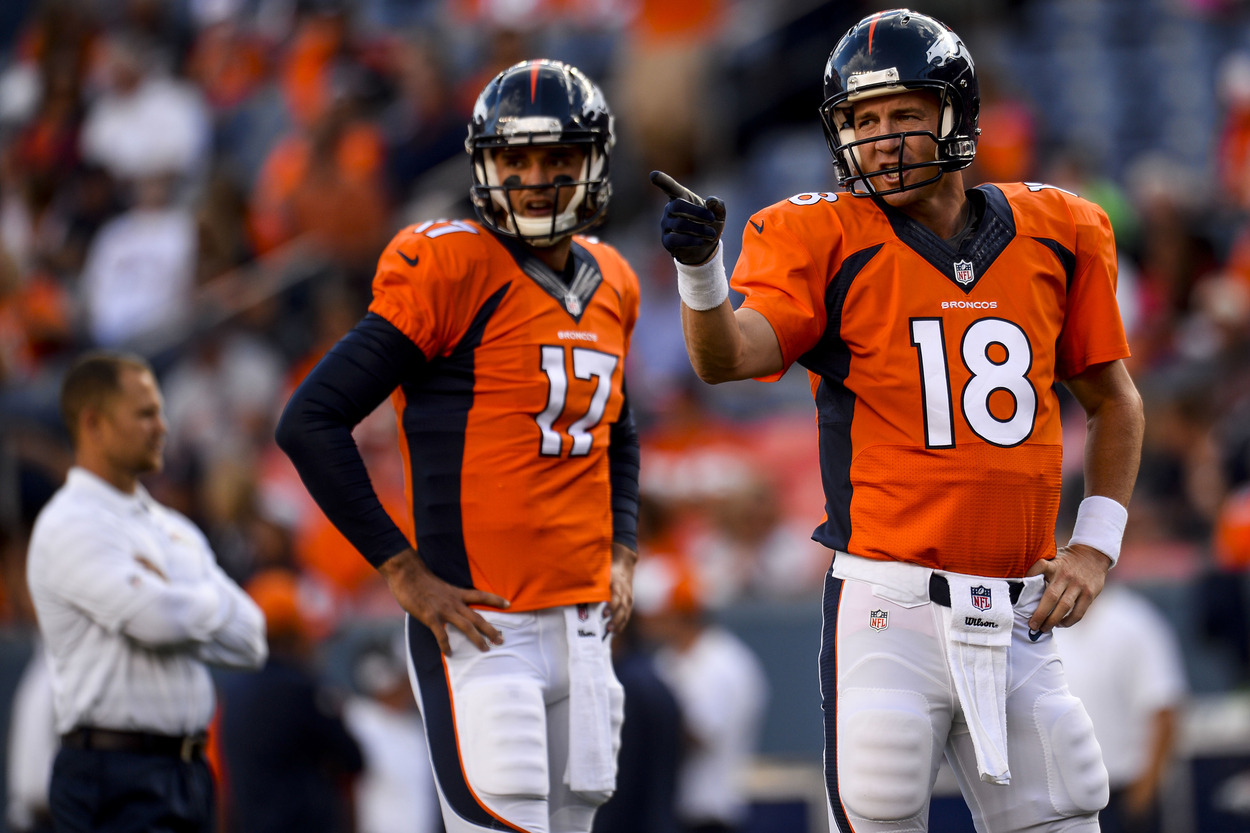 The worst part about the Broncos' decision to draft Osweiler is how little he played in his first three seasons. He completed 17 of 30 passes for 159 yards, a touchdown, and no interception in 13 games from 2012-14.
Then came 2015, when Osweiler replaced an injured and ineffective Manning midway through the year. The Arizona State product completed 61.8% of his passes for 1,967 yards, 10 touchdowns, and six interceptions en route to winning five of his seven starts. Manning returned in Week 17, and Denver's defense did enough to win Super Bowl 50.
So, was the Broncos' decision to draft Osweiler justified? No, not really, especially not when he left in free agency to sign with the Houston Texans. How he fared there isn't relevant when the greater point is Denver effectively wasted an early draft pick on a player who didn't see significant action until the final year of his rookie deal.
Think of things this way. Let's say the Broncos use the 75th overall pick, a third-round selection, on Nevada's Carson Strong if he falls that far. What good does that do if Wilson doesn't miss a game over the next two years and re-signs with the Broncos?
As of Saturday, March 12, the Broncos still have nine picks in the 2022 draft, including five between the second and fourth rounds. None of those five should be used on a quarterback.
Should the Broncos still target a quarterback far later in the upcoming draft?
The Broncos are slated to have three selections in the sixth and seventh round, which is usually when developmental prospects and fringe players are selected. This especially applies to quarterbacks, where teams are far more likely to find a Danny Etling (who?) or a Ben DiNucci (him, you may know) than they are Tom Brady. 
For the sake of argument, let's say the Broncos want to use one of those three picks on a quarterback. Is it worth it? Well, the main question to ask would be if the Broncos had addressed every other significant need via free agency, the draft, and other trades? Although the Broncos already have a quarterback, they still must add offensive linemen, edge rushers, and potentially a cornerback.
If the Broncos decide it won't hurt to use a seventh-round pick on Iowa State's Brock Purdy or Kent State's Dustin Crum, that's fine if the other needs are filled. The best-case scenario might be the new quarterback impresses enough in training camp and the preseason to show signs of eventually becoming a backup. The worst-case scenario is they don't develop, and Denver simply cuts them.
As long as the Broncos don't use a Day 2 pick on a quarterback, we really won't care. Which, of course, means the team will find a way to trade up and add Strong or Western Kentucky's Bailey Zappe early in the first round just to torture us.
Like Sportscasting on Facebook. Follow us on Twitter @sportscasting19.
RELATED: A Complete Timeline of Russell Wilson's History With the Denver Broncos