Russell Wilson Is Cooking up Long Touchdowns and Incredible Compliments for Tyler Lockett in the Seahawks' New Offense
Seattle Seahawks fans have spent years wanting to see Russell Wilson cook and Tyler Lockett feast.
It's still early in the 2021 season, but it appears the star quarterback and his reliable receiver are creating the Seahawks' ideal meal. Wilson may not want to hear our lame puns, but he does want the football world to know how grateful he is to have Lockett in the team's new offense.
Russell Wilson recently offered incredible praise for receiver Tyler Lockett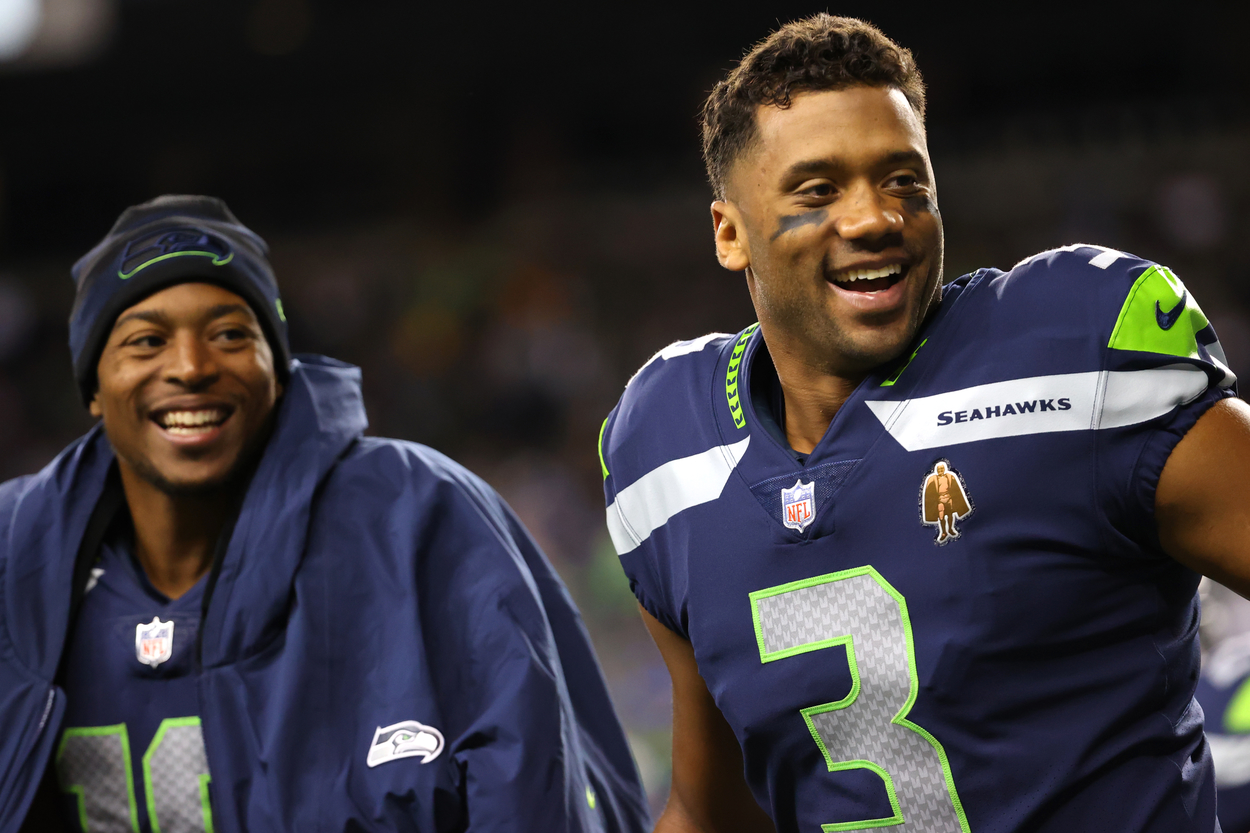 A third-round pick in 2015, Lockett has quietly come an extremely long way in his seven seasons with the Seahawks. He's evolved from a rotational receiver and Pro Bowl returner into a dependable target capable of hitting 1,000 yards each season.
Still, a good chunk of the football world might not yet fully appreciate the Kansas State product. Wilson, the dynamic dual-threat quarterback and seven-time Pro Bowl selection, understandably wants that narrative to change.
​​According to ProFootballTalk, Wilson offered incredible praise for Lockett when he spoke with reporters ahead of a Week 3 game against the Minnesota Vikings. The veteran signal-caller said the 5-foot-10 receiver, who turned 12 catches in the season's first two games into 278 yards and three touchdowns, has been "magical" so far in 2021.
"You can't deny the guy is one of the best receivers in the game. . . . I think he's mastered knowing how to get open in all circumstances. I think that trust, obviously my trust with him, is as strong as it gets, but the coaches have seen how talented he really is. That's really special to see."

Russell Wilson
Wilson added that Lockett, who is on pace for a third consecutive 1,000-yard season, catches "everything you throw at him."
"That's a key component," Wilson said. "He knows how to get open. I think it's the intellectual part of the game."
Lockett is certainly growing into one of the league's most underappreciated receivers
When the Seahawks hired Los Angeles Rams pass game coordinator Shane Waldron as the new offensive coordinator earlier this year, Wilson had to be grinning in anticipation. He'd finally have the opportunity to play in a pass-oriented offense with two proven receivers in Lockett and DK Metcalf, the dangerous Ole Miss product.
The new offense has certainly been beneficial for Wilson and Lockett. The veteran receiver's route-running has made him an ideal weapon in a system that foregoes a conservative approach. The Kansas State product has the football intelligence to adjust his routes and get open for his quarterback to hit him in the open field.
It's also getting harder to dispute Lockett's place among the game's best receivers. He's not as flashy as Kansas City Chiefs star Tyreek Hill or a perennial Pro Bowler like Tampa Bay Buccaneers veteran Mike Evans. However, he's proven himself by averaging 13.4 yards per catch and scoring 31 touchdowns since the start of the 2018 season.
The problem in that regard is the stats missing on the back of his trading card. Lockett earned All-Pro honors — first-team in 2015 and second-team from 2016-17 — for his prowess as a returner. Although the Pro Bowl doesn't mean what it once did, he still hasn't earned that recognition as a receiver.
Lockett at least remains a constant presence in the NFL Network's Top 100 players list, although he dropped 11 spots this year. However, knowledgeable football fans should always take that list with a grain of salt, so even that only goes so far.
Wilson and Lockett look sharp as ever in the Seahawks' new offense
The Pro Bowls or All-Pro teams don't always make the man. Consider that Wilson, for all of his accomplishments in the league, still has never earned an MVP vote for his troubles.
The most important thing for Wilson and Lockett right now is that both look comfortable in the Seahawks' new offense. Wilson completed 74.1% of his passes in the Seahawks' first two games for 597 yards, six touchdowns, and zero interceptions.
By no means are the Seahawks anywhere close to a Super Bowl contender, though. The defense fell apart Tennessee Titans in Week 2 en route to a shocking overtime loss at home. Injuries are ravishing the reigning NFC West champions, especially on the offensive line. There is still plenty of work to be done on all sides of the ball if this team wants to compete for a Lombardi Trophy.
The Seahawks are at least used to having Wilson and Lockett carry them to the postseason by any means necessary. Considering the already-gaudy numbers and a 17-game season, one only knows what their final stats will look like when the regular season ends.
Like Sportscasting on Facebook. Follow us on Twitter @sportscasting19.
RELATED: Russell Wilson's Future Suddenly Looks Much Brighter Thanks to a Season-Altering Turn of Events