Russell Wilson Could Unfortunately Miss Out on $2 Million After Seahawks' Disappointing Season
The Seattle Seahawks are closing in on their first losing season since 2011. Russell Wilson's future is up in the air, and losing on the field won't help. The Pro Bowl quarterback will also miss out off the field, thanks to lackluster production. Wilson has posted the worst statistical season of his NFL career with bonus money left on the table.
Russell Wilson's contract allows up to $2 million in incentives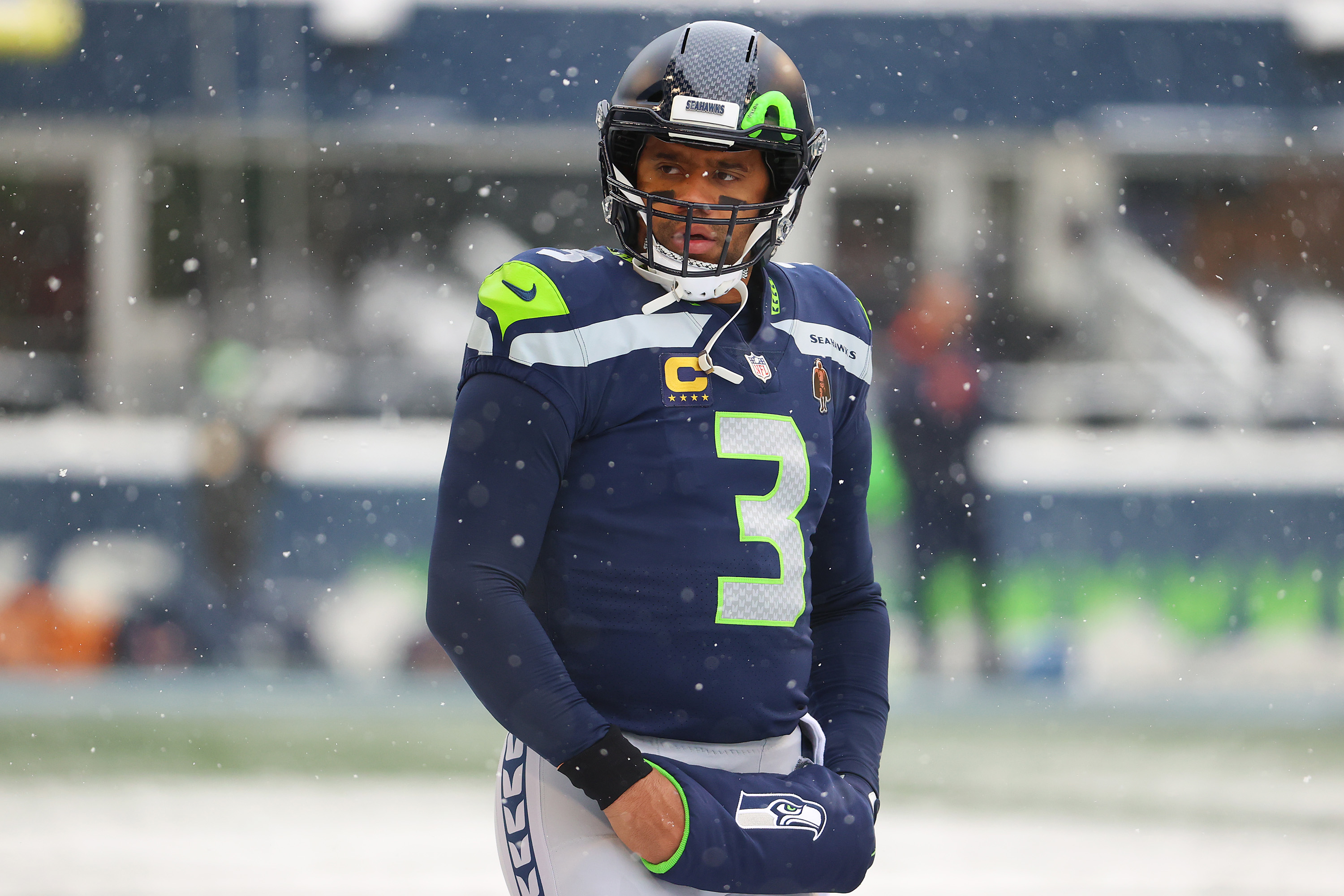 Russell Wilson has made a lot of money during his 10-year NFL career. However, he could've boosted his 2023 salary if not for the entire team struggling in 2021.
According to CBS Sports insider Joel Corry, the Seattle Seahawks quarterback's contract included up to $2 million worth of yearly incentives. The earnings would go toward his 2023 base salary.
Wilson can earn an additional $250,000 each year for making the Pro Bowl. He earned a nod in 2020 but couldn't put up similar numbers in 2021.
The veteran quarterback could also rake in an additional $500,000 each for winning Super Bowl MVP and Offensive Player of the Year. With the Seahawks well out of NFL playoff contention, that ship has also sailed.
Only one of the contract incentives presents Wilson with an opportunity to earn some extra money at the end of the 2021 season.
If the Ohio native completes at least 66% of passes (minimum of 224 pass attempts), throws for 4,000 or more passing yards, or tosses at least 36 touchdown passes, he could earn $250,000 for each.
Russell Wilson has thrown for 2,639 yards, 18 touchdowns, and five interceptions. He'll miss the yardage and touchdown marks by a mile. The NC State product is currently completing 64.9% of his passes on the year. He'll need to return to his early-season accuracy to accomplish the feat.
Of the $2 million available for bonuses, the most Wilson can take home after 2021 is $250,000.
The 7-time Pro Bowler's future in Seattle is uncertain
The Seattle Seahawks are likely to be one of the most-talked about NFL franchises in the offseason. They're currently 4-8, with matchups against the Detroit Lions and Arizona Cardinals to end the season.
Even if the Seahawks win out, they will finish 6-8. Seattle posted an impressive 12-4 record, winning the NFC West. Pete Carroll's squad suffered an early exit in the Wild Card round, leaving Seattle to wonder what went wrong.
After the 2020 season, Russell Wilson hinted at the possibility of wanting the front office to trade him. Now, if he possibly wanted out after a 12-win season, there's no chance he'll want to stay after the first losing season of his career.
The Seahawks' offense just hasn't looked right for much of the season. The season took a turn for the worst when Wilson suffered a fractured finger in the Week 5 loss to the Los Angeles Rams. When he returned, things didn't get better. The unit has been unable to string together multiple solid performances in a given stretch.
The offensive woes don't fall on one specific person or position group. The entire team needs to play better as a whole, Wilson included. The Super Bowl champion hasn't played up to his standard, and he knows it.
So, where do the Seahawks go from here? It's unclear, but changes are coming.
It's difficult to imagine a world where Russell Wilson and Pete Carroll are together in Seattle in 2022. The quarterback and head coach have enjoyed a fantastic run together, but all good things must come to an end.
Whether or not the front office moves on from Carroll, it appears that Wilson has run his course in Seattle.
Best landing spots if Seahawks trade Wilson
Russell Wilson is still under contract with the Seattle Seahawks through 2023 and won't become an unrestricted free agent until 2024. So, it's not like he can just magically end up on another NFL team. The front office will need to trade him.
General manager John Schneider and company may not be willing to trade Wilson unless they get a deal they cannot pass up on. Dealing the veteran quarterback would open up about $51 million. However, the Seahawks would still be on the hook for about $26 million in dead money.
Suppose Seattle agrees to trade its franchise quarterback. Which teams would be in the market for his services?
The New York Giants, New Orleans Saints, Denver Broncos, and Pittsburgh Steelers could all be in play for a new quarterback in 2022.
Daniel Jones is still a huge question mark. Taysom Hill has yet to prove why the Saints are giving him a $40 million extension. Neither Drew Lock nor Teddy Bridgewater is the answer in Denver. Ben Roethlisberger is likely playing his last season in the NFL.
Pittsburgh probably would give Wilson the best chance to win right away. Mike Tomlin is there. The offense has multiple building blocks, including Diontae Johnson, Najee Harris, and Chase Claypool. The roster has holes, but so does every potential suitor.
The 7-time Pro Bowler could go to any of the teams listed and make a difference immediately. That's assuming he actually wants out, though. He probably won't show his hand until the end of the season.
Even though he didn't play his best football in 2021, Russell Wilson is sure to be a hot commodity in the offseason.
All stats courtesy of Pro Football Reference and contract figures courtesy of Spotrac
RELATED: Pete Carroll Doesn't Want to 'Restart' the Seattle Seahawks, but Russell Wilson May Force His Hand
Related post url: