Russell Wilson Faced Constant Questions About His Height Before Becoming a Seattle Seahawks Star
We have no idea where Russell Wilson will play in 2021. We do have an idea where he'll end up after his retirement — Canton, Ohio. After less than a decade, Wilson already has a stacked resume. It's easy to forget that when the Seattle Seahawks chose him in the 2012 NFL draft, he was seen as the weakest of all six quarterbacks taken that year.
Russell Wilson's productive college career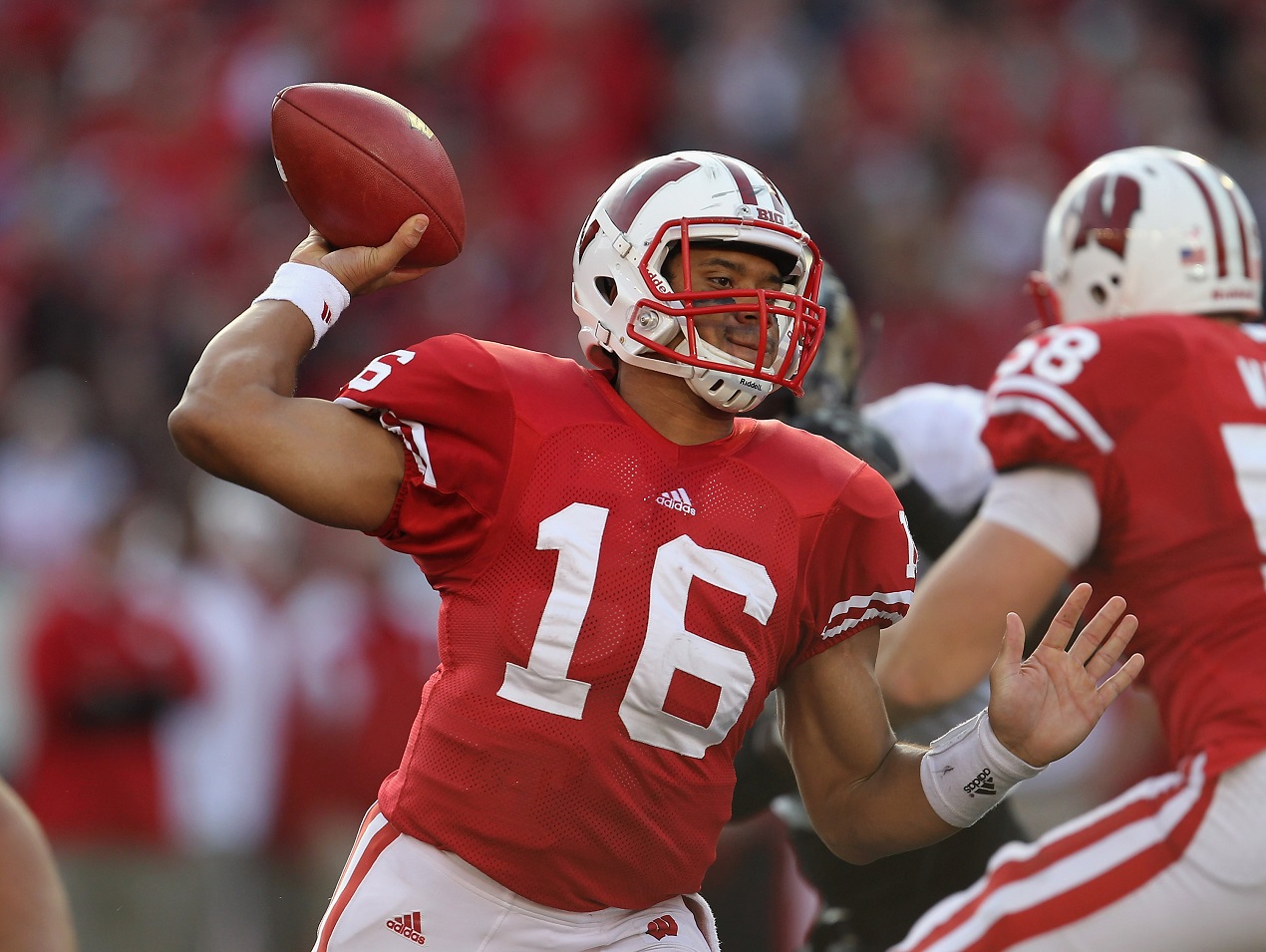 RELATED: Russell Wilson's Ultimate Advantage Over the Seattle Seahawks Can Make Them Bend to His Will
Russell Wilson's college career began at North Carolina State, where he put up some gaudy numbers. In 2008, he became the first freshman quarterback ever to be named first-team all-ACC.
But Wilson had a wandering eye. At the time, Wilson was a two-sport athlete who excelled in both football and baseball. When he joined the Colorado Rockies for their spring training early in 2011, his time at N.C. State was over.
For his final college football season in 2011, Wilson transferred to Wisconsin. That season, he threw for 33 touchdowns against four interceptions, and an FBS-record passer rating of 191.8. He led the Badgers to a victory in the inaugural Big Ten Championship Game over Michigan State. This propelled Wisconsin into the Rose Bowl, which they would lose 45-38 to Oregon.
NFL scouts underestimate Russell Wilson
RELATED: Stephen A. Smith Shocks Max Kellerman With the Team He Thinks Russell Wilson Would Be a Good Fit for in 2021
When Russell Wilson declared for the 2012 NFL Draft, the biggest question mark surrounding him was his short build. Of course, his height wasn't exactly something he could control, but it was a black mark on his evaluation sheets. Teams still couldn't shake the idea of the ideal quarterback standing tall and sturdy in the pocket.
Knowing this, Wilson took a page from Bart Simpson's playbook. For the 2012 NFL Scouting Combine, he used some old-school tricks to make himself look taller.
"I was gonna try to put some socks under these feet and try to get a couple extra inches," Wilson said in an interview with Kevin Hart. "I had my hair all tall, and I had it all gelled up. And I'm thinking to myself, 'Man, I'm gonna be a good 6-foot, 6-foot-1 with this hair.'" It didn't work. His official measurement came out to 5'10".
The Sporting News didn't exactly give Wilson the most flattering assessment after the Senior Bowl. "It started off badly when he measured under 5-11, and then he struggled with accuracy throughout the week," wrote Russ Lande. "He likely won't be drafted because his performance this week showed that he will be, at best, a backup quarterback in the NFL."
The Seattle Seahawks take a chance
Despite leading Wisconsin to a Big Ten title and a Rose Bowl appearance the previous year, Wilson plummeted to the third round of the 2012 NFL Draft. The Seattle Seahawks took a chance on the Wisconsin quarterback and took him with the 75th pick.
On the day of the draft, Russell Wilson drew frequent comparisons to Seneca Wallace, another former Seahawks quarterback. Wallace played eight NFL seasons, mostly as a dual-threat out of the option formation. We're sure Wilson absolutely loved being compared to the obscure Wallace instead of, say, Joe Montana.
The draft pick drew additional questions, as the Seahawks already had starter-quality quarterbacks on the roster. Wilson would have to compete with both incumbent Tarvaris Jackson and high-priced free agent Matt Flynn. During training camp and preseason, Wilson competed with and beat out the two decisively to earn the starting job.
Wilson has started every single game for the Seattle Seahawks ever since. It remains to be seen whether he'll start the next one, but even if he doesn't, no one can deny the mark he's made on franchise history.
College statistics courtesy of Sports-Reference.