Russell Wilson: Greg Olsen Shares Intense Story About New Broncos QB
Russell Wilson is now the quarterback of the Denver Broncos. Denver shot its shot, sent a massive trade haul over to the Seattle Seahawks, and are now hoping that Wilson is the chosen one who can lead the Broncos back to Super Bowl glory.
Hey, having a future Hall of Famer at quarterback has worked in the past for Denver. Just ask John Elway or Peyton Manning.
Wilson's resume is tough to argue with. His intensity and focus for winning is also legendary and recently talking to Colin Cowherd, a former teammate of Wilsons, Greg Olsen, detailed that intensity in a story.
Greg Olsen had an incredible NFL Career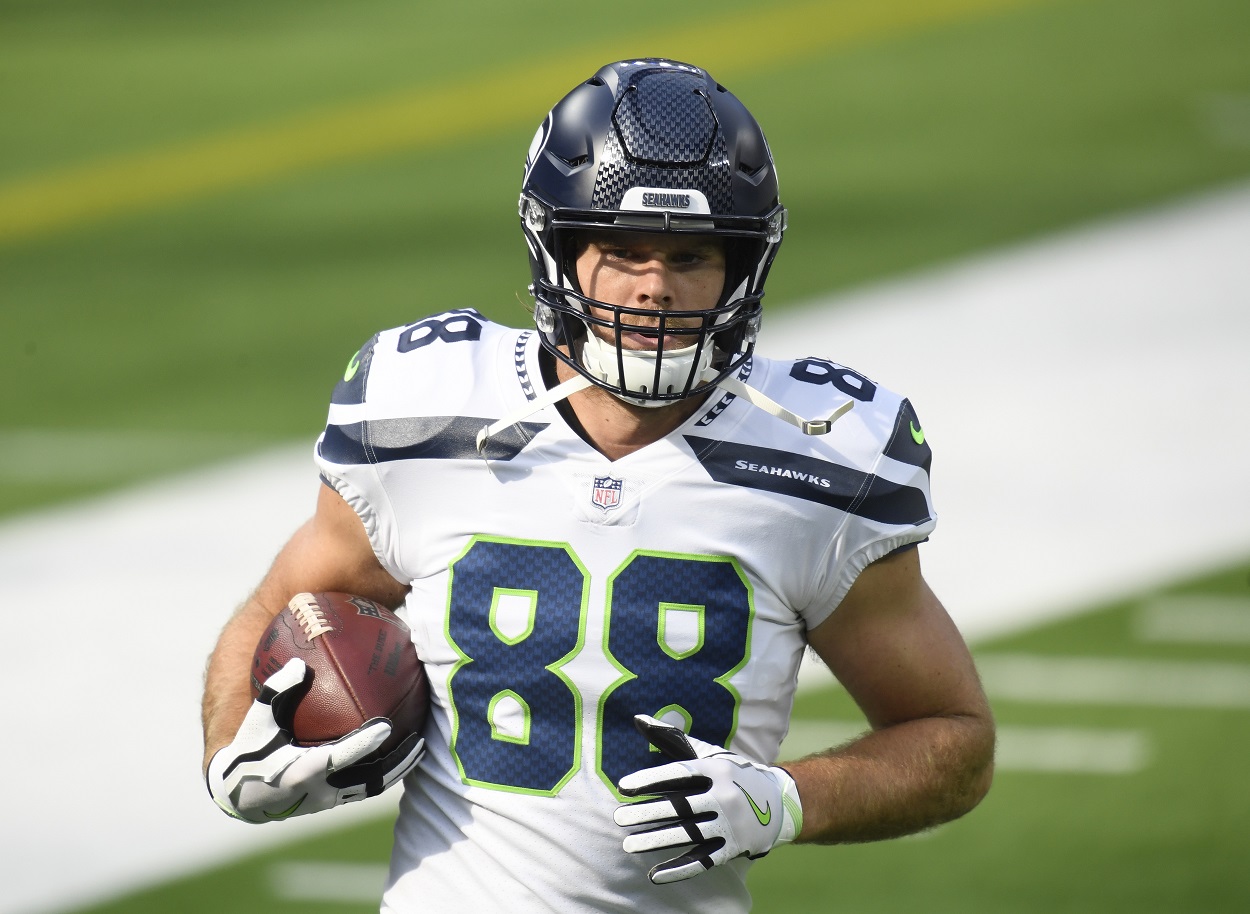 Olsen has been making his name as one of the better color analysts at FOX nowadays, but he's gotten to this place in his career because of an incredible 14-season career in the NFL.
He was drafted by the Chicago Bears with the 31st pick in the 2021 NFL Draft and spent four years in Chicago, where he put up a total of 20 touchdowns. The Bears traded him to the Carolina Panthers in July of 2011 for a third-round pick and the Panthers immediately locked him in with a long-term deal worth $22.8 million over three years. He also signed two contract extensions with the Panthers, bringing his total tenure in Carolina to nine seasons.
In those nine seasons, he was one of the best tight ends in football, totaling 524 receptions for 6,463 yards and 39 touchdowns.
He was released by the Panthers in February of 2020 and almost immediately picked up by the Seahawks, and that's when he came into contact with the legend known as Russell Wilson.
Olsen knew in his first meeting with Russell Wilson that he was different
With Wilson now in Denver, long-time sports radio personality Colin Cowherd was interested in the type of player and person the Broncos traded for.
Who better to ask than a former teammate? That's where Olsen came in, and he told a story that really sums up the type of competitor that Wilson has been over the course of what will end up being a Hall of Fame career.
Cowherd asked Olsen how long it took before he realized just how intense Wilson is. Olsen said that he knew in their very first interaction that Wilson was built differently as a competitor.
"I had just signed maybe a few weeks earlier. I just thought the two of us were going to jump on a call as a get-to-know-you kind of conversation," Olsen said. "He had his Zoom set up in his office with a whiteboard. He had half the screen with the playbook, half with the board where he could write on it. He's taking me through two-minute signals in his office like it was in the middle of the huddle."
Denver traded for Wilson because of the type of player and leader he is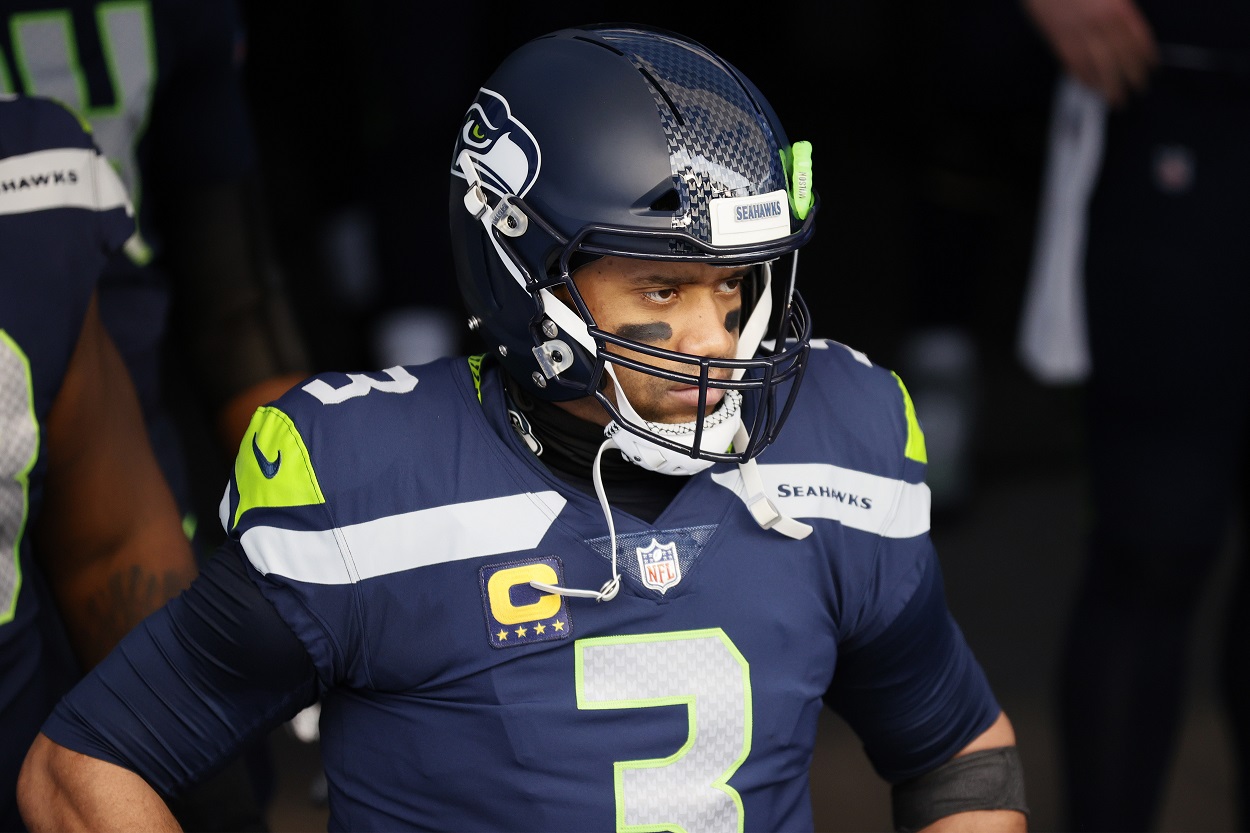 "It didn't matter if it was [in] March on a Zoom call during spring break or the day before the Sunday game we played the Rams to end the season in the playoffs.
"Every single day, he was the exact same way," Olsen said of his former quarterback.
Frankly, that intensity and focus have made Wilson who he is as an NFL quarterback.
Remember, the Seahawks drafted him in the third round of the 2012 NFL Draft. It's not like he was a sure-bet superstar from day one, and everybody knew it. There were serious questions about Wilson as an NFL quarterback. He entered the league at just over 5-foot-10. ESPN currently lists him at 5-foot-11, 215-pounds, but even that may be a bit generous.
His frame as a prospect was such a concern that Wilson even tried to manipulate it a little bit at the NFL Combine. He admitted that years later while talking to comedian Kevin Hart (h/t SI FanNation)
"I was gonna try to put some socks under these feet and try to get a couple extra inches," Wilson told Hart. "I had my hair all tall, and I had it all gelled up. And I'm thinking to myself, 'Man, I'm gonna be a good 6-foot, 6-foot-1 with this hair.' This hair is growing long. Sure enough – I know I measured myself, my true height, I'm like 5-foot-10 [and 7/8] – so anyways sure enough this dude measured me at 5-foot-10 and 1/4 inches. I was hot."
In total, five quarterbacks went before Wilson in the 2012 NFL Draft: Andrew Luck (Indianapolis Colts), Robert Griffin III (Washington), Ryan Tannehill (Miami Dolphins), Brandon Weeden (Cleveland Browns), and Brock Osweiler (Denver Broncos).
The Seahawks drafted Wilson just 18 picks after the Broncos took Osweiler, and now 10 years later, the Broncos had to pay dearly to rectify that mistake.
Wilson (and a 2022 fourth-round pick) cost the Broncos two first-round picks, two second-round picks, a fifth-round pick, and three players: Drew Lock, Noah Fant, and Shelby Harris.
Denver is hoping that sacrifice will be worth it, though, and it's hard to argue with the Broncos' projection.
Not only is Wilson a nine-time Pro Bowler and Super Bowl Champion, but as Olsen pointed out, he operates every day like a winner.
That will be invaluable for Denver.
Stats courtesy of ESPN and Pro Football Reference. Contract information via Spotrac
RELATED: Russell Wilson: Greg Olsen Reveals Why Former Teammate Was Fed Up With Seahawks