Russell Wilson Is a Handful of Wins Away From Breaking 1 of Peyton Manning's Most Impressive NFL Records
Russell Wilson is currently one of the best quarterbacks in the NFL. He's also arguably the best in Seattle Seahawks franchise history. Wilson has established himself as one of the most consistent throwers in the league, having never recorded a losing season in his nine-year professional career.
Wilson is a former Super Bowl champion with numerous accolades and awards. However, with the 2021 season nearly underway, the longtime Seattle starter finds himself just a few wins shy of breaking an all-time impressive record.
Russell Wilson is 8 wins away from breaking an impressive Peyton Manning record
Peyton Manning, who spent the first chunk of his NFL career with the Indianapolis Colts, won 105 games through his first 10 seasons in the NFL.
Wilson has a record of 98-45-1 through his first nine seasons with the Seahawks, meaning he's a mere eight wins away from breaking Manning's awe-inspiring record. The good news for Wilson and Seahawks fans alike is that Wilson has never won fewer than nine games as a starter in the NFL. In fact, eight of Wilson's nine seasons with the Seahawks saw the veteran QB finish with 10-plus wins.
It's safe to say the odds are in Wilson's favor to snatch those final eight wins this season.
Breaking this record only adds to Russell Wilson's esteemed legacy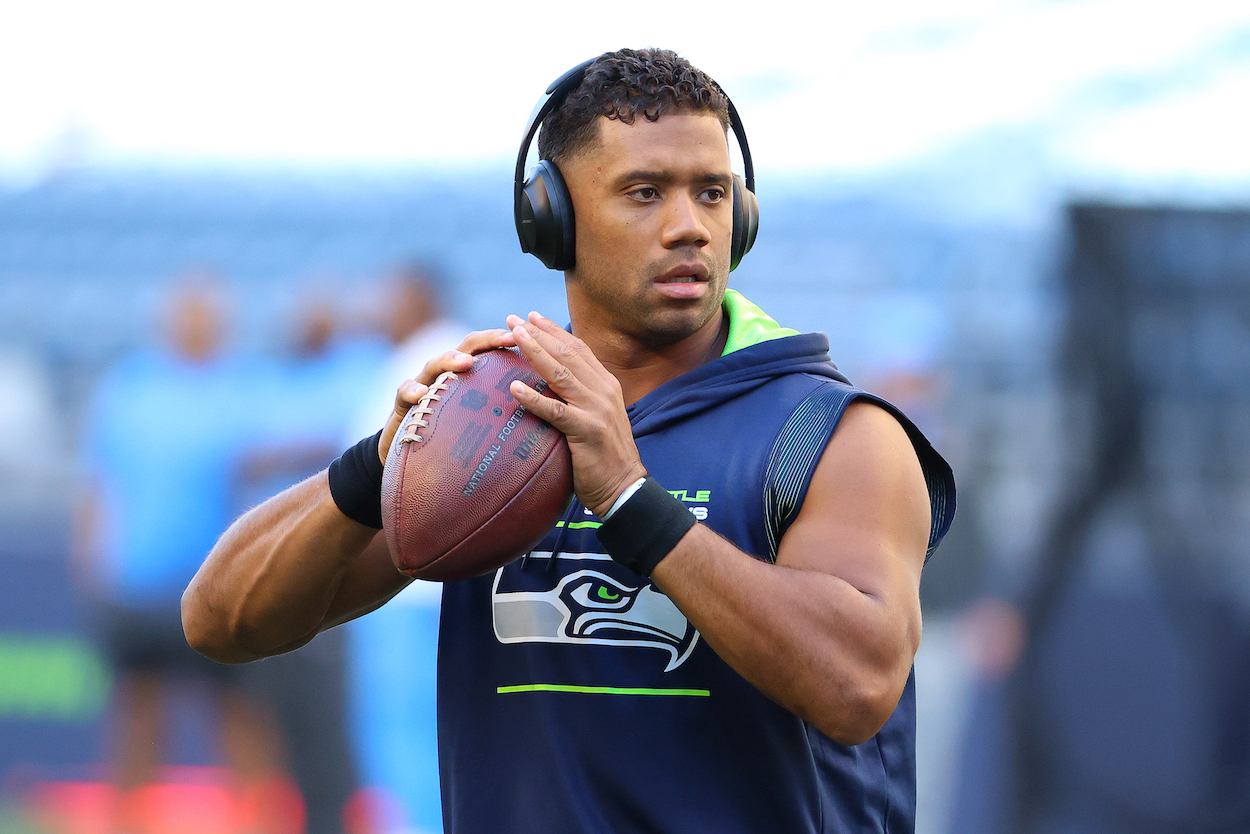 Wilson is only 32-years-old, and yet he's already put together a Hall of Fame-caliber NFL career. He's thrown for 33,000-plus passing yards and 267 passing touchdowns. He's also recorded 4,500-plus yards and 22 touchdowns via the ground game.
Finding a way to surpass Manning's 10-year win record would only further solidify Wilson's legacy.
Additionally, Wilson is an average season away from joining Manning as the only QB in NFL history to throw for at least 3,000 yards and 20 passing TDs in each of their first 10 seasons. Those numbers seem reasonable for Wilson to achieve, seeing as he threw for 4,000-plus yards and 40 TDs in 2020.
Either way, Wilson being in the conversation with Manning speaks volumes about how good he's been. Wilson has never won a league MVP award and typically gets overlooked compared to other elite QBs. However, he's unquestionably been one of the best since entering the NFL.
Pressure is beginning to mount in Seattle
While Wilson is on the brink of NFL history, the Seahawks are starting to feel some heat from their fan base.
The team hasn't won a Super Bowl since 2013 and hasn't appeared in one since 2014. It's a lofty standard to hold a franchise to, but you're expected to be a consistent winner when you have a QB as good as Wilson.
Seattle got off to a red hot start in 2020 before stumbling to the finish line. This led to an early postseason exit, causing many to question head coach Pete Carroll.
Even if Wilson breaks Manning's record, Seattle could still be due for another frustrating 2021 campaign.
All stats courtesy of Pro Football Reference.