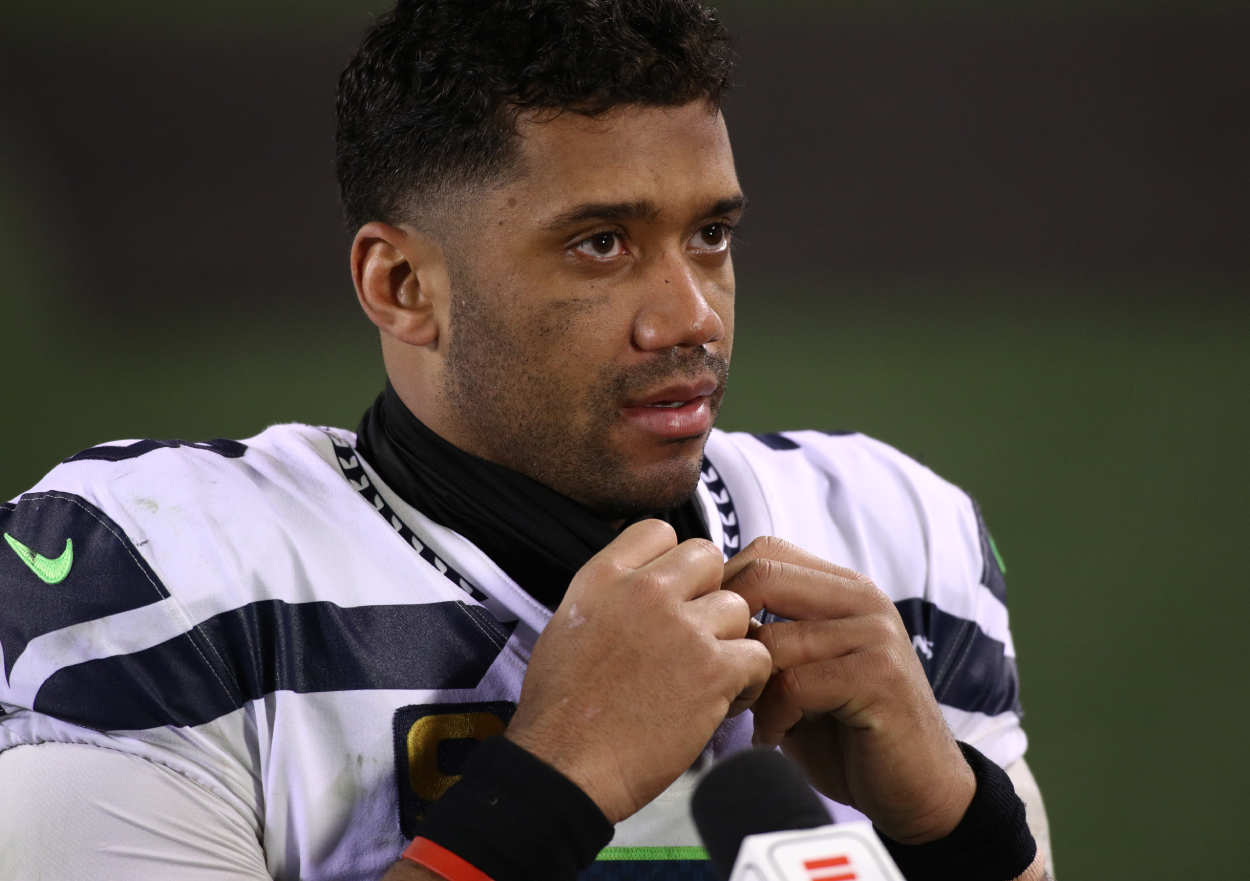 Russell Wilson Is All-in on Cooking in the Seahawks' New Offense
Seattle Seahawks star quarterback Russell Wilson is saying all the right things about his team's new offense.
If the Seattle Seahawks hope to win a second Super Bowl in the Russell Wilson era, the team needs to let their star quarterback cook.
Seahawks head coach Pete Carroll understands that more than anyone, and he hired Shane Waldron, the Rams' pass game coordinator, as his new offensive coordinator for the 2021 season. Wilson, the eight-time Pro Bowl quarterback, already sent Waldron a loud message of support.
Russell Wilson praised Shane Waldron and the Seahawks' new offense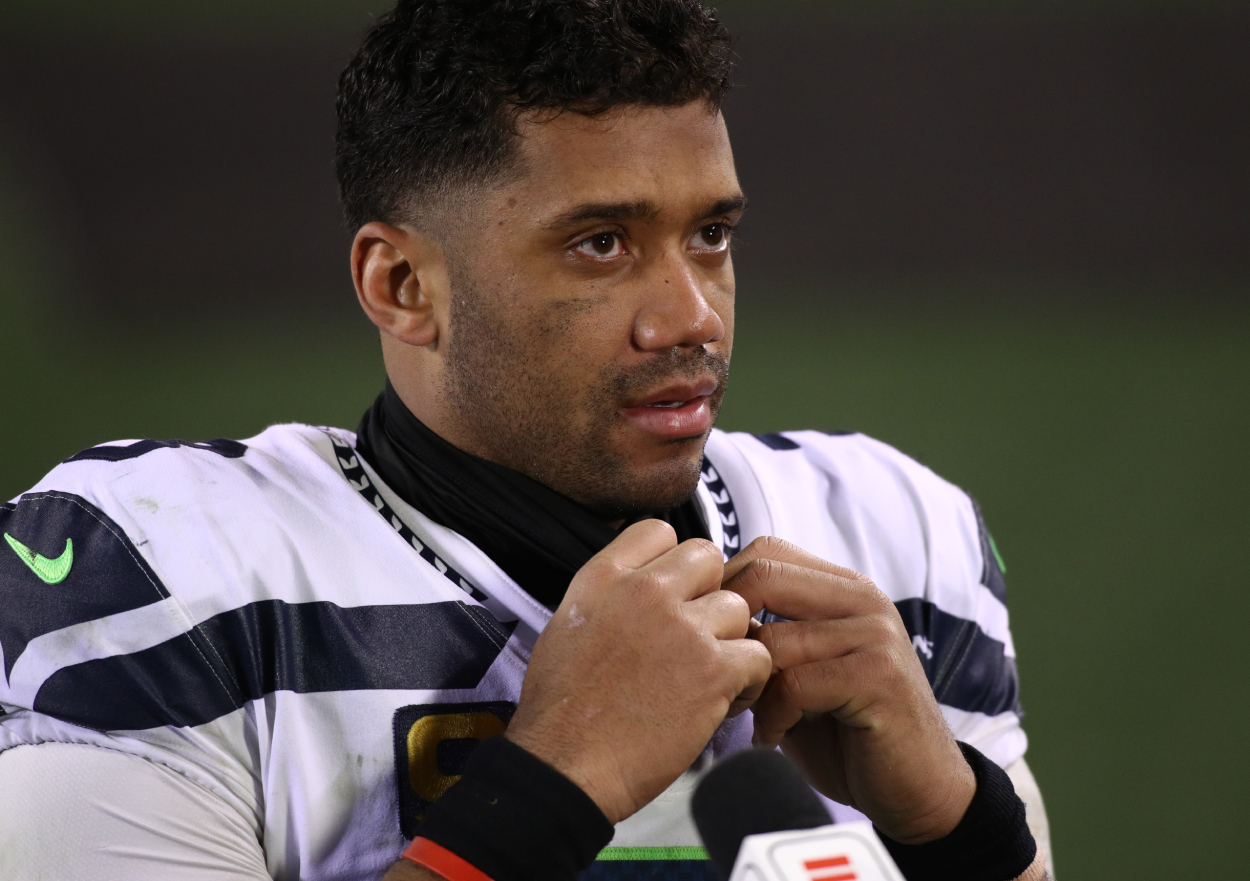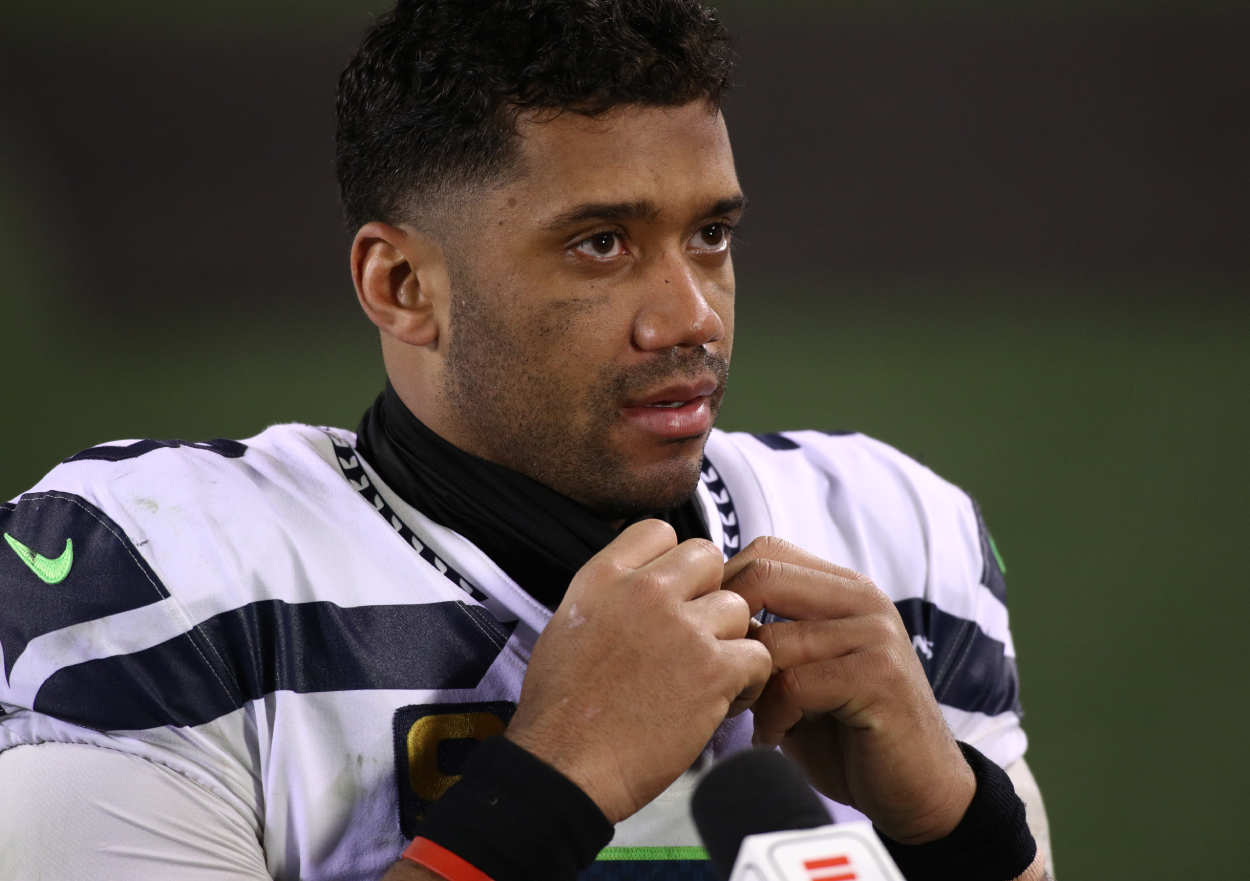 Although Russell Wilson threw for 4,212 yards and a career-high 40 touchdowns during the 2020 season, the Seahawks' offense fell apart during the campaign's final weeks. 
Former Seahawks offensive coordinator Brian Schottenheimer drew criticism for trying to force the running game to work, even as Wilson enjoyed arguably his best season in the NFL. After a stunning home loss to the rival Rams in the wild-card round, Seattle parted ways with Schottenheimer and hired Shane Waldron, a Rams assistant coach, to replace him.
The early reviews on Waldron are in, and his new quarterback is already impressed with what he's seen thus far. According to ProFootballTalk, Wilson expressed excitement about playing in the new "super complex" offense.
"I think that we have a lot of great things about it. We're going to be able to mix a lot of personnels, a lot of different people around, using the whole field. I think we're going to be able to do everything that we want to." 

Russell Wilson
Wilson added he believes Waldron has a "great understanding of the game."
"For us to be together, it's going to be super exciting," Wilson told reporters.
Waldron and the Seahawks need to Let Russ Cook
Much earlier in Wilson's career, Pete Carroll and the Seahawks won games with their running game and their defense. Marshawn Lynch served as the bell cow back, and the Legion of Boom, spearheaded by Richard Sherman, stopped opponents in their tracks.
Although Wilson was already among the league's most talented young quarterbacks during that period, he and the Seahawks excelled because they played to his strengths. At the time, he served as an efficient dual-threat game manager who avoided turnovers and fought for extra yards if he scrambled.
Now, the Seahawks need to play to Wilson's strengths in a different way. He is an elite and proven quarterback with two dangerous receivers in DK Metcalf and Tyler Lockett. Wilson had a tremendous season because those two combined for 183 catches, 1,357 yards, and 20 touchdowns in 2020. As easy it can be to forget, the Seahawks' offense averaged 28.7 points per game, the eighth-highest mark in the league.
So what went wrong? Wilson averaged 37.1 attempts and 317.6 yards per game in the first half of the season, but those numbers dipped to 32.6 and 208.9 over the regular season's final eight games. He completed 11 of 27 passes for 174 yards, two touchdowns, and an interception in the wild-card round loss to the Rams.
If the Seahawks want to win games, their best chance is building around Wilson and where he is at this stage in his career. In games and situation where the best option is letting Wilson throw instead of trying to make the ground game work, the Seahawks need to let Wilson cook, as the term goes.
The Seahawks need to make the most of the 2021 season
The NFL offseason moves at a rapid pace, and it feels like only yesterday that Wilson's name appeared on the trade market.
Wilson and the Seahawks each sound committed to one another, at least for now, and a strong showing in 2021 will go a long way. Of course, the best possible scenario for both sides would be winning the team's first Super Bowl since February 2014.
So long as Wilson is at quarterback, the Seahawks will always have a chance to hoist the Lombardi Trophy. He has advanced from a reliable game-manager to a quarterback who has arguably already done enough to warrant induction into the Pro Football Hall of Fame.
Wilson has been around the league long enough to know that the offseason is when every team thinks they have a chance to do something special. If he and his teammates can execute this "super complex" offense, it doesn't sound realistic to imagine a Super Bowl parade occurring in Seattle next February.
Like Sportscasting on Facebook. Follow us on Twitter @sportscasting19.