Russell Wilson and Jimmy Garoppolo Throw Chaos Into Quarterback Trade Market
They say sports is a microcosm of society, and the NFL is proving it this week.
While a supply chain crisis has plagued America's economy for months, it finally caught up to the NFL market for quarterbacks. A once rich field of possible trade candidates, including some of the biggest names in the sport, have for one reason or another seen their names withdrawn from consideration.
Russell Wilson? Not available.
Aaron Rodgers? No one is calling.
Jimmy Garoppolo? Surgery.
Offseason intrigue? Mitchell Trubisky?
The news coming out of the NFL Combine has been nothing short of disheartening for fans craving big headlines and teams craving a game-changing transaction. But for two quarterbacks, the sudden pull-back of the marquee names has potentially opened the door for them.
Wilson just the latest hot trade candidate to suddenly go cold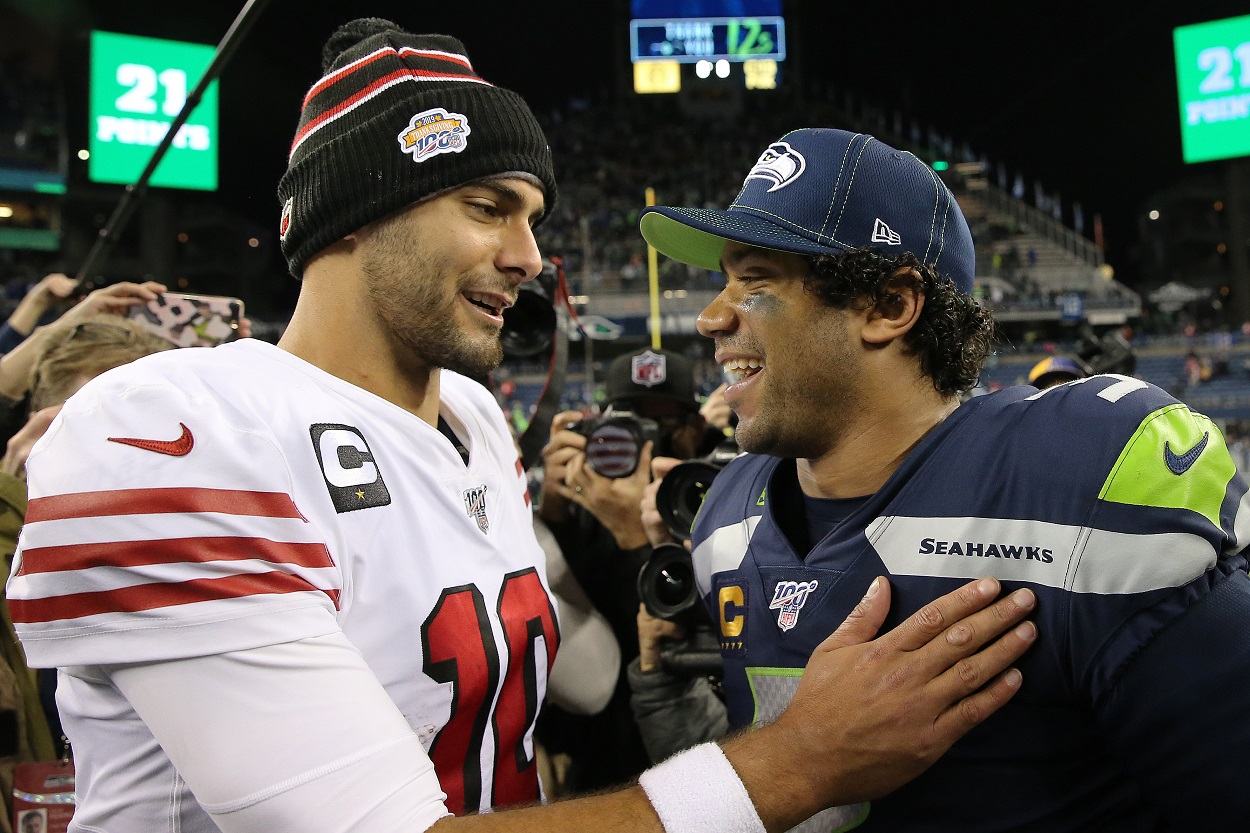 On Wednesday, Seahawks head coach Pete Carroll threw a bucket-full of cold water on any and all Wilson trade rumors, declaring the team had "no intention" of trading the 33-year-old quarterback.
"At this time of year, there's conversations about everybody, and it's commonplace for us to have conversations with teams about all of the players, particularly marquee players," Carroll said Wednesday. "We have no intention of making any move there. But the conversations, [general manager] John [Schneider] has to field those, he always has. But nothing specific."
This comes the day after the San Francisco 49ers revealed that quarterback Jimmy Garoppolo, whom the team indicated in January was firmly on the trading block – with Garoppolo himself bidding the Bay Area adieu in an emotional press conference – was now going to have surgery on his right shoulder and wouldn't be able to throw a football for four months.
Couple that with word out of Green Bay that, according to the Packers, teams have not engaged them in trade talks about mercurial quarterback Aaron Rodgers, and suddenly the once-crowded trade market for signal-callers is all but reduced to the legally-challenged Deshaun Watson and possibly … Mitchell Trubisky?
The Bills' much-maligned backup might get a chance for a redemptive career move, but there are two bigger winners in this sudden sea-change in the quarterback market.
Despite all the baggage, Deshaun Watson's trade stock has never been higher
The biggest quarterback name on the trading block last October was also the league's most-fraught trade candidate: Deshaun Watson. With 22 civil lawsuits against Watson still pending, teams have been extremely reluctant to engage with the Houston Texans about a trade.
The closest any team reportedly got to making a trade for Watson last season was the Miami Dolphins, but they backed off late in the process and this week withdrew their name from consideration altogether.
But that does not mean the trade market for Watson has dried up, especially if his legal troubles are resolved by the start of April, as his lawyer, Rusty Hardin, believes is possible. Teams like the Pittsburgh Steelers, Washington Commanders, and Tampa Bay Buccaneers would all likely jump at the chance to acquire Watson, absent the other big names now apparently off the table.
Jameis Winston is now certain to hit the jackpot in free agency
But if Watson's legal issues do not get resolved, or lead to a long-term league suspension, then the teams mentioned above may take a longer look at the free-agent quarterbacks available. And with free agency two weeks away, the name zooming to the top of the list is Jameis Winston.
With every video posted to social media, Winston's surgically-repaired knee looks stronger and stronger. Winston was well on his way to consideration for the 2021 Comeback Player of the Year award with his play for the New Orleans Saints through seven weeks before tearing his ACL on Oct. 31.
Now, a healthy free-agent Winston will likely have several suitors who were unable to lure Wilson out of Seattle or were scared off by Garoppolo's injury. Where once teams were wary of Winston's penchant for interceptions, timing is now everything.
Stats courtesy of Pro Football Reference
RELATED: Eagles Rumors: NFL Insider Still Claims They Want Deshaun Watson